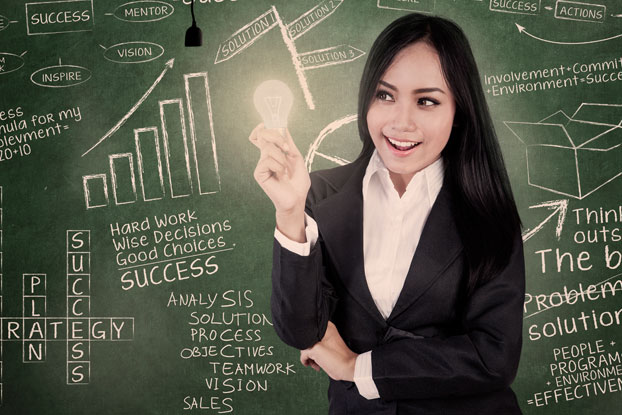 The value of an MBA offers a range of opportunities for women.
At the Goizueta Business School, one recent alumna is working in Shanghai while being groomed for an executive role with a Fortune 50 company and her husband serves as a stay-at-home father.
Another showed her value to a prospective employer as a consultant to the point she could stay in Atlanta instead of moving to New York. That company's offer kept her from moving away from her spouse's job location.
"The MBA empowers women in ways that hardly any other degree can and does," said [highlight]Julie Barefoot[/highlight], director of MBA admissions at the Goizueta. "It empowers you in a way that you can ask for and receive accommodation. That will help you achieve balance."
Attracting women to business schools has been an issue for decades, Barefoot said. When the Forte Foundation — a nonprofit group — was founded nearly 14 years ago, women made up about 25 percent of full-time students at business schools. Those numbers were approximately half of those in schools of law and medicine.
Female Enrollment In Business, Law, Medicine And Education At Universities With Top 25 B-Schools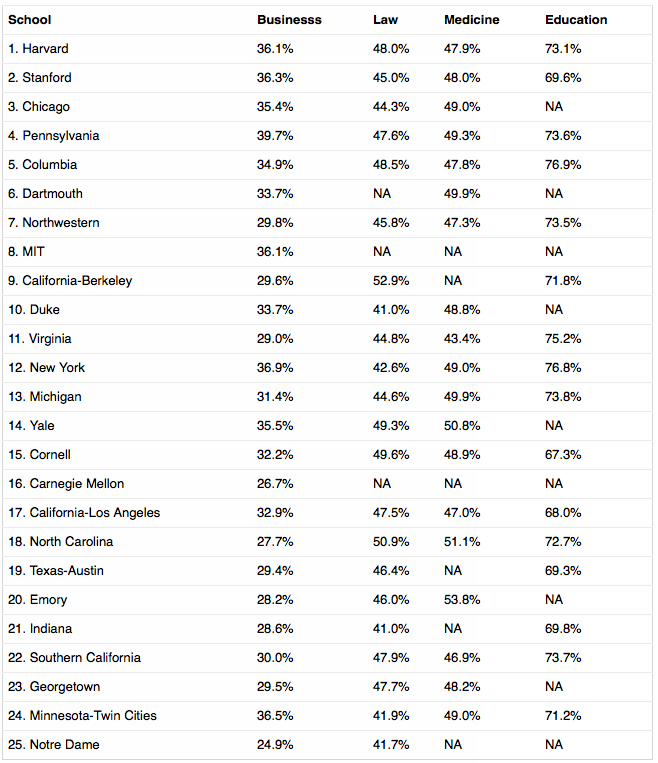 The publication Poets & Quants, which covers elite business schools, quoted Forte Foundation executive director Elissa Sangster saying her goal is that business school female enrollment reach 40 percent. Sangster lamented that a study conducted some 14 years ago remains largely true: women had fewer role models in business and were less aware of career opportunities.
More women may become doctors and lawyers because they can enroll in graduate programs straight from their undergraduate institution. These paths are also historically perceived as "helping professions." Barefoot said a graduate business degree offers women career flexibility and the opportunity to take on a leadership roles.Skills that make someone a more valuable employee are developed in business school, such as expertise in analysis, strategic thinking and planning, Barefoot said.
Historically, Goizueta enrolls about 30 percent of female candidates. Because statistics suggest women make up 47 percent of the workforce and 53 percent of them are primary breadwinners, the school works very proactively to recruit women.
In recent years it's taken that focus to the next level.
"We must show the business world what the lack of women in graduate education means for the future," said Goizueta Dean Erika James, the first black woman to lead a top 25-business school.
According to James, the lack of female students will, undoubtedly, have a negative impact on businesses needing qualified workers.
Being a member of the Forte Foundation, and putting on an annual event to attract more women are two reasons why Goizueta's female enrollment has jumped about 10 percent in recent years.
There is also an alumni group, the "Executive Women of Goizueta," which offers a forum for women to discuss ways to succeed in their careers, communities, and lives. [highlight]Patricia Arundel[/highlight], the current president of the organization, is an executive at Google and an EMBA alumna.
The "Advancing Women in Business Conference" weekend is a recruiting event each fall that provides robust programming for women. It also shows off Goizueta's small, intimate and collaborative learning environment. Alumni and faculty provide their perspective on the experience.
Last year the event was moved to the Woodruff Arts Center to accommodate a growing attendance. It has also played a role in creating a pipeline of candidates that appeal to top companies.
After all, the reasons business schools recruit top candidates are the same as in corporate America.
"From a class profile perspective, we want women to be equally represented in the classroom," said [highlight]Wendy Tsung[/highlight], director of career management at Goizueta. "From a recruiting perspective, companies put in place many initiatives to attract talented women. They want their workforce to mirror the diversity of their customer base."
While life choices often cause women to take more time to reach leadership roles, there is less of a barrier than five or 10 years ago, Tsung said.
"Women are advancing," Tsung said. "The workforce wants more women in leadership roles. Women certainly can land these roles, and companies want to support women in that growth."