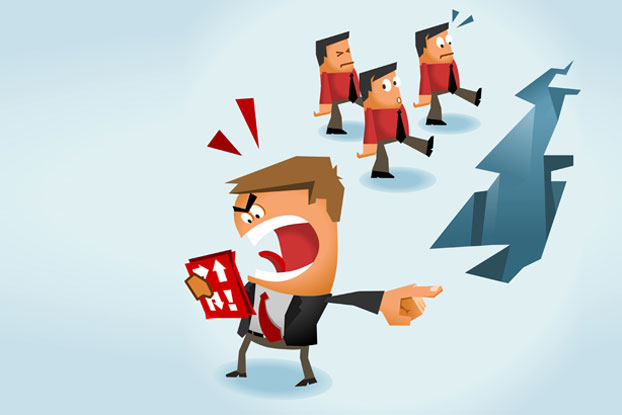 He went from being perceived as a rising star in the Republican party, to having a nickname of the "Downton Abbey" congressman.
Over the course of several weeks, a scandal around Congressman Aaron Schock evolved after a Washington Post article chronicled how his office decorations resembled the hit PBS British television series based in the early 1900s.
It ended with Schock's resignation after a POLITICO report on embellished mileage reimbursements.
The office renovation reportedly cost $40,000, and Schock sold his house to a former Caterpillar executive — who was also a campaign contributor — for higher than market value.
While not as extravagant, another abuse of power came in December when a now disgraced Korean Air executive forced an airline pilot return a plane to the gate after macadamia nuts were not — in her mind — served properly in first class.
James Wade, the Asa Griggs Candler Chaired Professor of Organization & Management at Goizueta Business School, these cases fit two examples: High status people doing bad things, and people who are targeted because of visibility.
In the case of Schock, Wade said his Congressional position was highly visible, and the media narrative of a "do nothing" Congress was pervasive. In the case of Korean Air executive Heather Cho, a bad act was made worse due to her status.
She is the daughter of the Korean Airlines chairman.
"Of course, if you're lesser known person," Wade said, "you probably can't get a plane to go back to the airport. … If you fit a media narrative and do something a little bit questionable, you're likely to get targeted for it."
Cho fit a media and societal narrative because she is a member of the chaebol, a group of South Korean family-controlled firms with strong government ties.
Media spotlight also magnifies a false perception that power corruption happens regularly.
Wade also cited a study published in 2014 by Paul K. Piff, a professor at the University of California-Irvine that said people most likely to run red lights in intersections drive BMWs.
"High status people sometimes take their status for granted and do bad things," Wade said.
Melissa Williams, an Assistant Professor of Organization & Management at Goizueta, explained one of the ironic consequences of power is that people can lose focus on other people's perspectives of them as they move up the corporate ladder.
The traits that often lead to promotions, like the ability to listen to colleagues, are not as apparent.
"You're not as likely to take that advice as you would in a lower position," Williams said.
A biological change happens when the hormone cortisol, a stress hormone, is produced less and leaders become less risk averse, Williams said. So, there is a cognitive change in how these leaders view the world.
One consequence for an organization's image is that its customers or clients believe it doesn't care as much for them. And feedback is vital.
"Leaders need a way to get feedback that they're not getting and taking seriously," Williams said.
While forecasting this kind of behavior is difficult, there are ways to pick up warning signs. Williams said identifying behavior that could cause leaders to go astray is not found in the way traditional promotions are awarded — competence, skill being "the best" at a given job.
A signal of handling power comes from personality tests and reactions people have to power before they receive it. For example, how regularly is someone self-serving versus being selfless?
Williams wrote a paper published in the Journal of Management in 2014 titled, "Serving the Self From the Seat of Power: Goals and Threats Predict Leaders' Self-Interested Behavior."
In the paper, Williams wrote that because power increases goal-oriented behavior, it amplifies the tendency of self-focused goals. Because power is generally desirable, leaders whose power is threatened will turn their focus to maintaining that power — even at others' expense. Williams' research also found power does not equate to negative effects, and it may be positive.
She called it good news for organizations and for humanity.
But perhaps too late for some politicians and irate executives.
"The reputation of power as a purely malevolent social force appears then to be at least partially undeserved," she writes.