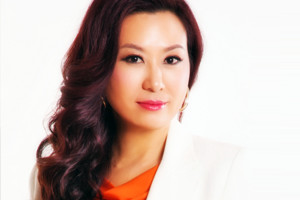 Rani Huang 12WEMBA was in a choice position to sell her life sciences company back in 2012 for a hefty profit. As the world's first company to commercialize antibody array testing kits, RayBiotech had cutting-edge technology and first-mover advantage. Over the last 14 years, its antibody, protein and immunological-based methods of biomarker discovery have helped researchers worldwide to discover diseases and speed drug development.
Huang, president and COO, cofounded RayBiotech with husband and CEO, Dr. Ray Ruopan Huang, in 2001. She currently oversees the business and operations side of the company from the Norcross, Ga. headquarters. Her husband served as principal investigator and led development of the technology while an assistant professor at the Emory School of Medicine. Today, he handles scientific research and new product development at RayBiotech. The company has a comprehensive licensing agreement with Emory University.
Given the couple's passion for the business, it was difficult to consider cashing out when approached by investors.
"It's a hard decision to consider selling or taking your company to the next level," she said.
The pair opted for the latter. It was a smart move, she adds, since the company continues to add new technologies and increase sales internationally.
RayBiotech's physical operations were expanded internationally in 2009 with the opening of a Guangzhou, China-based clinical research and sales location. Originally from China, Huang uses her insider knowledge of the country to navigate the intricacies of doing business there, but her background as founder of two real estate companies and an IT firm in the U.S. remain critical to her understanding of operations management.
Huang also credits Goizueta for giving her a better sense of how to keep a high tech company competitive in the marketplace.
"It's tech support, business development, and marketing all working with our scientists to initiate the kind of product we should be developing. It's always about evolution," she said.
– Myra Thomas