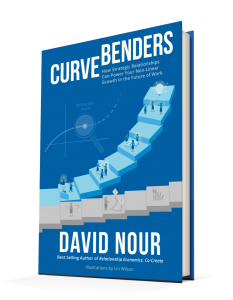 David Nour 00EMBA, CEO of The Nour Group, cringes a bit when people refer to relationship building as a soft skill. A relationship economics advisor, executive coach, and author of 11 books, Nour has spent the last 20 years researching relationships and their effect on business outcomes. During that time, he's helped his clients create enterprise value by building sustainable, strategic relationships that go beyond the transactional. His latest book, "Curve Benders," takes a closer look at "those transformational relationships that don't just help us accomplish or meet our short-term goals and objectives," he explained. "Curve-benders have a profound impact in shaping who we become."
Like a young Roberto Goizueta, who fled Cuba and came to the U.S. during the Cuban Revolution, a teenage Nour found his life re-routed by the Iranian Revolution. In May 1981, Nour, who spoke no English, flew from Iran to the U.S. to live with his aunt and uncle in suburban Atlanta. In order for Nour to remain in the U.S., they had to adopt him. Nour's parents, who still live in Iran and are retired college professors, instilled in Nour a deep belief in the power of education.
Nour earned his BBA from Georgia State University, and subsequently began a career in technology sales and marketing. He noticed that many of the people doing what he was doing in his twenties were twice his age.
"I wanted more," he said. Nour decided to get his EMBA at Goizueta, after which he went into consulting, managed a startup in New York, and then worked for a private equity firm. He founded the Nour Group in 2002.
Nour credits Goizueta with sharpening his intellectual curiosity and teaching him how to communicate comfortably with executives and leaders across industries. The school also offered Nour a core foundation of relationships. Of the approximately 50 members in his cohort, Nour said he is "proactively in touch with at least 20 of them."

In an effort to give back and to stay in touch with the school, Nour keeps in touch with several of his former professors, including George S. Craft Professor in Information Systems & Operations Management Benn Konsynski and Associate Professor of Finance and The Robson Program for Business, Public Policy, and Government's Director Jeffrey Rosensweig.
Nour now teaches a strategy visualization seminar in Goizueta's EMBA program. The pandemic has disrupted higher education, but Nour sees possibilities for lasting change in the post-COVID era, describing this time period as "a phenomenal opportunity to re-imagine, rethink, reinvigorate, and renew education," he said.
As a Father's Day gift 10 years ago, Nour's wife bought him a Vespa scooter. It jump-started a love for motorcycles. "Riding is my happy place," said Nour. This summer, Nour and his 17-year old son plan to venture across the Continental Divide from Albuquerque, New Mexico to Helena, Montana. (Nour's 19-year old daughter also rides.) A few summers ago, Nour, whose motorcycle of choice is a Ducati, rode through Tuscany, Italy and stopped to tour the Ducati headquarters. On weekends, Nour and his family can often be found riding along the back roads from their home in Atlanta through the north Georgia mountains, over to Asheville, NC and back.
"It's never just about the destination," he explained. "It's the journey."
David Nour is an affiliate faculty member in the Executive Education program, where he teaches a course in Strategy Visualization.
Goizueta MBA students engage with faculty and professionals through experiential learning throughout their program. Do you know which MBA program might be right for your professional journey and lifestyle? Find out which approach suits you best.