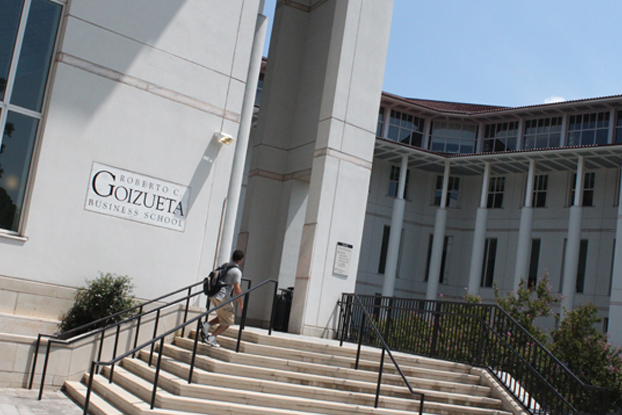 [highlight]Goizueta Business School welcomed its One-Year MBA Class of 2017 to campus this week[/highlight]. The 66-member class is the largest in the school's history, a four-student increase from the previous record set last year (62). The Class of 2017 is also one of the more diverse groups on record.
---
One-Year MBA Class of 2017 Profile
Class Size: 66 (62)
Average GPA: 3.4 (3.5)
80% GMAT Range: 560-710 (no change)
Average Work Experience: 6 years (no change)
Female: 39% (40%)
Minority: 17% (16%)
International: 17% (16%)
Details from Class of 2016 in parenthesis.
---
Students represent 18 countries including Antigua and Barbuda, Brazil, Bulgaria, Cameroon, Canada, China, Colombia, Costa Rica, India, Ireland, Israel, Japan, Peru, Poland, South Korea, Trinidad and Tobago, Ukraine, and the United States.
Their most recent employers include: A.P. Moller Maersk, Accenture, Acuity Brands, Adaptive Realty, Bank Of America, Cisco, City Of Atlanta, Cleveland Electric Company, CNA Financial, Credicorp Capital Servicios Financieros S.A., Deloitte Consulting, Delta Air Lines, Dewberry, Duff & Phelps, Ernst & Young, ESPN, Fortegra Financial, Glaxosmithkline, Hard Rock Hotels, Helmerich & Payne, Insight Sourcing Group, J.Crew, KT Corporation, Loyola University Medical Center, Martech Medical, McKesson Corporation, Memorial Sloan-Kettering Cancer Center, Morgan Stanley, Navigant Consulting, NBC Universal, Otsuka Pharmaceutical Co., Pace Harmon, Parmenter Realty Partners, Porsche, Pricewaterhousecoopers, Progressive Insurance, Protiviti, Riskonnect, Sandler O'Neill & Partners, Sintec, Suniva, SunTrust Robinson Humphrey, Synergy Petroleum, Terra Venture Partners, The Coca-Cola Company, The Norinchukin Bank, The Walt Disney Company Japan Ltd., United Minerals Group, United States Army, UPS, Wells Fargo Bank, WPM Commercial.
There are 51 undergraduate institutions represented.
About Emory University's Goizueta Business School
Business education has been an integral part of Emory University's identity since 1919. That kind of longevity and significance does not come without a culture built around success and service. Emory University's Goizueta Business School offers a unique, community-oriented environment paired with the academic prestige and of a major research institution. Goizueta trains business leaders of today and tomorrow with an Undergraduate degree program, a Two-Year Full-Time MBA, a One-Year MBA, an Evening MBA, an Executive MBA (Weekend and Modular formats), a Doctoral degree and a portfolio of non-degree Emory Executive Education courses. Together, the Goizueta community strives to solve the world's most pressing business problems. The school is named for the late Roberto C. Goizueta, former Chairman and CEO of The Coca-Cola Company. For more information, visit goizueta.emory.edu or follow us on Twitter (@emorygoizueta). Additionally, updates on rankings, accomplishments and faculty research can be found in the Dean's Report (http://emory.biz/deansreport).