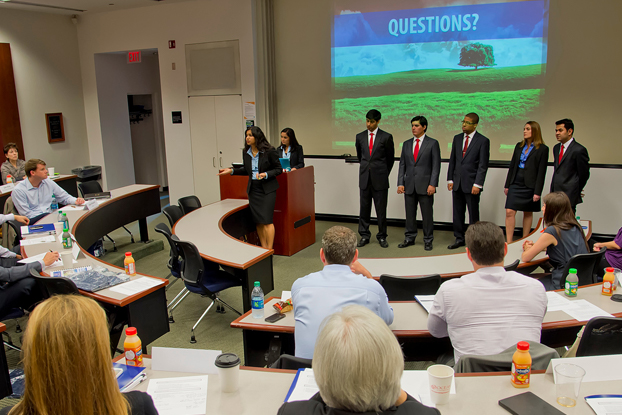 Follow live updates of Client Day at http://emory.biz/gbsclientday
MBA Teams Will Present Client Project Recommendations; Craig Menear, CEO of The Home Depot, Will Deliver Keynote Address with Dean Erika James
ATLANTA — Hosting more than 200 business executives representing more than 130 Fortune 500, mid-size, entrepreneurial and nonprofit organizations across the country, the [highlight]Goizueta Business School will showcase its top talent on Thursday, May 5, as 25 teams of MBA students present their recommendations for the critical business challenges these companies face[/highlight]. This event is the capstone for MBA students who participated in one of the 26 semester-long Goizueta IMPACT projects sponsored by 19 different companies across a variety of disciplines including strategy, operations, finance/valuation, marketing strategy, marketing analytics, social enterprise and healthcare.
Throughout the day across three sessions of presentations, Goizueta MBA teams will explain the nature of the problem they have tackled and share their recommended solutions to panels of judges comprised of business leaders, alumni, faculty and staff. After the students gain valuable experience presenting to this real-world audience, they will be challenged with questions and receive detailed written feedback to help prepare them for success beyond business school.
Goizueta IMPACT projects enable students to build a bridge from theory to practice. Students complete required coursework that equips them with proven frameworks, tools and processes to tackle complex problems effectively. Then they integrate these management skills with the business acumen gained through their other courses and apply them to their client's project.
Teams of 3 to 6 students work together to address one of the organization's critical issues. Students are in regular contact with client liaisons to review findings and receive feedback, as well as to request information and data needed to complete the project. Throughout the project duration, the faculty and staff provide hands-on leadership coaching to ensure team effectiveness. Then they prepare to present their final recommendations at Goizueta Client Day to their client and the panel of judges.
In the past, only students enrolled in the Goizueta Marketing Strategy Consultancy (GMSC), which just celebrated its 25th anniversary, participated in the presentation day. The newly named Goizueta IMPACT program has expanded from GMSC's six teams to 18 teams, reflecting the breadth of project disciplines represented, from marketing to operations to finance. MBA students across all programs now have the opportunity to participate in this larger event, Goizueta Client Day.
This year's sponsors include: Atlanta United, The Coca-Cola Company, Coca-Cola Freestyle, CompostWheels, Diabetes Prevention Design Team, Georgia Organics, Gideon's Promise, The Home Depot, Persona, Purchasing Power, Popeyes Louisiana Kitchen, Porsche, Rollins Orkin, TCube Solutions, The Athlete's Foot, UPS, Wallace H. Coulter Foundation and the Veterans Administration.
After the three sessions of presentations, Craig Menear, CEO of The Home Depot will deliver the keynote conversation with Dean Erika James. The day will close with a networking reception.
"Our approach to business education is rooted in our belief that experience-based learning is central to creating holistically trained graduates. For more than 20 years, our partners in the business community have invested in our talented students by sponsoring projects that allow them to develop acumen in a hands-on way. Goizueta Client Day is our opportunity to showcase the incredible work of our students, while allowing them to benefit from the expertise of top business executives from across the country," James said.
About Emory University's Goizueta Business School
Business education has been an integral part of Emory University's identity since 1919. That kind of longevity and significance does not come without a culture built around success and service. Emory University's Goizueta Business School offers a unique, community-oriented environment paired with the academic prestige and of a major research institution. Goizueta trains business leaders of today and tomorrow with an Undergraduate degree program, a Two-Year Full-Time MBA, a One-Year MBA, an Evening MBA, an Executive MBA (Weekend and Modular formats), a Doctoral degree and a portfolio of non-degree Emory Executive Education courses. Together, the Goizueta community strives to solve the world's most pressing business problems. The school is named for the late Roberto C. Goizueta, former Chairman and CEO of The Coca-Cola Company. For more information, visit goizueta.emory.eduor follow us on Twitter (@emorygoizueta). Additionally, updates on rankings, accomplishments and faculty research can be found in the Dean's Report (http://emory.biz/deansreport).