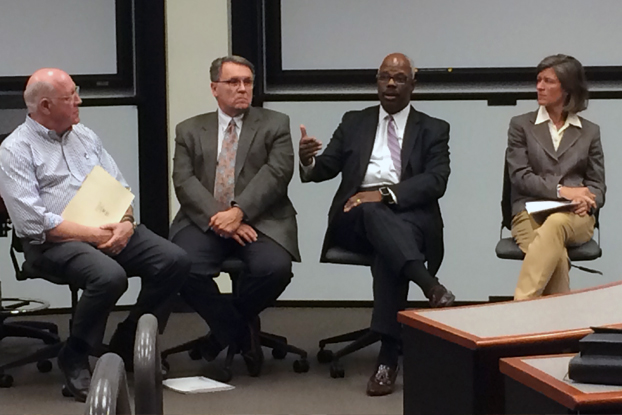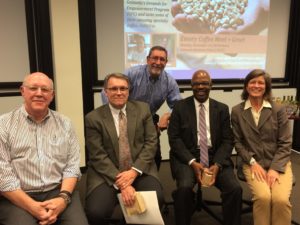 Mergers happen all the time, but rarely are they as notable as when Atlanta's First Step Staffing acquired LGS Staffing in December 2015. At the time of the acquisition, LGS, a for-profit company, was 10 times larger than First Step, a nonprofit that operates as a staffing agency for individuals experiencing homelessness. A smaller firm's purchase of a large one is an uncommon occurrence, but even less common is a blended entity that emerges stronger than ever. Time will tell, but nearly one year out, First Step is a rousing success story, and one Goizueta wanted to explore at its most recent nonprofit panel, Thursday, Nov. 10.
The panel was co-sponsored by Social Enterprise @ Goizueta (SE@G) and the Social Enterprise Alliance (SEA) (Greater Atlanta Chapter). CEO Dave Shaffer shared First Step's story and he was joined by two investors: Sam Moss, senior director of finance for The Cousins Foundation and SE@G executive-in-residence, and Ron Alston, senior vice president for SunTrust. Cindy Cheatham, president of Good Advisors LLC and the SEA Greater Atlanta Advisory Council, served as moderator.
Staffing is very much a numbers game, and while First Step's mission to provide a sustainable income for those transitioning from homelessness while also helping local businesses succeed is an ambitious and laudable one, it's not necessarily a mission that draws big money investors. So when First Step founder Greg Block 88C decided to grow his business he used economic terms to make his case.
"For every person experiencing homelessness, the cost to the community is $40,000," said Shaffer, who was hired as First Step CEO following the merger. "If they are employed making $20,000 a year, that's a $60,000 swing per person, and that's significant."
Block wanted to raise $7.2 million for the purchase of LGS, so beginning in March 2014, he hit the streets of Atlanta seeing investors. While he earned a lot of respect for gumption, financing was a bit harder to come by.
"We saw this as the minnow swallowing the whale," Alston said.
Moss, who was affiliated with the Glenn Cousins Family Foundation, went into a bit more detail, and provided one of the evening's most humorous moments when he read the list of the foundation's concerns.
"The purchase price is expensive," Moss said. "Margins are low. Business is highly cyclical and sensitive to changes in the economy. Target company is 10 times larger than First Step. Converting the target company from a traditional placement agency to a focus on homelessness is challenging and unproven at this scale. The operations will be eventful and bumpy, regardless of their intensive planning. We expect this to be anything but a passive investment, and full repayment is uncertain."
There was significant significance, though. Moss said that the social impact of such a merger would be high, and the business model, if and as successful, was scalable. Alston was won over, too. "What became apparent," Alston said, "was that this was the business equivalent of a village raising the child. The business was the child. We just needed to find out who the village was."
Eventually, that village included SunTrust (to the tune of $2 million), the Glenn Cousins Family Foundation (which offered Block his choice of a $50,000 grant or $500,000 loan—he took the loan), and several other investors, including the City of Atlanta. Once the merger was completed in December 2015, Shaffer came in to move First Step forward, and the process was smoother than expected.
Most of LGS's employees remained on staff, the client base is growing, and First Step's revenues now sit at more than $20 million (a nearly five-fold increase)–$1.3 million of that profit. Most importantly, the number of men and women they have placed in jobs has nearly tripled.
Shaffer said that one of the reasons the model has been successful, and how it can be replicated elsewhere, is that First Step's mission and business success are one in the same. "We realize that there is this tension between the social side of our business and the business side," he said. We embrace that because at that friction point, I believe, that's where the best things happen."
Since 2014, Emory's Goizueta Business School has inspired dialogue and exposed students, alums and leaders from the metro Atlanta community to today's top management topics driving change in the nonprofit sector through Social Enterprise at Goizueta's Nonprofit Panels Series. The series features four panels each year hosted at the Goizueta Business School.  Admission is free and all are welcome to attend.   The next Panel, focuses on Diversity in the Arts, will be held on February 16, 2017 at the Goizueta Business School.