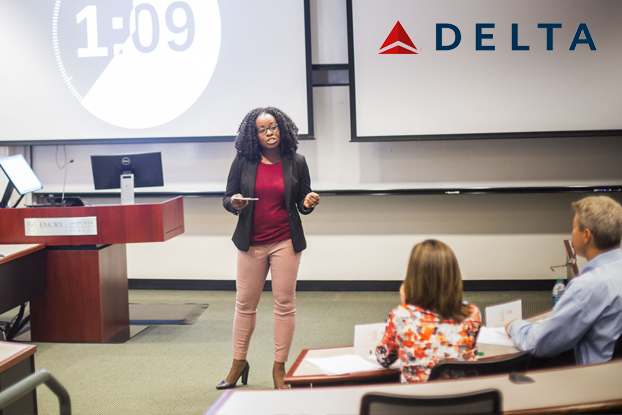 How would you suggest solidifying Delta Air Lines the "carrier of choice for the next generation of travelers"? Great – now can you pitch that idea to a room of Delta executives in three minutes or less? That was the question posed by the airline to Goizueta Business School FTMBA students as part of its inaugural Delta Air Lines Mid Semester Module International Travel Competition, and the more than 120 responses did not disappoint.
Delta and Goizueta launched the creative, interactive competition as a new way to consider company-student engagement while encouraging meaningful and mutually beneficial partnerships.  Twenty-five MBA students at Goizueta Business School presented to  Delta executives Thursday afternoon on various ideas to improve business travel, focused primarily on the Millennial traveler and international brand distinction. Students were selectedfrom more than 120 written entries, all reviewed by the Delta team.
Eight finalists were awarded free airfare on Delta for one of the school's upcoming international study opportunities to countries such as South Africa, Japan and India. The judges were so impressed with the ideas, which ranged from new reward program elements to social media enabled engagement, that they also added 10,000 SkyMiles to all finalists' accounts.
The theme of the night centered around the desire millennials have for valuable and holistic travel experiences integrated into their everyday lives.
"Millennials are seeking ways to augment their travel experience," pitched Moyosola Akinkanju. "Adding additional events to redeem miles is just the way to do it… The millennial business travel values his or her time and experience. These are shared values that Delta espouses."
Pitches ranged in focus from improved mobile app experience to expansions of Delta's loyalty program, particularly when it comes to reaching younger flyers. Touch points included "quick rewards" to allow one-time access to frequent flyer lounges and other amenities to a new level of status more accessible to novice travelers".
"Loyalty is about timing… It's important to get in there early, build those relationships and keep them," finalist Kate Davis Green told the panel.
"The presentations were wonderful," said judge Joanne Smith, Executive Vice President and Chief Human Resources Officer at Delta Air Lines. "There are a lot ofnew and unique thoughts. It was tough to get it down to the number we agreed to [but] these eight had the most innovative ideasthat align with efforts we can execute."
Winners will document their international study experience during the Spring semester and have an opportunity to meet with Delta Air Lines CEO Ed Bastian upon their return.
2016 Delta Air Lines International Mid-Semester Module Competition Winners
Anna Selser
Katie Hoppenjans
Pritom Das
Matthew Brown
Annabella Torrealba
Lee Rensch
Amy High
Kate Davis Green