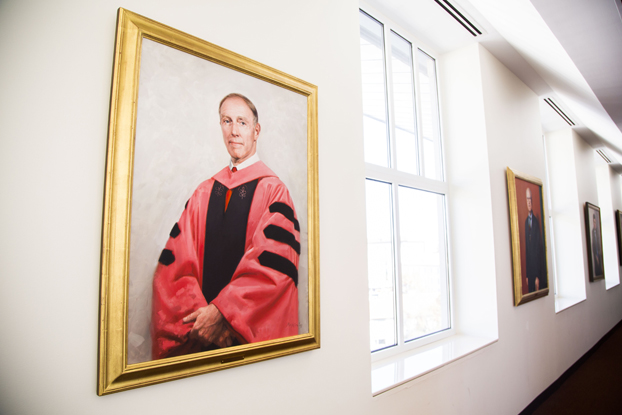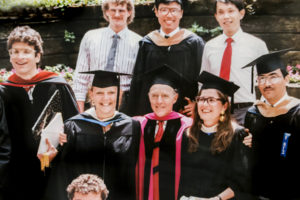 The Robson Foundation, named for former dean John E. Robson, has pledged $2.1 million to establish the "John Robson Endowment for the Study of Business, Public Policy and Government" at Goizueta Business School. The gift, announced today, will lead to the establishment of a program focused on the growing complexities of business and civics.
"The Robson family remain vital members of our community," said Erika James, John H. Harland Dean of Goizueta Business School. "I'm so happy Dean Robson's memory will live on through a program that mirrors his vision and is of vital importance for future business leaders."
The endowment will drive the efforts of the John Robson Program for the Study of Business, Public Policy, and Government, directed by Jeff Rosensweig, an international business and finance professor.
Robson served as dean at the then-Emory Business School from 1986 to 1989, leading the charge to raise the school to national and international prominence.
Among his contributions, Robson installed high-profile members of the corporate community on the Dean's Advisory Board. Many faculty members were recruited during this time, including the late George Benston, Bob Drazin, Rob Kazanjian, Benn Konsynski, Jeff Rosensweig and Jag Sheth. He recruited key contributors now on the school's senior staff, including Senior Associate Dean and BBA Program Director Andrea Hershatter and Associate Dean of MBA Admissions Julie Barefoot. Robson also started the Global Perspectives Program with original funding by the school's namesake, Roberto C. Goizueta.
Away from Goizueta, Robson was a recognized public servant, working with four U.S. Presidents. Notably, he served as Deputy Treasury Secretary under George H. W. Bush. At the time of his death in 2002, Robson was President and Chairman of the Export-Import Bank, which informed the George W. Bush administration's trade and foreign policy.
"John Robson had a passion for linking business and public policy in positive ways," Rosensweig said. "John personified the rare leader who succeeds in business, government and civic service and academia. We will ensure students interact with exemplary leaders from all these spheres."
The Robson family remain connected to the school, in part, by supporting an MBA scholarship.
"My father's years at Emory were some of the most rewarding of his career," Douglas Robson said. "Both my parents would be proud and excited to know the groundwork he laid is being carried forward with this new initiative."
The Robson Program will act as an umbrella for business school activities in the areas of business and government and ensure the school remains present at the intersections of policy and industry.
"John experienced first-hand that needed societal solutions could stem from business, civic, and government leaders achieving a common understanding," Rosensweig said. "The John Robson Program will help prepare principled leaders for global enterprises in the private and public sectors."
Among other duties, Rosensweig will facilitate various lectures and an annual forum for students, executives and faculty. The program will also include coursework in conjunction with Washington Campus.