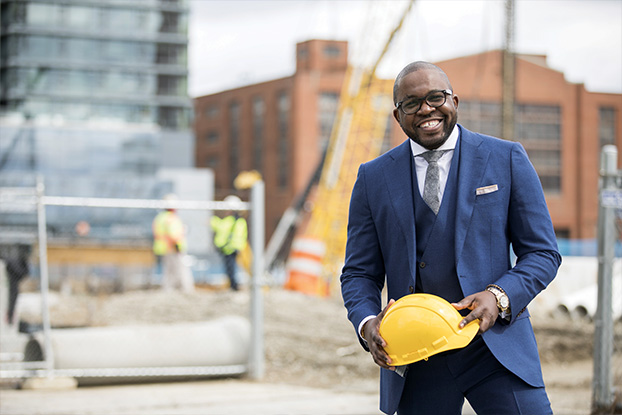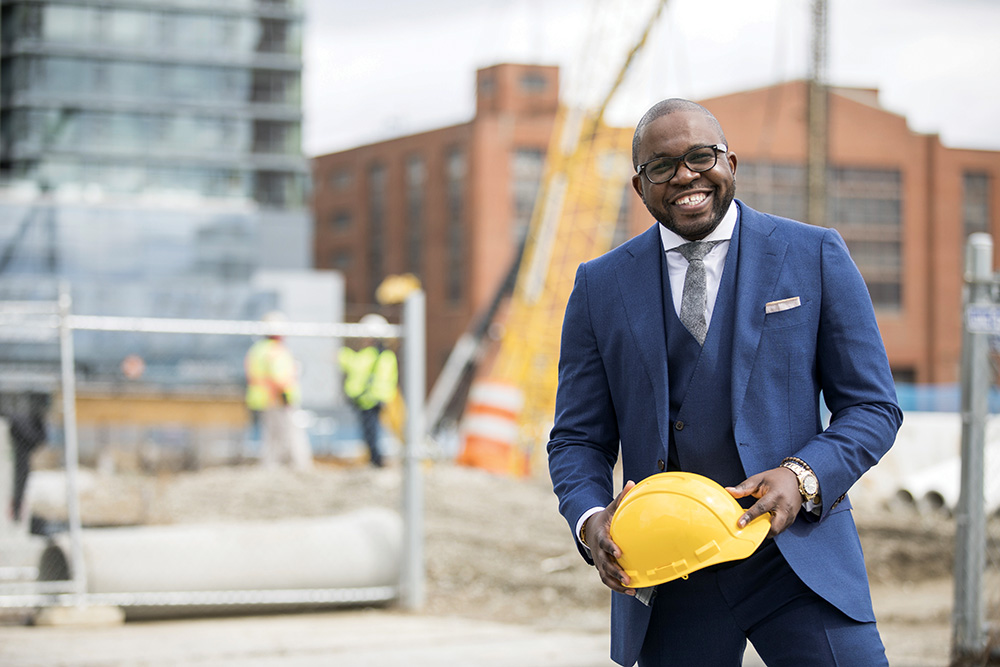 Aty Biswese 14WEMBA began his journey into entrepreneurship at age 25. The Morehouse grad was enjoying his work as a consultant in Chicago, with his first nice apartment in the South Loop area, when divine intervention altered his path.
"There was a gas leak in my apartment building in November, and all the tenants were evacuated to a nearby hotel until the problem was resolved," he says. "But the leak never got fixed. Everyone received their money back, and I found myself with nowhere to live. I felt homeless during the holiday season."
That's when he realized the power of real estate and the importance of home ownership. As a Christmas gift, he purchased his first condo and never looked back.
"I wanted to harness that overwhelming feeling of joy and relief at having a home into something more, towards a passion," he says. "That experience taught me that the business of real estate is very emotional. And for me, it's a personal calling that became a business in 2005."
Nearly 13 years later, Biswese owns two companies. The first, the NID Group, is a full-service, boutique real estate brokerage firm with headquarters in Washington, DC. NID (or "nest" in French) represents buyers, sellers, and developers in the purchase of homes or acquisition of land, among other services.
Then in 2014, he started Third Story Capital, a real estate private equity and community development firm, focusing on niche real estate investments and distressed assets that suffer from curable flaws in management, market position, physical attributes, tenancy, or capital structure.
"This is the contracting side of the business. We have investors, and we help people build a real estate investment portfolio or to build or customize their dream home."
His road to creating Third Story was equally providential.
"During the real estate downturn, I realized the need to make myself better than the competition, better than anybody else," he recalls. "It was time to reinvest in myself. And the best way to reinvest in myself was to go back for the MBA. And for me, location was very important."
Chicago was on the list, but Biswese considered Atlanta his US home. After all, he had immigrated to America from Africa by way of Europe in the late '90s with plans to study engineering at Georgia Tech and hopes of becoming a basketball star.
Instead, he would learn about Morehouse and turn his attention to business. When it came time to choose a school for his MBA, he wanted the same type of experience.
"I wanted to fall in love with my business school, the same way I fell in love with Morehouse," he says. "During my visit to the Emory campus, I felt welcome. That was big for me. I didn't feel like a number; I felt like I was treated as part of the family."
His coursework in private investment, finance, and leadership would shape the way he structured Third Story.
"At Goizueta, I learned hands-on how to put together venture and financial deals. This is the type of knowledge I learned in the classroom and was able to apply day one," he says. "As a matter of fact, Third Story Capital was put together a week before I graduated from business school. Goizueta definitely gave me the tools to take it to the next level."
Today, Biswese is preparing to open NID's fifth office, in Virginia—the others include Illinois; Georgia; Washington, DC; and Maryland. As his businesses grow, Biswese is learning to delegate, which allows him to commit more to gym workouts and family time, but he remains active in the day-to-day operations, from hiring and training staff and agents to brokering deals and showing houses.
"As the managing broker and the president, I still sign off on most of the deals. This protects the company, but I also like to stay involved," he adds. "I still like to be on the field because it keeps me on top of my game. I don't want to be just a figurehead. I love being hands-on. I love being out on the field."