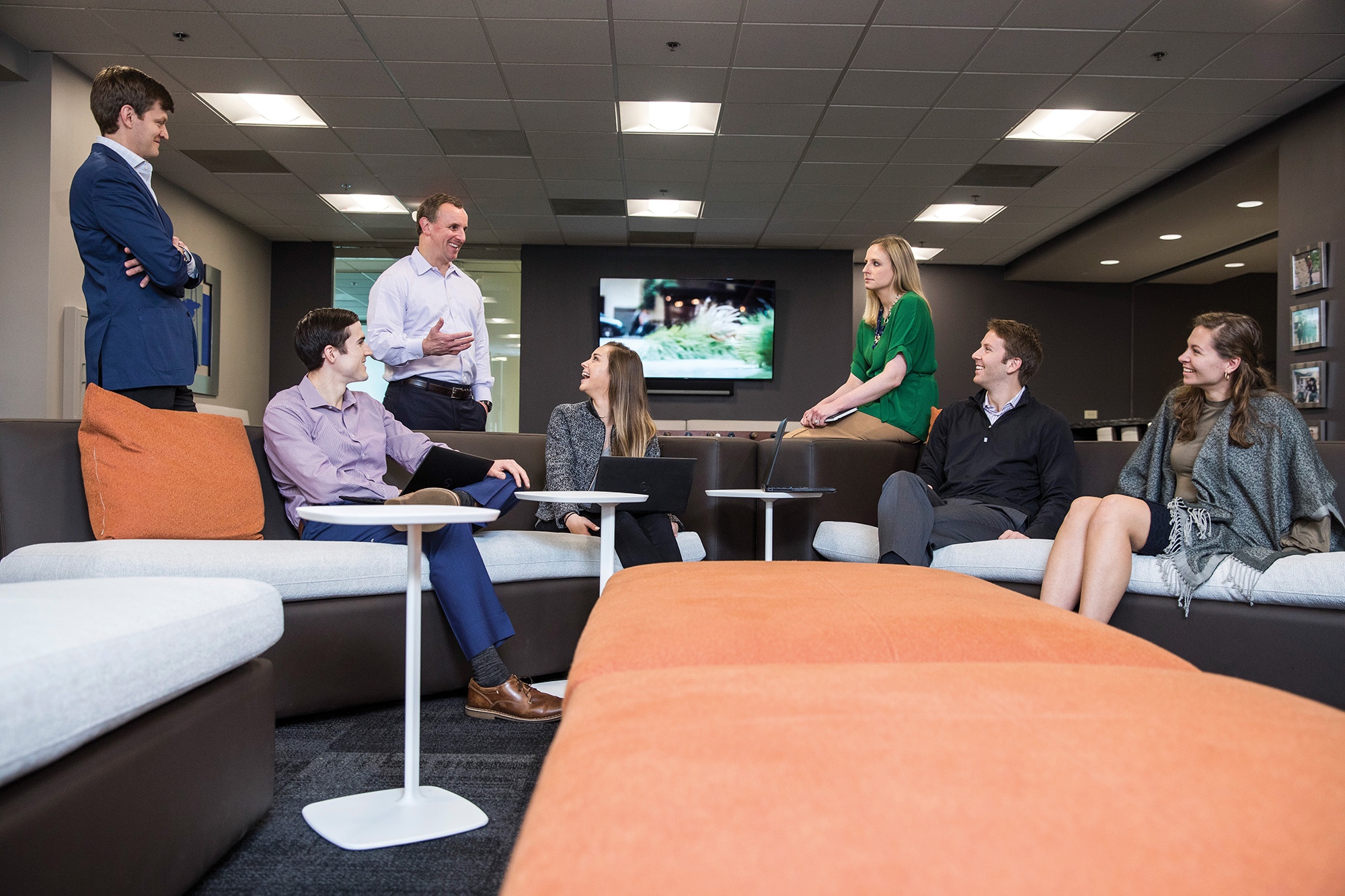 Unlike many high-octane leaders, Insight Sourcing Group founder and CEO Tom Beaty 97MBA wants to make sure his employees aren't working too much. A "Pulse Survey" to check their work-life balance is part of the winning formula that earned his 15-year-old company bragging rights last year as No. 1 Best Place to Work in Atlanta among medium-sized firms.
In 2017, the consulting firm providing cost-optimization and procurement services marked its tenth year on the Atlanta Business Chronicle 's list.
However, Beaty isn't resting on his laurels. He's constantly innovating. In fact, a tour of Insight Sourcing reveals two "innovation rooms."
For the launch of new products and services, he follows a three-phase model: prove-it, commercialization, and scaling. "We don't overinvest in the beginning until we figure out what is viable."
Beaty does believe in substantially investing in people, training, and physical space to attract quality staff. While the ratio of women to men is about 1 to 3, senior leaders are mostly Caucasian males. Beaty aims to recruit more minorities, targeting African-American colleges. "We've made it part of our 2020 strategic plan to improve diversity," says Beaty, a former Woodruff scholar at Goizueta.
Not surprisingly, Beaty has "super high standards" for himself and those who work with him. The result: Insight Sourcing is mushrooming. The $34 million Peachtree Corners, GA, business grew 35 percent in 2017 and expects to do over $42 million in revenues in 2018. Beaty, 49, notes, "Up to now we have totally funded our own growth. We have never had debt."
Not bad for a company he started in his basement in 2002. But even before that, Beaty already had a taste for entrepreneurship. "Between my sophomore and junior year at the University of North Carolina, my father passed away. I dropped out of college at age 20 to help run the family industrial construction business. The day I walked in, we had no cash. We had to figure out whom to pay every single day."
Beaty dug into the accounts receivable and saw the company was owed a lot of money for work already completed. He called on those clients and secured their help. Many also prepaid for future work out of respect for his father.
Beaty turned around lagging sales, sold the company, and finished his BA in military history with several job offers waiting. "I took the lowest paying offer by half because it would teach me how to sell. I knew one day I would be an entrepreneur, and I wanted to learn how to sell." He wasn't good at it and got rejected on cold calls. "I started looking at sales as a science, and I came up with a method that was very effective for me."
Then he earned his stripes as a manager at Deloitte Consulting and as a director at ICG Commerce before launching Insight Sourcing Group and also starting the Witness to War Foundation, a nonprofit that captures stories of combat veterans. "We are an extremely client-centric organization," he declares. "We have a lot of long-term clients. That's one of the keys to our success."
Another is work-life balance. Employees travel much less than typical consultants. Beaty calls it a "smart travel model": 1 to 1.5 days a week on the road, versus 4 days a week that typical consultants spend on the road. Beaty and his wife, Suzanne, have three children: Grant (19), Connor (16), and Reagan (12). He scored big points at home with the work-life balance model, for many years coaching soccer, basketball, and lacrosse. "My sons play lacrosse and soccer for their school, and my daughter is a gymnast," says the proud dad.