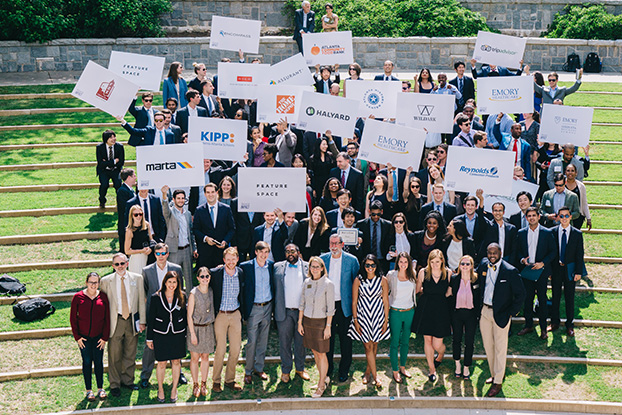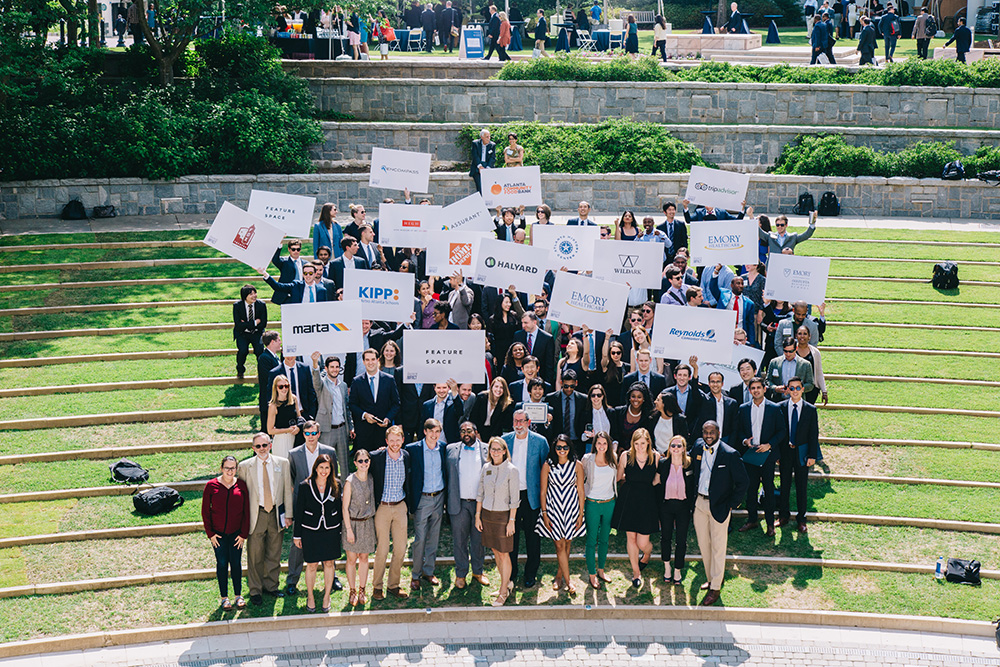 At the end of spring semester, the halls of Goizueta were abuzz when nearly 300 business executives from a multitude of Fortune 500, mid-size, entrepreneurial and nonprofit organizations came to campus for Goizueta's IMPACT Showcase Day.
The event is part of Goizueta IMPACT, a project-based experiential learning program uniquely designed to accelerate student career readiness and extend Goizueta's value to the business community.
Throughout Showcase Day, more than 20 MBA students presented their final recommendations from their semester-long consulting projects to the business executives with hopes to win the "Goizueta Gold" for the best team presentation. This year's winner was the KIPP Metro Atlanta Schools team, that helped KIPP develop a transportation solution to support expansion.
Capping off the day's events, keynote speaker and CEO of SurveyMoney Zander Lurie 99JD/MBA sat down with Dean Erika James for a conversation, which can be found below.
---
Q: The tech scene, especially for new companies, is notoriously competitive. What would you say were some of the differentiating factors that allowed SurveyMonkey to succeed?
A: SurveyMonkey had a few things going for it. It started in 1999. It was early. I don't think you could replace our marketing spend with a billion dollars in advertising today. History and brand matter. Dr. Noonan, who was my professor 22 years ago, marveled at the fact that in a couple of days, you can get high-quality responses from 10,000 people and get to a very large cohort on a low dollar figure to get you to ROI. It's on us to continue to develop products and delight our customers in a way that differentiates us from our competitors. We have to continue to hire world-class people who push and ask questions and force the company to disrupt our own business model, because a ton of really good companies are gunning for us. We need to continue to invest and innovate and disrupt ourselves before somebody else does.
Q: Who have you mentored?
A: We have a program called the Director's Cut. We have 50 people at our company that have the title of director or senior director. Another 22 people who have a title of VP or higher. This is the next group of senior executives at the company. We talk about things like cross-functional collaboration. Everybody is super nice at SurveyMonkey, but what I'd often hear is people aren't really honest and having a real conversation. The real conversation is when you walk out of a meeting and are like, "I don't know what he's talking about." Or, "That's not feasible." Or, "We don't have the resources to do that." Say the words in the room, so we can actually have the conflict. So that we can get to a decision, and I'll have confidence that we're going to commit. We strive to teach teams how to work well together.
My personal focus is finding high-quality talent, especially in under-represented groups that have difficulty getting access to senior management. I tend to spend my time with women and under-represented groups where I see opportunity to promote and grow to give them an opportunity to succeed.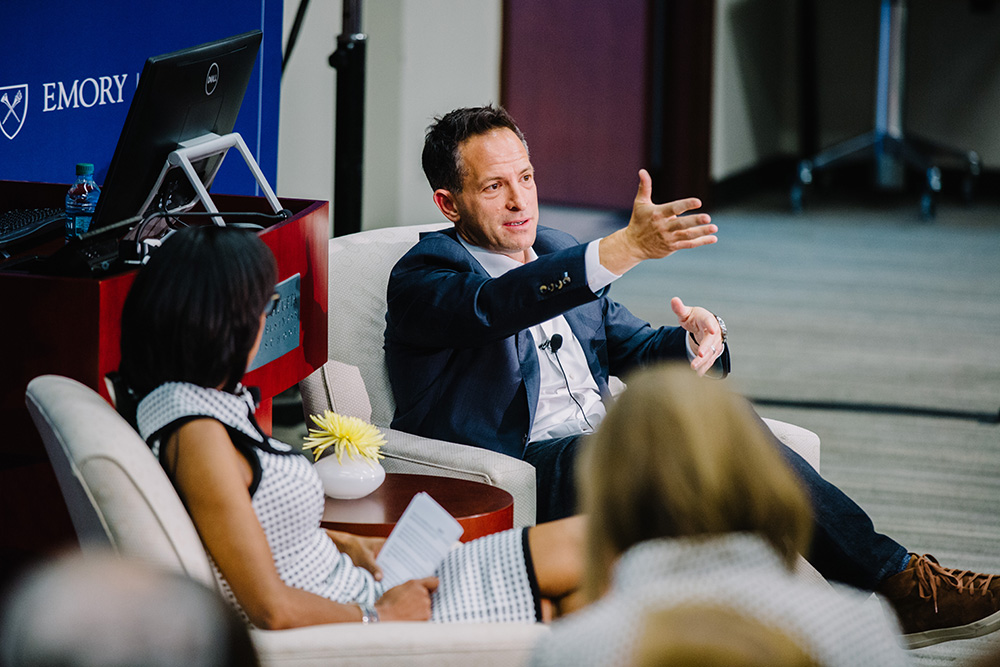 Q: What lessons do you take from your own career experience that might be helpful to our current students?
A: We all have 24 hours a day. Be absolutely ruthlessly vigorous and judicious about how you spend your time. I try and do five things while constantly balancing different work streams.
First is strategy. Are you going after a big problem where you can change the world, and does it map to your assets? To what you know, what your team knows, what your company has building blocks in to be successful at it. Pick a really good strategy.
Second, build yourself a great team. That can change from a super early stage startup when you're looking for co-founders to if you work at Home Depot today and you have a bunch of people you need to move out and replace. You've got to build a diverse team of people who will be authentic and honest, who can supplement areas where you have weaknesses and can scale over time. Be honest about when people are bumping up into a ceiling and they are not going to grow. It sucks to fire people and move people out, but it's part of the job and it's a constantly organic team building process.
The third is culture. Make sure your values are not just words on a wall. Understand what your company does well for customers, for employees, for their community, and really make sure that you live by them, and you use them in employee reviews, and in your interview process and your promotion process.
Fourth is accountability. You've got to hold yourself accountable. The hardest thing to do is tell your shareholders, your employees, your faculty, your team, "We said we're going to do something and we missed." That happens all the time, but be honest, and be accountable, and make sure there is ownership of where you've come up short.
Lastly, it's communications. It's an ongoing struggle. You've got to be communicating to your employees, your shareholders, your teams, your students in a way that is crisp and clear and is representative, regardless of the situation or media used. You have to say the thing over and over again. Reed Hastings, the CEO of Netflix, told me, "It's best to say the same thing to the external world and to your internal world." Communication that's honest, and how you talk to recruits and manage your team and talk to your customers, or what you put on your website or say on press interviews is really important. And it's an ongoing learning, but that communication is critical to your success.
View the Gallery
[ngg_images source="galleries" container_ids="24″ display_type="photocrati-nextgen_basic_slideshow" gallery_width="600″ gallery_height="400″ cycle_effect="fade" cycle_interval="3″ show_thumbnail_link="0″ thumbnail_link_text="[Show thumbnails]" order_by="sortorder" order_direction="ASC" returns="included" maximum_entity_count="500″]
#GBSShowcase Social Posts