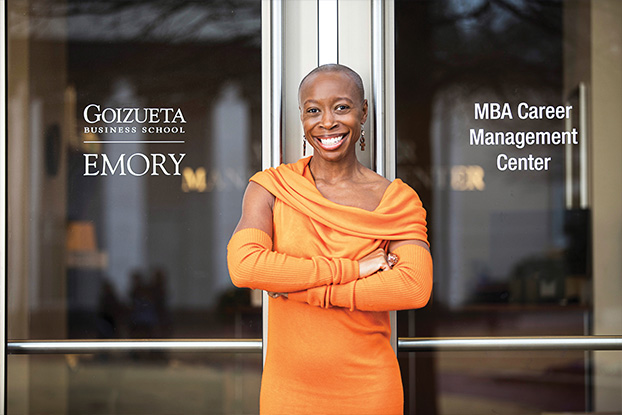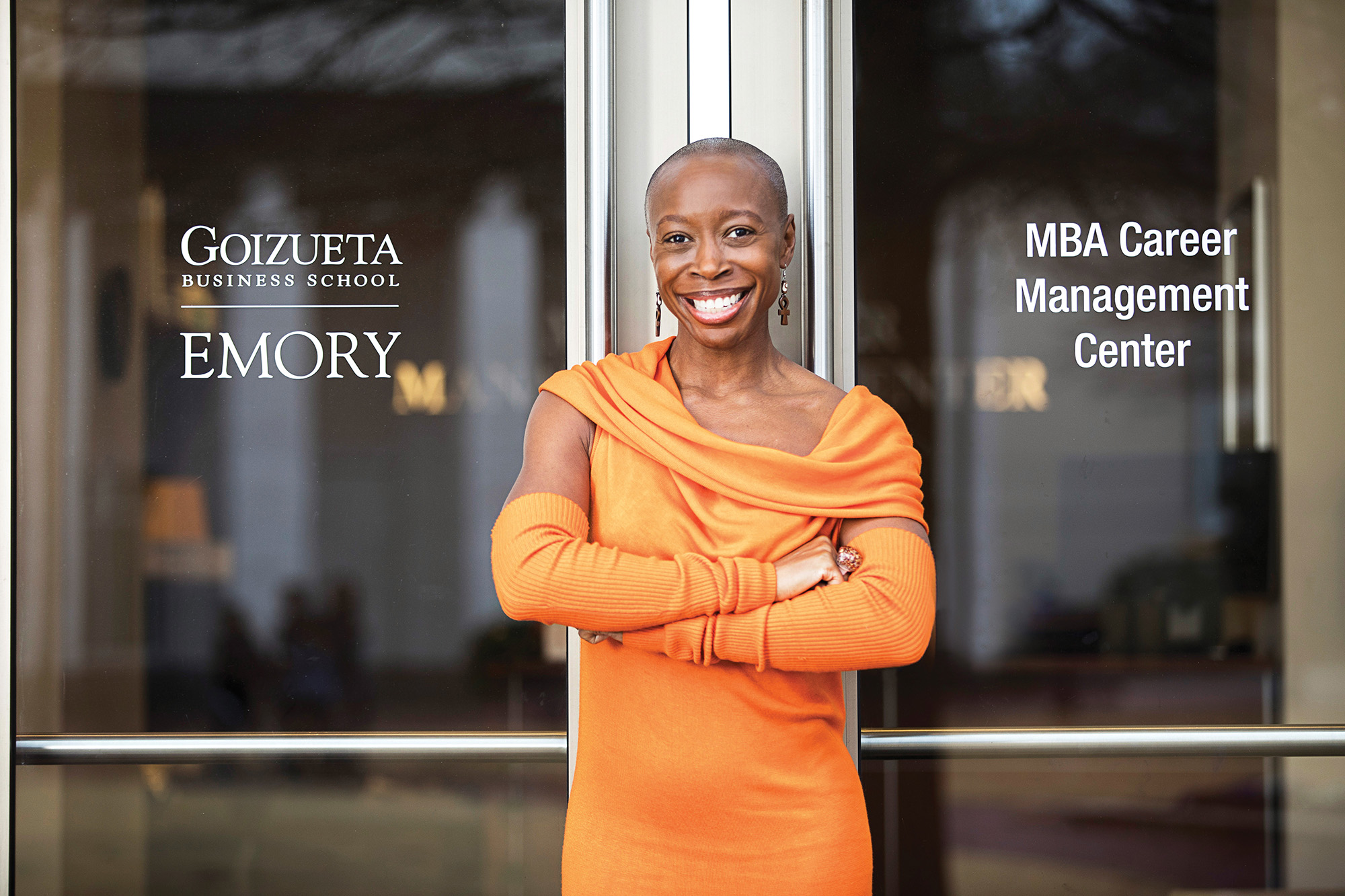 Paula Fontana is one determined soul. Every morning she's up at 4 a.m., has a protein shake and some supplements, then heads to the gym. By 5 a.m., she's lifting weights and sculpting a different body part. For this bodybuilder, the routine brings the kind of results that push her to the next level. This same tenacity is seen when she steps before an audience as an orator, crafting the spoken word into a poignant or joyous soliloquy. Then there's her day job at Goizueta, where Fontana is an associate director of advising for the MBA Career Management Center, guiding students with an interest in marketing.
---
For this introvert from the South Side of Chicago, it's fair to say, she's got it going on. Emory Business (EB) recently sat down with Fontana to learn more about her drive for physical and mental strength and to talk about how these attributes make her a better coach.
EB: Where did this interest in bodybuilding come from?
Fontana: Growing up I was always thin, but I did not like athletics, and you would never find me in a gym, especially since I could eat whatever I wanted and not gain weight. I got remarried 5 ó years ago, and my husband Tony and I both love to eat the same types of food—pizza, cake, ice cream, you know, delicious things like that. Over time, I recognized that only one of us was growing—me! So, I joined a gym because I didn't want to stop eating badly. Then I was talking to one of my best friends, V, from my undergraduate days at Purdue. He used to be a football player there and suggested a bodybuilding regimen to achieve muscle definition.
EB: Have you always been a disciplined person?
Fontana: I would use a different word—focused. If I really want something, I will not be deterred. I am going to do whatever I have to do to get it. In March, I competed at the National Physique Committee (NPC) Atlantic Bodybuilding Championship and placed second in Novice Bikini Class C and third in Master Bikini over age 45. I am so very proud of my progress since competing last year. The next time I step on the stage, I will take home a winning trophy.
EB: You are definitely not a stranger to the stage. In 2016, you shared a spoken word, as you like to call it, as part of Emory's annual Dr. Martin Luther King Jr. Service Awards, and you speak at other events like weddings and funerals. How did this get started?
Fontana: I am an introvert, so I don't usually like to speak very much. About 16 years ago or so, in church, people would ask me to "do a little something" for Women's Day or some special program. And that's really where the talent began to cultivate. From there, it grew to "Oh, another church heard you speak, and they want you to come." Or, "Would you speak at my birthday party? Because I think you would say great things about me." I call it the gift that God gave me.
EB: Let's transition here to Goizueta. Introvert? Yet you counsel people for a living. How does this work?
Fontana: I started as an advisor at the University of Georgia, where I got my MBA. My background was in marketing, but the market was tough in 2008, so I took this advising job. Prior, I was a brand manager for Newell-Rubbermaid and a marketing manager for a healthcare company. As I started to do the job, however, I realized that I actually liked helping people.
EB: What is your approach to coaching?
Fontana: I usually start by getting a student's background and learning as much about them as possible. Most people just want to dive right in and talk about jobs, but I want to know who you are because it helps with the relationship building. My coaching style is tailored to each student, but the foundation is getting to know them as a person.
EB: How do you keep up with the industry, trends, what's going on, who's hiring, all that good stuff?
Fontana: For one, I tap into the Goizueta network and stay in touch with alumni in the industry. And then, of course, students, once they've had interviews, will come and talk.
EB: What's your usual caseload?
Fontana: I have maybe about 50 to 60 first- and second-years. And then, there's maybe six or so one-years. Then, outside of that, the biggest project I work on is the consortium project.
EB: Closer to home, your son Colby is 15 and already thinking of college. What advice do you give him?
Fontana: Recently, he says he wants to be a math professor or a math teacher, which I would love to see him do, because black men are underrepresented in both. I do recognize that he'll probably change his mind about careers a couple times. However, I'm trying to give him exposure into different types of careers, like engineering, based on what he likes to do.
*Each issue, we select a faculty or staff members, current or retired, to "have coffee with." The objective is to gather insights and perspective on a topic of interest to alumni and friends of Emory University's Goizueta Business School. If you have a favorite faculty or staff member you would like to "have coffee with," please send your suggestion to gbsmag@emory.edu.
For more on Fontana's work with students in The Consortium, visit emory.biz/coaching.