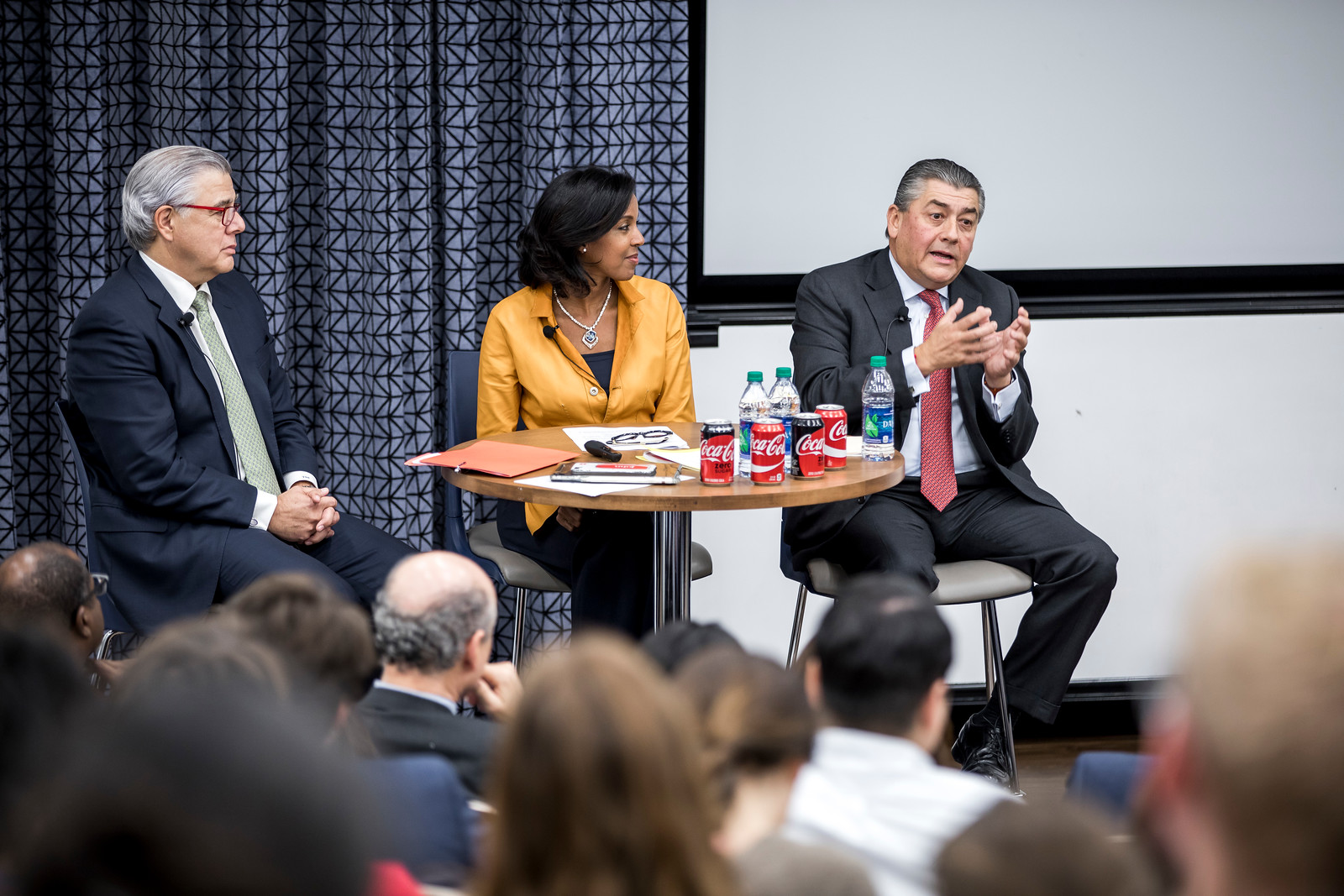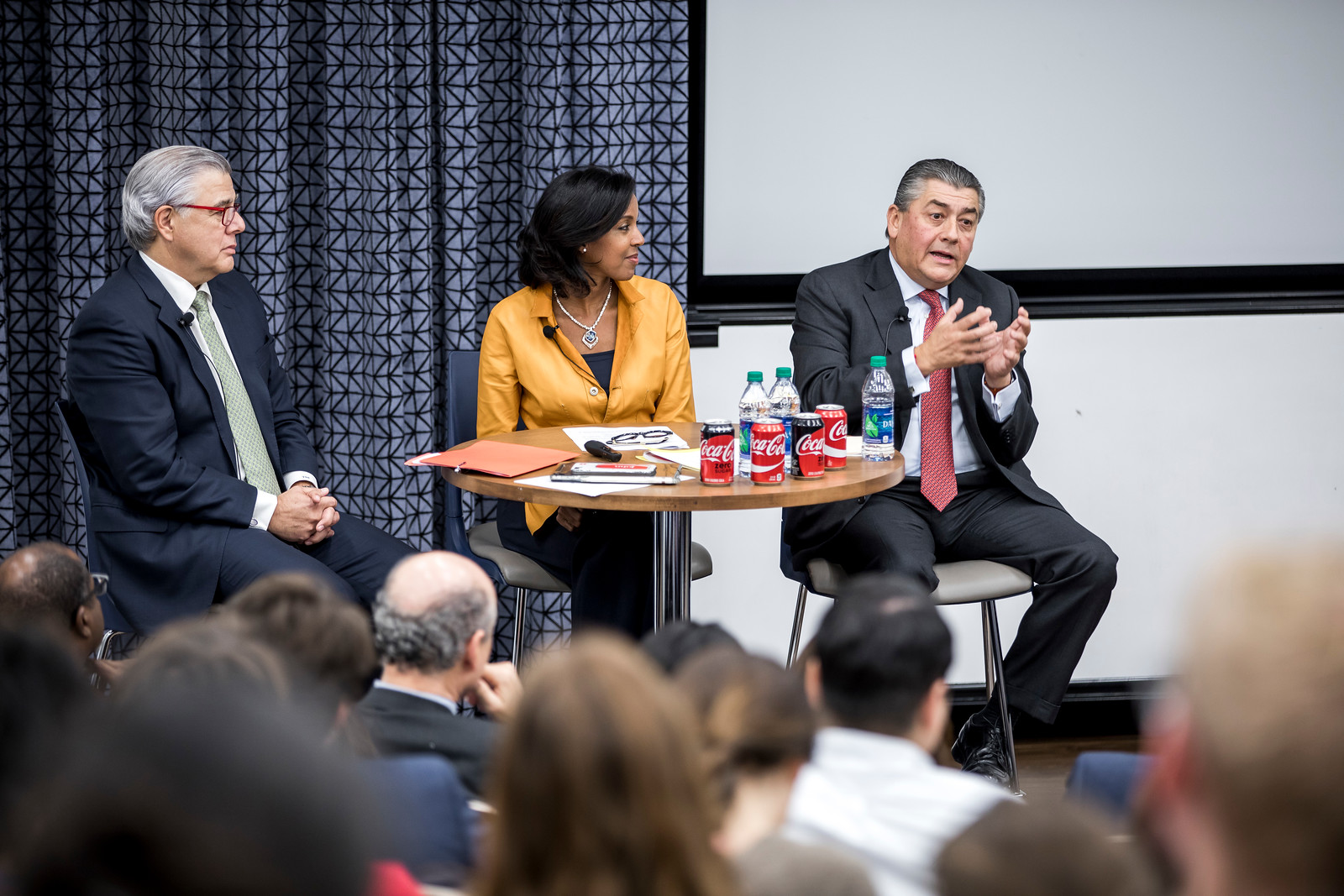 Students and other members of the Goizueta community crowded the rows of Boynton Auditorium on October 30 as they awaited guest speakers Jose Antonio Fernandez Carbajal, chairman of FEMSA, and John Santa Maria Sr., CEO of Coca-Cola FEMSA. Coca-Cola FEMSA is the largest franchise bottler of Coca-Cola products in the world, with bottling plants across Latin America.
Wesley Longhofer, assistant professor of organization and management, took the podium to introduce the speakers. After a class discussion on corporate responsibility, one of Longhofer's students approached him. The student said his father worked for Coca-Cola FEMSA and was interested in coming to speak to the class. Longhofer welcomed the opportunity. "In class, we read about things like CEO activism and shared value. We rarely ever get the opportunity to hear from experts in the C-level suite themselves. We're in for a truly special conversation," Longhofer said.
Fernandez Carbajal and Santa Maria each presented on their vision of sustainability and social responsibility before sitting down with Goizueta Dean Erika James for a follow-up discussion.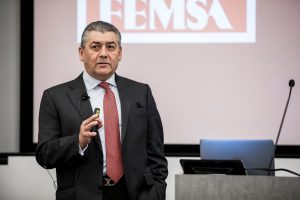 Fernandez Carbajal summarized FEMSA's history, from its humble beginnings as a family-owned brewery in Monterrey, Mexico, to the multibillion-dollar corporation of today.
As the company grew and expanded, Fernandez Carbajal said he realized something important: "If we don't create social value in all the communities where we do business, we will not be able to generate economic value. Both have to be tied together."
Santa Maria agreed. He outlined FEMSA's commitment to natural disaster relief, helping communities access clean water, and reforestation. "Sustainable communities make for sustainable markets," he said. The company is water neutral, meaning it returns the same amount of water to the environment that is used, in Brazil, Mexico and Colombia, and is working towards achieving this goal in other locations.
Santa Maria pointed out that not all of these efforts are widely publicized. "We don't say much. We just keep on doing it," he said.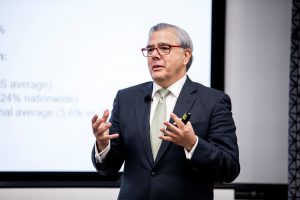 To start off the ensuing discussion, James said she has been a Coca-Cola share owner since 1991. "As a shareholder, walk me through what an earnings call might sound like with a set of invested partners that care about maximizing profit, rather than the [sustainability and social responsibility] activities you just described," James asked.
"What we have found is investing in environmental and community issues has very positive ROI," Santa Maria said. "It's good business."
Fernandez Carbajal agreed. "We dedicate most of our time to creating economic value, making profits and growing share value. But you have to distinguish between short- and long-term economic value. It's a strategic exchange of things. You have to think long-term."
The discussion continued with questions from the audience on topics ranging from promoting public health, to using clean energy, to the effects national and global politics can have on corporations.