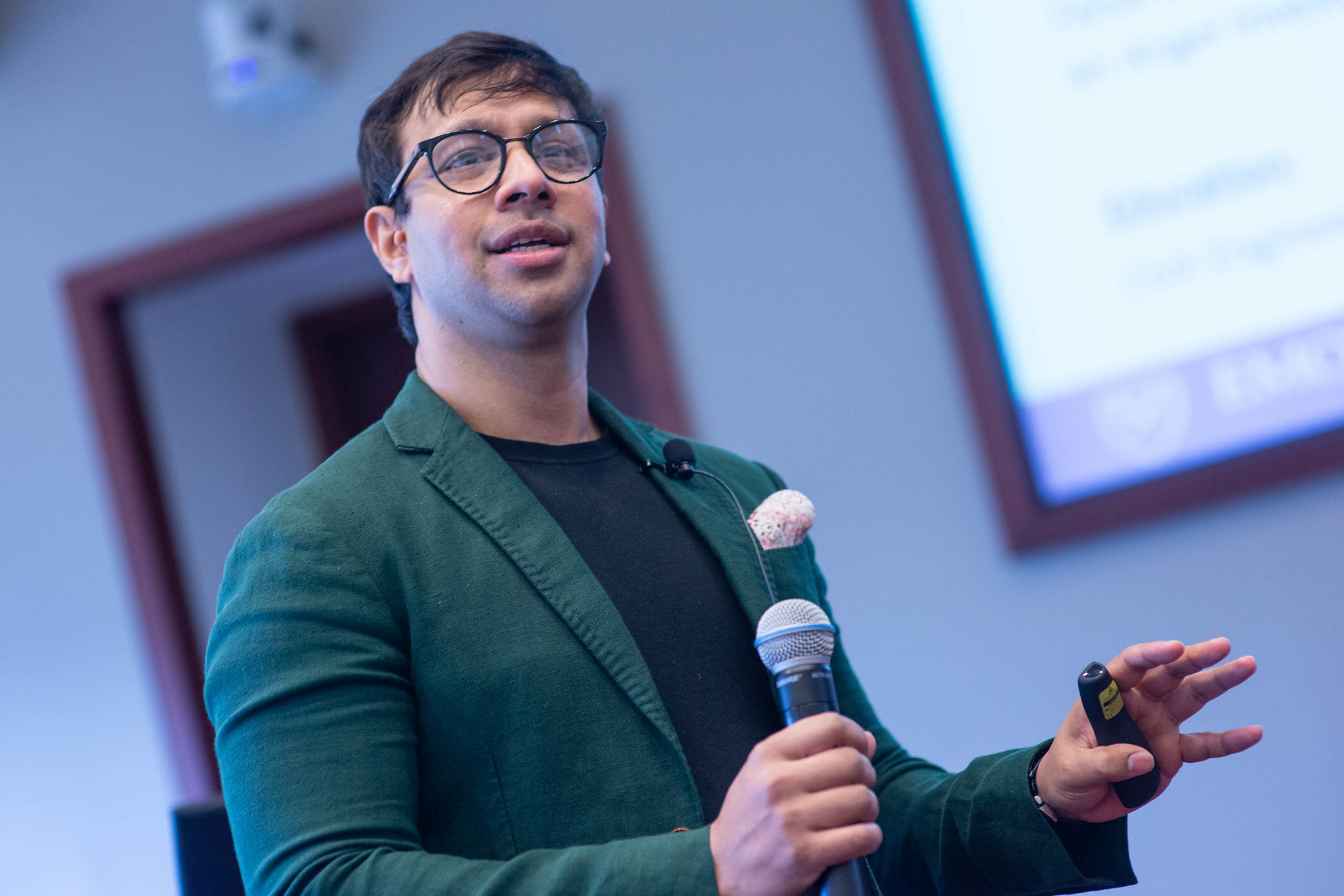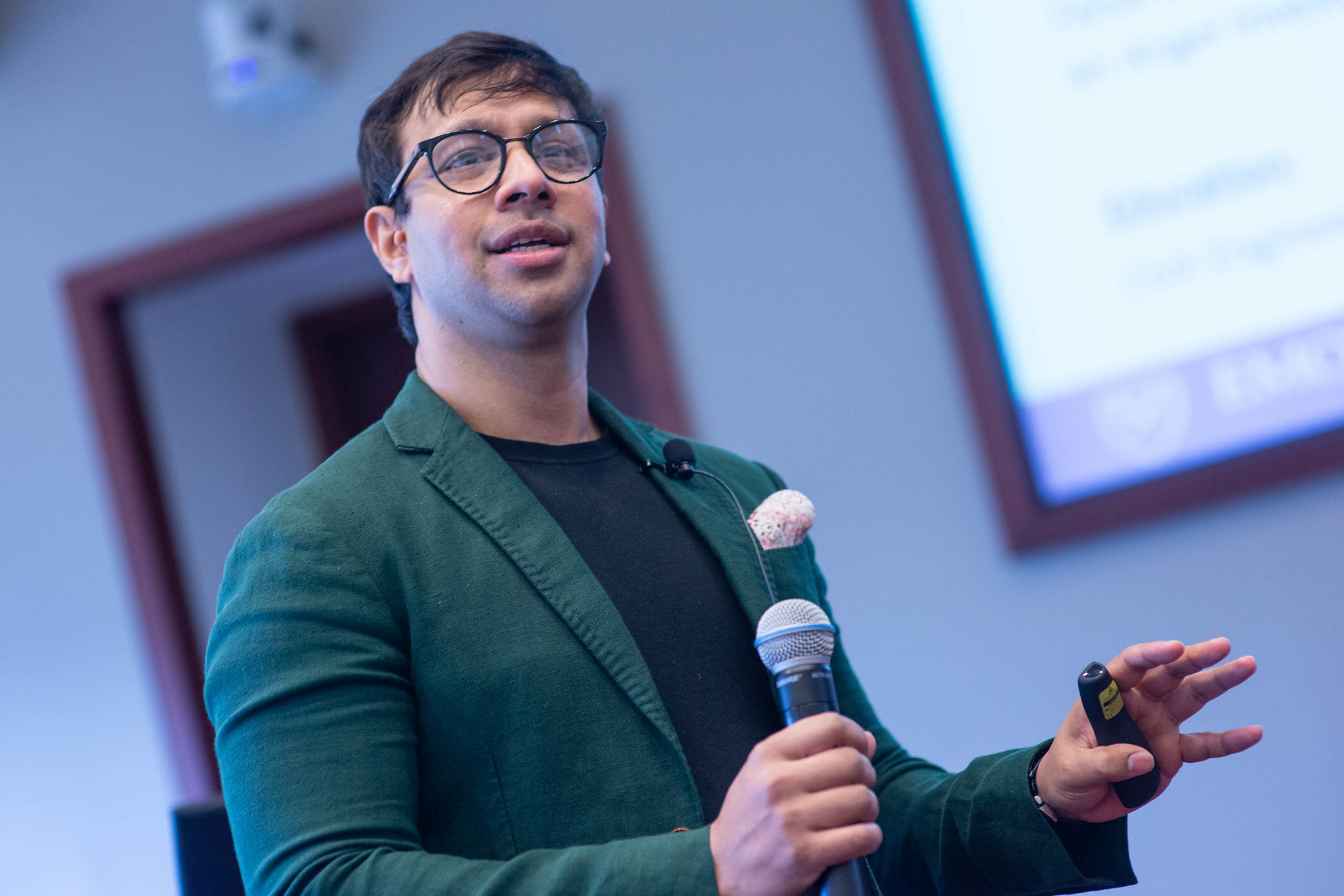 At the Emory Marketing Analytics Center Conference, speakers from an array of industries spoke on how best to use the enormous amounts of data available in an era of digital consumption.
After welcoming attendees, Mike Lewis, professor of marketing at Emory, announced an upcoming partnership between EmoryMAC and Skillshot Media. The joint research effort will center around fandom in eSports and video games. Lewis said additional EmoryMAC programming is forthcoming and will focus on providing intellectual leadership in the community.
Marketing and customer analytics with emerging technology
Greg Pharo, global director of strategy and planning, The Coca-Cola Company
Faisal Zanjani, senior director of strategy and planning at Coca-Cola, began the keynote address by looking back to the early days of mass marketing: the Sears Roebuck catalog and billboards for Coca-Cola painted on the sides of buildings. For decades after, Zanjani said, marketing strategies evolved, but they all remained focused on broad audiences.
By the 2010s, however, everything had changed: It's all about the individual. Trying to reach consumers with broad marketing doesn't work the way it once did. According to Zanjani, "Mass personalization is the game."
And it's a game that's not going anywhere.
"Every two days, consumers create as much data as they did from the beginning of time to 2013," Zanjani said. "Of all the data we're generating, 99 percent hasn't been touched. This trend of data personalization is likely to only accelerate.
"So how do we think about this data?" Zanjani asked. "It won't be an analytics conference if we don't actually talk about the analytics of it."
Zanjani detailed the framework used by Coca-Cola to gather, analyze and validate data.
But there are added challenges for organizations, like beverage companies, that are not digital natives.
"Coke drinkers aren't leaving data behind."
So Zanjani looks for patterns of consumption behavior in consumer data. Zanjani and his team must also find the right algorithm for that data — and it's impossible to know in advance which algorithm will produce the best results. Instead, it's a process of trial and error until the analysis is relevant to marketing goals.
"You can use any algorithm to segment any data. But if it doesn't make sense to your marketing purpose? It's useless."
Finally, to validate the data, Zanjani said domain knowledge is incredibly important: Companies should make sure to have marketing and strategy experts who understand the data.
"Get people in the business to look at your output and validate, validate, validate."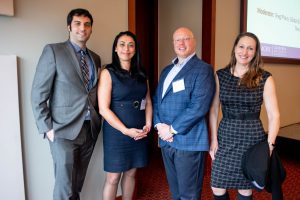 Analytics for social good
Presenters: Blake Fleischer, executive director of Anidata; Beverly Wright, chief analytics officer at Aspirent and co-founder of ATLytiCS; Seda Pazarbasi, managing director of insights, analytics and digital optimization at the American Cancer Society
Moderator: Eric Schmidt, global revenue management director, InterContinental Hotels Group
A panel of marketing experts active in the nonprofit sector engaged in a discussion on data analytics for organizations that have goals like funding cancer research, stopping human trafficking or fighting the opioid epidemic. The panelists agreed the stakes are higher, but the satisfaction is greater.
Analytics of fans
Presenters: David Elgin, vice president of analytics for the Atlanta Hawks and State Farm Arena; Justin Watkins, director of business intelligence for the Atlanta Braves; Georgia O'Donoghue, director of fan experience for AMB Sports + Entertainment
Moderator: Bill Fagan, chief operating officer, The Aspire Group
Representatives from Atlanta-area teams and arenas comprised a panel on the unique marketing and analytics challenges presented by sports organizations. The three panelists shared the same challenge: a sports team's brand is dependent on wins and losses.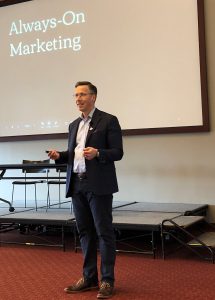 Always on marketing for small businesses
Moderator: Brian Kelleher, engagement leader, Pegasystems Inc.
Tom Klein, chief marketing officer at MailChimp, has been interested in the intersection of marketing and technology for a long time. At MailChimp, Klein works to empower small businesses and give them the marketing tools they need to succeed. For small businesses, he says "it's a question of survival."
Klein's advice for small businesses?
"Believe in yourself, differentiate yourself in the marketplace and ultimately that will help you succeed."
The EmoryMAC Conference was sponsored by PEGA, Chick-fil-A and Skillshot.