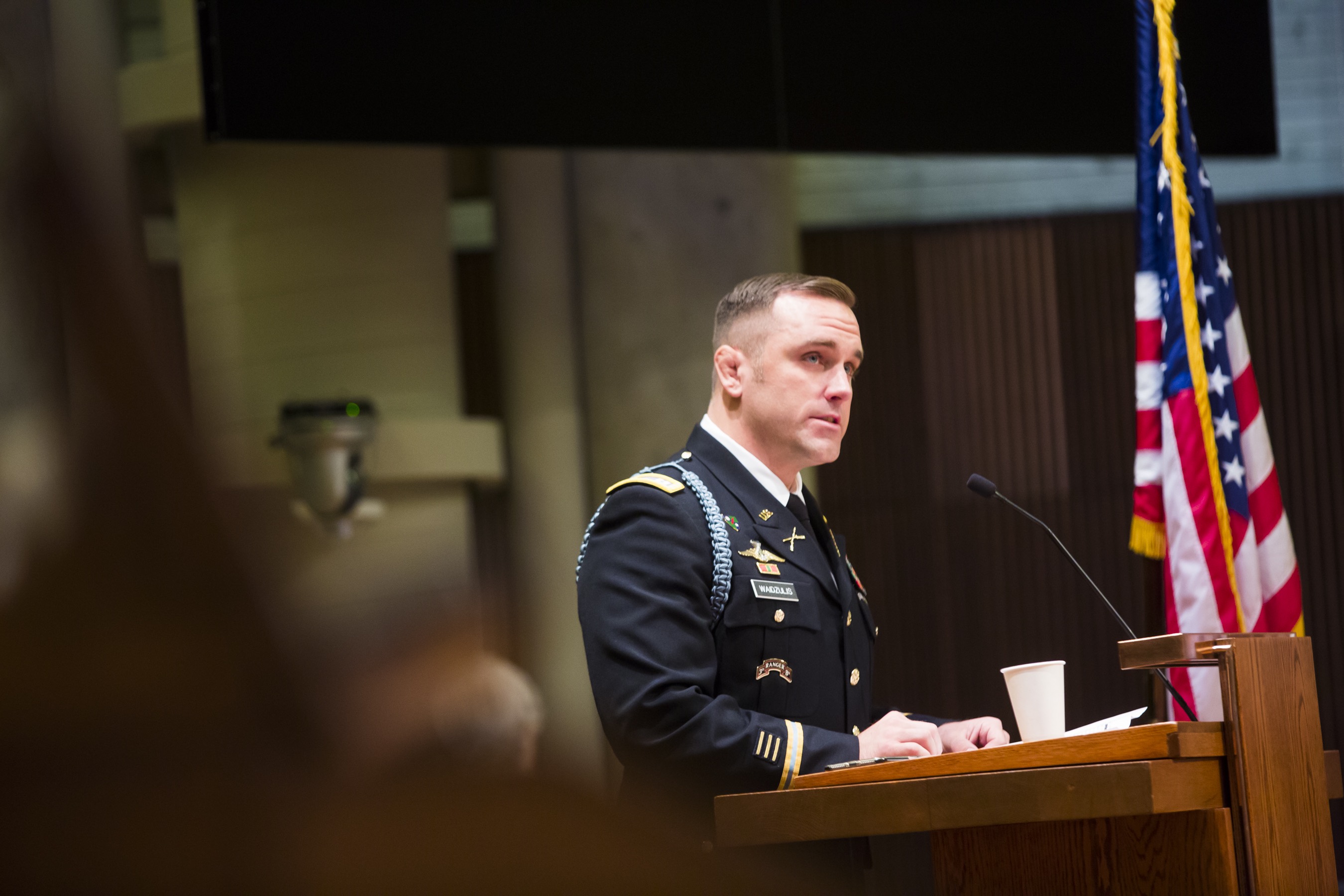 Members of the Emory community gathered in Cannon Chapel on Monday to honor veterans and current service members. Emory University President Claire Sterk and guest speakers Lt. Gen. William Garrett III and Capt. Jason Waidzulis spoke at the ceremony.
This Veterans Day also marked 100 years since the end of World War I on November 11, 1918. Attendees of the ceremony stood and shared a moment of silence to commemorate the signing of the armistice.
Waidzulis 20MBA was sponsored by the U.S. Army to come to Goizueta and return to active service upon completion of his degree. In his remarks, Waidzulis reflected on Emory's history of military support and collaboration, from serving as a hospital in wartime to collaborating with the military to improve combat field care and treat post-traumatic stress disorder.
"At Emory, this is not ancient history — this is our history," he said.
Sterk said she learned about World War I as a schoolchild in the Netherlands, and from her grandmother, whose brother and his friends fought in the war. She pointed out that today, young people who were not yet born on September 11 can now enlist to fight in the War in Afghanistan.
"We do not take military service lightly, we don't take democratic freedom for granted and we are here today to honor that conviction," Sterk said.
Garrett expressed his deepest gratitude to veterans, and said the mission is not over.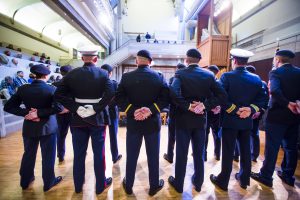 "Today, I ask all veterans to continue to serve," he said.
Garrett suggested continuing service by taking leadership roles in the community, preparing the next generation to serve and by taking care of those who served.
"What is clear from the legacy of America's veterans is that what you do in life matters," Garrett said. "That goes across the generations and into eternity. To those who have served and continue to serve the beacon of light and freedom we call America, we simply say, 'Thank you.'"
After the guest speakers' remarks, the service song of each branch of the military was played.
Emory's support of veterans and service members goes well beyond the annual Veterans Day ceremony. Goizueta is associated with the Military Consortium and has been a Yellow Ribbon school since 2010.
Jesse Sladek 19EMBA is co-president of Emory Veterans Association. Sladek said his experience at Goizueta has been transformational.
"My cohort values the organizational and process skillset that veterans bring to the table, and I've been given amazing growth and developmental opportunities through interaction with the Emory Veterans Association," Sladek said.
Sladek has not been the only person with a military background in the classroom.
"I've sat next to another Army Ranger for the last four terms, and the Leadership Program is headed by Lt. Gen. Ken Keen, who is in the Ranger Hall of Fame," he said. "Perhaps most compelling is the fact that I'm gaining a top MBA education almost for free because of the VA benefits coupled with Emory's generous support to the Yellow Ribbon Program."
Goizueta is committed to continued support of veterans and members of the military and the Goizueta community is grateful to all who have served.