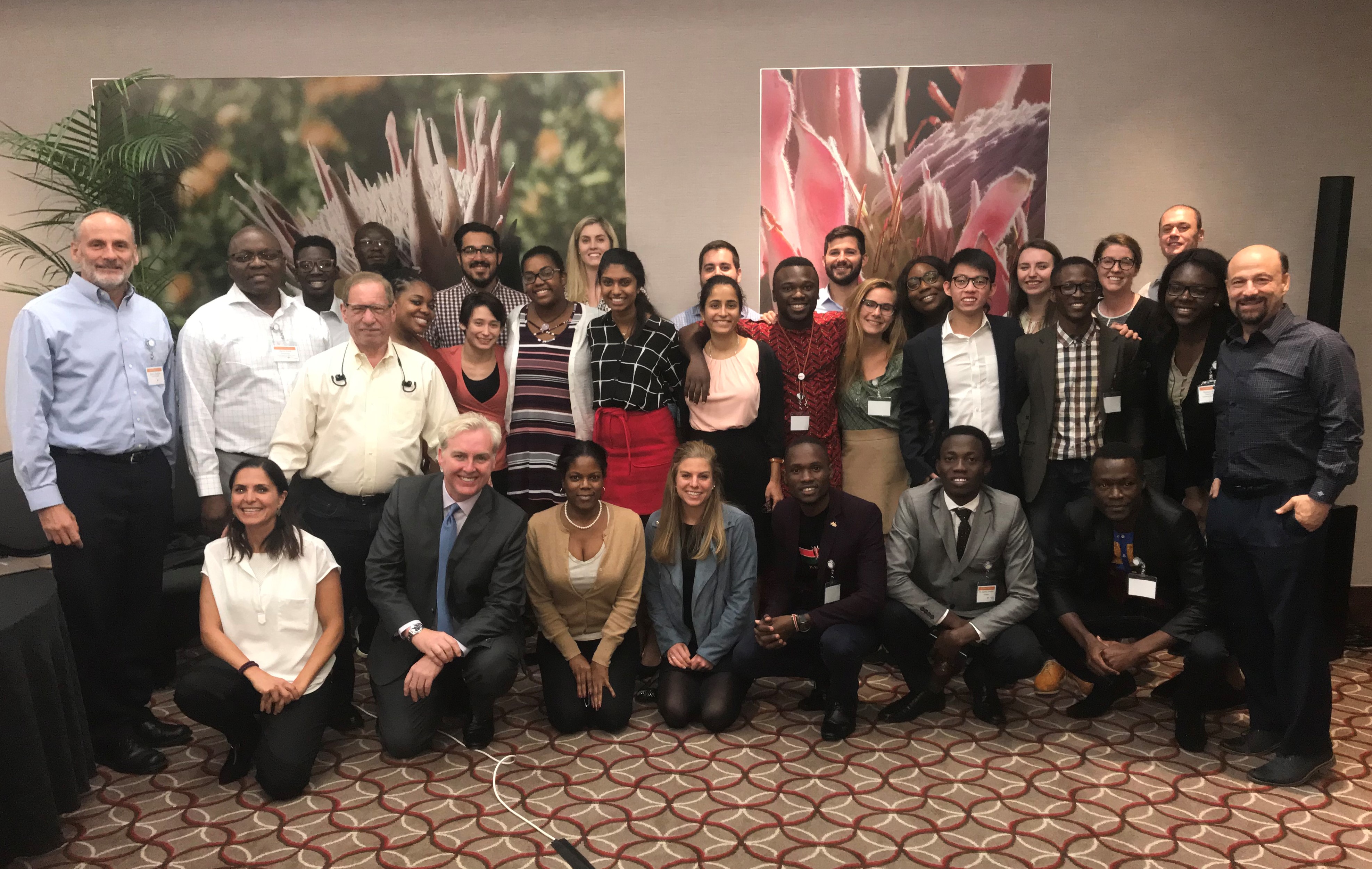 Goizueta students and faculty traveled to South Africa this summer for an invaluable experience in the global healthcare industry.
The third annual Advancing Healthcare Innovation in Africa conference took place July 9-11 in Johannesburg, South Africa. The three-day conference, a partnership between Emory University, the African Network for Drugs and Diagnostics Innovation and Pfizer, supports innovative health products and services created by Africans for Africans. AHIA partners share one goal: save lives.
The conference aims to reduce morbidity and mortality in Africa by advising, educating and training African scientists in business and legal areas, from developing a business plan to navigating intellectual property law. It also serves as an opportunity for Emory students in business, law and medicine to get hands-on experience in their areas of study in a cross-disciplinary setting.
This year's AHIA conference was attended by eight health entrepreneurs from four African countries, 18 Emory undergraduate and graduate students and five faculty members, including Goizueta's Charlie Goetz, professor of entrepreneurship and Amelia Schaffner, director of entrepreneurship. Other faculty members from Emory law and science programs were Dennis Liotta, executive director of the Emory Institute for Drug Development; Margo Bagley, Asa Griggs Candler professor of law; Steve Sencer, Emory University senior vice president and general counsel; and Nicole Morris, director of Emory's TI:GER Program and professor in the practice of law.
"AHIA is an incredible opportunity to impact and save people's lives," Schaffner said. "The conference is at the intersection of many Emory priorities: health, innovation, entrepreneurship and global impact. It brings life-changing experiences for everyone involved, from Emory students, faculty and staff, to African entrepreneurs and all the African people that are positively impacted by their innovations."
A new and well-received addition to the conference this year was a panel event where esteemed guest experts shared their insights with conference attendees. The topic of the panel was how health innovators can best advance their products and services in Africa. Panelists included Sechaba Bareetseng, program manager at SANBio; Sandiso Sibisi, who leads Accenture's Open Innovation for Africa; and Margaretha Van Schalkwyk, chief operations officer for the SA Innovation Summit.
Morgan Kathleen Bullock 19FTMBA attended the conference and was assigned to a team working with Cameroonian doctor and innovator Conrad Tankou. Tankou developed a telemedicine platform and a portable digital microscope that can be used to remotely screen and diagnose breast and cervical cancers in the country's rural areas. David Weir, an Emory University School of Medicine doctoral student in cancer biology and Enuamaka Mkparu, a second-year student at Emory Law, were also assigned to the team with Tankou. Together, they built a pitch for Takou's prototype.
The experience allowed Bullock to apply lessons from the MBA curriculum in a practical setting while gaining exposure to other disciplines.
"I loved growing with my teammates in areas that were not necessarily our expertise," Bullock said. "I learned a great deal about the legal and health implications of this project, whereas I was thrilled to see my partners excelling in pitching, financial acumen and slide craft. Working together towards a common goal, we all had some areas to inform and other areas to learn. It was fascinating, rewarding and fun."
Tankou is the founder and lead innovator of Global Innovation and Creativity Space in Cameroon.
"The AHIA workshop was very inspiring for me, coming from a scientific background with little knowledge of business and patents," Tankou said. "I gained essential ideas to be able to take my project to the next step, get into the market and reach the right targets."
The team working on Takou's innovation will be joined by additional MBA and BBA students and will continue to work on the project through the academic year.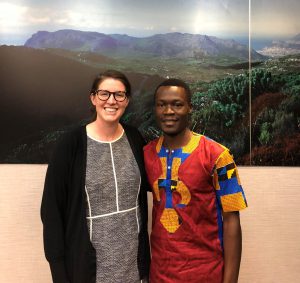 Continued management of selected innovations is part of a strategic effort to improve the program from year to year. After the intense study and collaboration of the conference, chosen projects are overseen by AHIA leadership to help ensure they move toward their growth and commercialization goals.
For Evelyn Porter 19MBA, the conference was the perfect opportunity to flex the skills she learned during her first year as an MBA student.
"The AHIA program leaders provided diversity of thought and were fully invested in the success of each innovation," Porter said. "It's a great feeling to know that I worked on a product that could significantly influence entire populations in a meaningful and life-saving way."
The conference would not have been possible without the support of Pfizer, one of the premiere health care companies in the world. Adrian Looney, vice president and assistant general counsel at Pfizer, said he was happy to attend the conference and learn about innovations happening in Africa.
"A lot of important discoveries have been made here, and hopefully we will move some forward to the prototype and ultimately development and commercialization in years to come," Looney said.
AHIA gained a new partner this year, Bio Ventures for Global Health. BVGH is a nonprofit global health organization based in Seattle, Washington. Participation in the AHIA conference demonstrates the company's commitment to their mission: to solve global health issues by forming connections between people, resources and ideas.
Martins Emeje is a pharmaceutical scientist at the National Institute for Pharmaceutical Research and Development in Nigeria. Emeje said attending the conference was a rare privilege.
"I call these people scientific philanthropists," Emeje said. "[This experience] has opened my eyes to the science of business and the business of science."