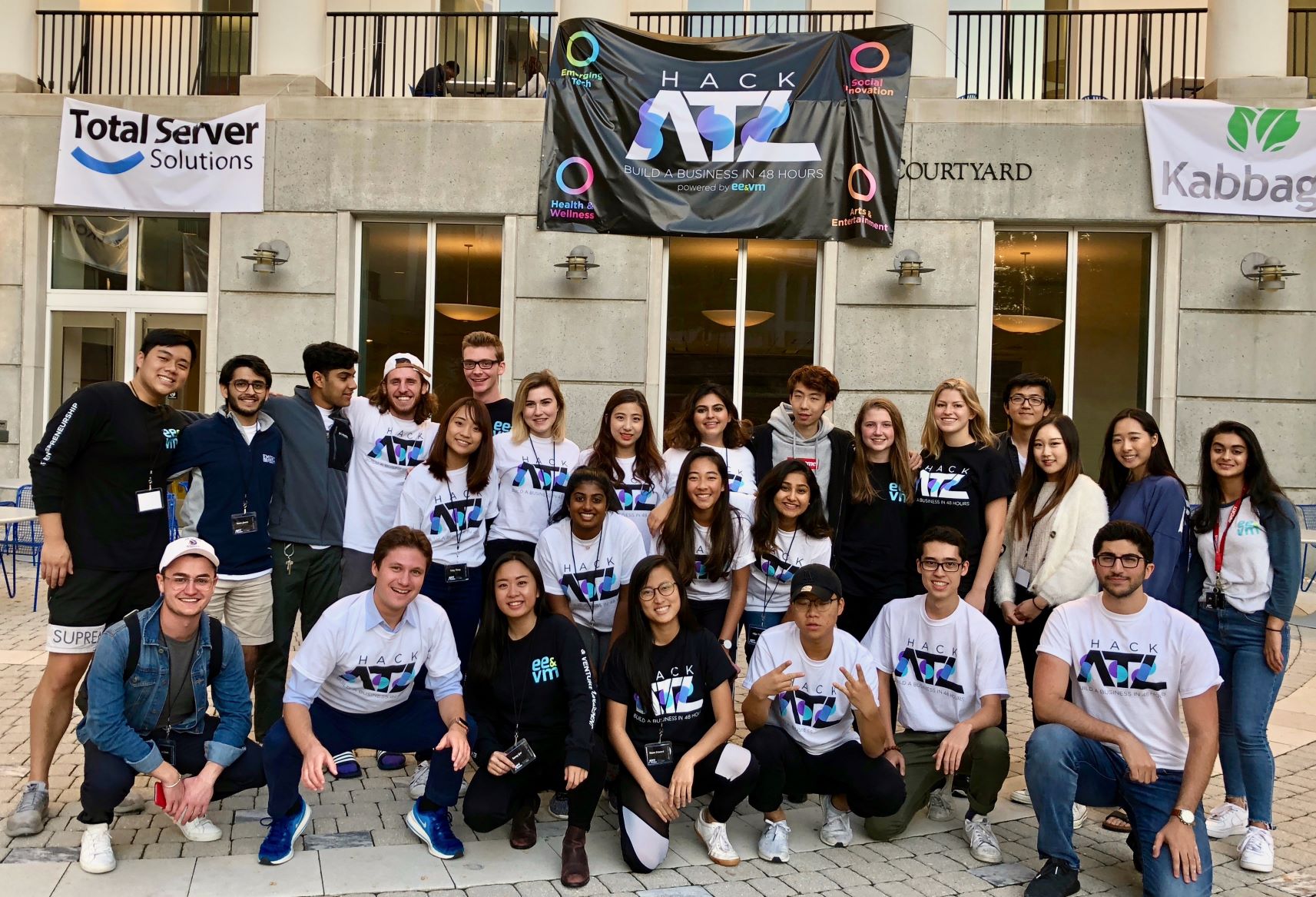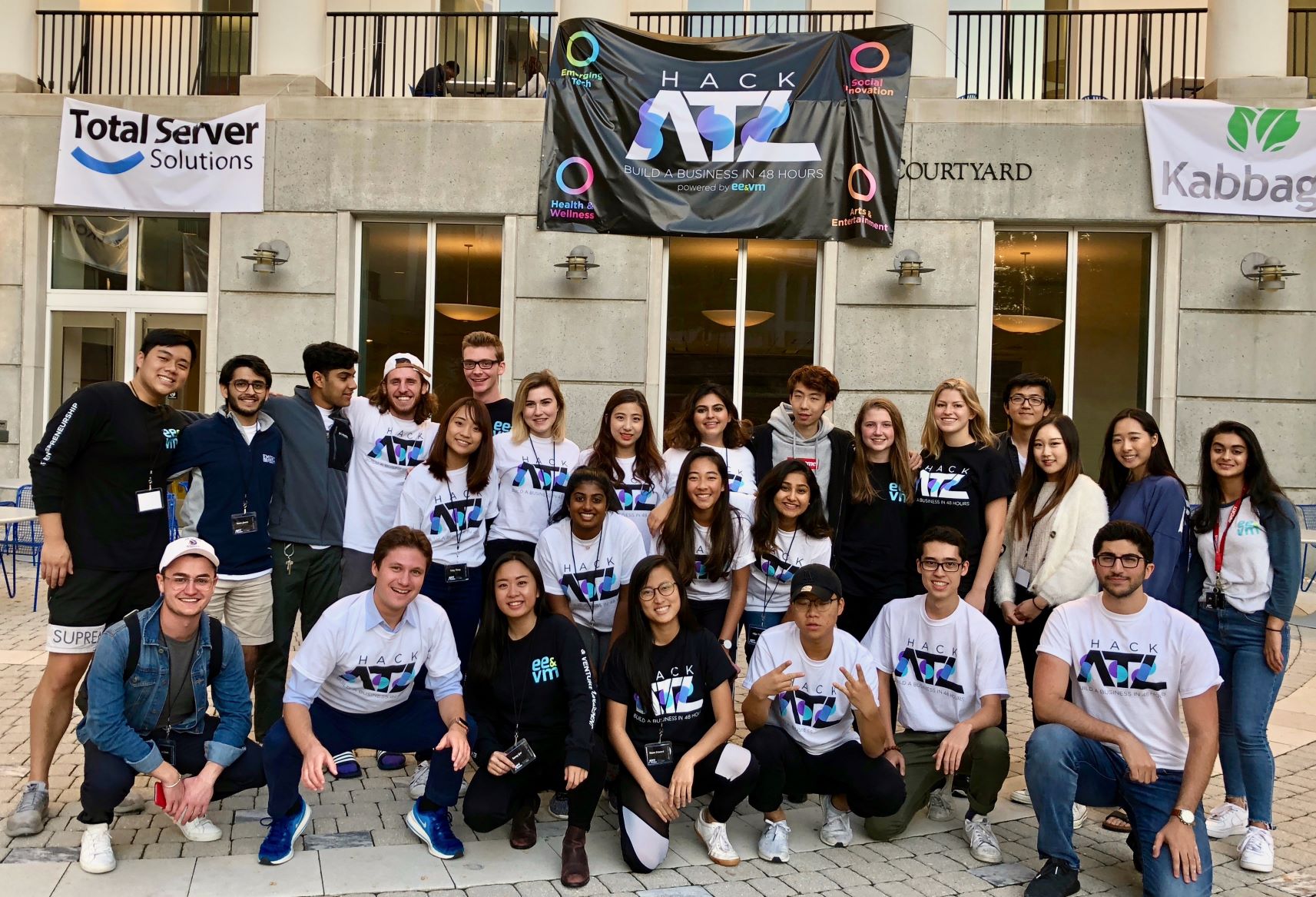 A 48-hour competition hosted at the Goizueta Business School, HackATL 2018 was Emory Entrepreneurship and Venture Management's sixth annual business hackathon. As an executive board member of EEVM, I was on the organizing side of the hackathon, which gave me an interesting perspective of the event. The ability to speak with participants, judges and mentors to hear about their thoughts on the event was truly insightful.
As the director of IQ Magazine, I interviewed the finalists on the concluding day of the event to learn more about their experiences. The winners, creators of the dance learning app DanceEZ, expressed that their most valuable experience of the hackathon was the ability to speak with mentors to actually realize that their product was feasible. These mentorship appointments enabled them to gain insight and knowledge from professionals in their field to better understand how their idea could become a reality.
When I asked what's next for DanceEZ, the team agreed they would be looking for investors.
"This is something we're passionate about," said DanceEZ member Yvonne Teng 21C.
The second-place winners, Asaga, pitched an online platform where Buddhists could access temples around the world to make offerings. Asaga had a really unique story as their group formed at HackATL. They came in as individual students and met at the event. Their team had students from Emory University and Georgia State, who found mutual interests and decided to work together to form a pitch.
Reach won third place and created an app to help college students with mental health issues and connect them with peers and resources from their college in an anonymous fashion. A challenge Reach faced throughout the process was the technical aspect of the pitch as they were a group of nonbusiness majors who hadn't been exposed to the process before. However, by the end of HackATL, Reach found that one of the most valuable experiences was the pitch itself. One of the team members of Reach, Vignesh Viswanath, discussed that the pitch gave them the opportunity to get their idea out, which is one of the most important factors of starting a business.
Overall, HackATL 2018 enabled students from across the country to come together and pitch their dream startup ideas. Students were inspired and learned from acclaimed judges, mentors and speakers from the entrepreneurial community and major companies like Facebook, SunTrust and Career Blitz. We also had workshop sessions on UX design, blockchain, design strategy, marketing and pitching. Participants were given the opportunity to discover new interests, meet new people and ultimately build a viable product.
Viewing the participants' experiences from a different lens showed me the impact of the 48-hour event. At the event participants formed friendships, saw shifts in career choices, faced hardships, but had wonderful success stories and new opportunities. HackATL 2018 was an overall eye-opening experience.
Winning Team
DanceEZ, an online platform where dancers can easily learn steps and technique. Team members: Payton Chin 19OX, Yvonne Teng 21C, Tiffany Chen 21C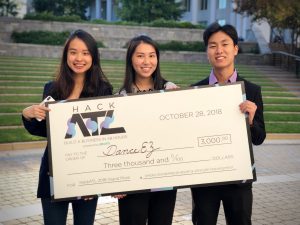 Second Place
Asaga, an online platform that enables Buddhists to make offerings to temples around the world. Team Members: Surya Santhosh Prabhakar (Georgia State University), Angela Guevarra 22C, Chenxi Xu 21C, Spike Lu 19C, John Moon 22C
Third Place
Reach, a mental health app that connects university students with resources and each other, while anonymously providing data to the school. Team members: Vignesh Viswanath 21OX, Kevin Wu 22OX
A special thank you to our judges, mentors and sponsors!
Final round judges
Sean Go, COO, Hedge Fund
Michael Jiang, founder, Nerv
Paul Lopez, president, TIE ATL,
Benn Konsynski, EEVM Advisor
Jim Chou, CTO, Kabbage Inc.
Clint Hill, head of data architecture, Kabbage Inc.
Alexandra West, founder and creative director, Nerd/Noir
Sig Mosley, founder and managing partner, Mosley Ventures
Mentors
Joseph Michael, Agile coach
Alex Sherman, product manager, Pivotal
Alptekin Derinkok, angel investor
Cam Duncan, strategy consultant, Deloitte
Richard Berlin, adjuct lecturer, Goizueta Business School
Craig Alexander, development manager, Kabbage
Robert Wojciechowski, head of development, Kabbage
Hiroo Aoyama, product design intern, Facebook
Robert Dean, development manager, Kabbage
Caroline Guevara, Cartoon Network
Albert Abedi, product manager, Pivotal
Erich Hansen, development manager, Kabbage
Alexandra West, founder/creative director, Nerd/Noir
Chyna Lofton, founder, WeEntertain
Ryan Prichard, development manager, Kabbage
Murtaza Bambot, founder, Career Blitz
Richard Lee, Georgia Tech DesignBloc
Dean Nguyen, Suntrust
Travis Kupp, Suntrust
Corporate Sponsors
Total Server Solutions
Lyft
Pinnacle View
Blockchain Union
Emory Dining
Kabbage
SGA
Atlanta Tech Village
Hypepotamus
hackerearth
NerdNoir
Google Cloud
OverSpeed
Design Bloc
Sticker Banners
Stripe
General Assembly
ZenDesk
Startup Island
Focus Brands