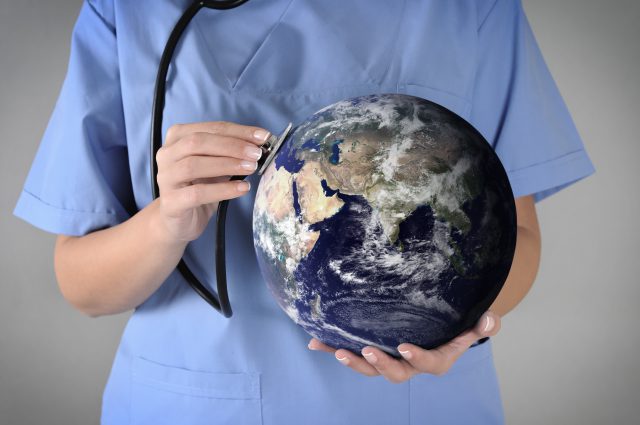 Each year, the McDonough School of Business hosts the McDonough Business Strategy Challenge, a competition that features cases from nonprofits with 501(c)(3) status. This year, several BBA students formed a team to compete virtually, taking home the second-place title out of more than 20 teams from around the world.
The challenge: Propose a solution to a consortium of medical doctors seeking to push forward climate change initiatives. Team captain Farhan Hossain 21BBA and his team of Kat Sarafianos 22BBA, Liam Carlson 22BBA, and Matt Santos 21BBA faced a tight timeframe, limited resources, and various legal requirements, but they stepped up and delivered.

"It was an interesting issue because there weren't financials to dig into, or products, or a service issue, but it was more of how do you organize and reorient the overall focus of a business of a nonprofit," Hossain said.
Using Classroom Insights to Add Real-World Value
To address the challenges the consortium was facing, the student team pitched a platform approach by offering innovation and connecting grassroots actors to technology. They also suggested reorganizing operations within the nonprofit itself. Whereas the current nonprofit operates on a state-by-state level, Hossain and his team proposed a new role of acting as a regional motivator or actor to encourage more grassroots action in a specific area.
"It's tough to get motivated and organized on a state level as opposed to a county or a regional level, and there was very little oversight and direction in certain regions," Hossain said. "We got positive feedback from the nonprofit about this strategy because they had never thought of organizing in that way."
After not making it through the preliminary rounds his first year competing as a junior, Hossain was thrilled for his team to take second place overall.
"Super grateful for the opportunity to lead the team this year. This specific case competition provided a great growth opportunity," Hossain said. "I am very proud of what my team and I have accomplished together. Special thanks to the Goizueta Case Competition Club, John Kim and Dr. Mitchell-Damron (Goizueta's director of student life, engagement, and support) for all their help."
Senior Associate Dean of Undergraduate Education Andrea Hershatter expressed her excitement for the team's success. "I cannot tell you how excited and proud I am that the team placed second in what I understand is currently the largest undergraduate case competition in the United States," Hershatter said. "I am delighted by their accomplishments, including the ways in which they highlighted their academic abilities, represented the program, and enhanced the reputation of Goizueta."
Hossain encourages other students to get involved in competitions like this because not only are they an enjoyable experience to network with students from around the world, but they are also an opportunity to apply what is learned in the classroom to real-world problems.
"These case competitions opened up a light to me in seeing how you can apply your finance and consulting knowledge, and it helped me with the decision-making process in terms of what I wanted to do fulltime," Hossain said.
"If anyone is on the fence about what they want to do for their career, exposing yourself to opportunities like these competitions will always help you understand what the career looks like and help you get insight from experts."

– Farhan Hossain 21BBA