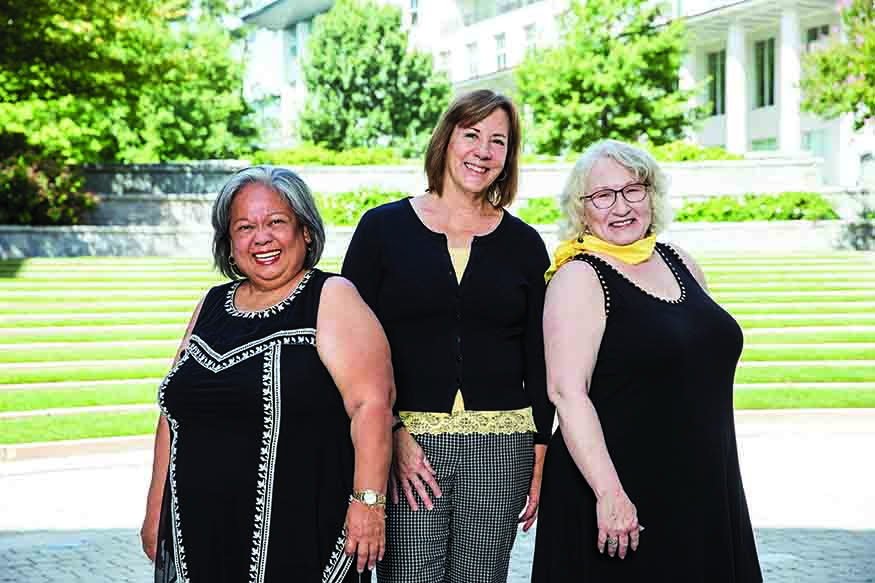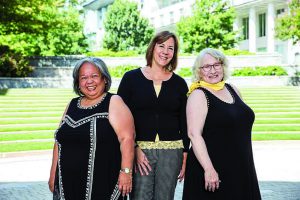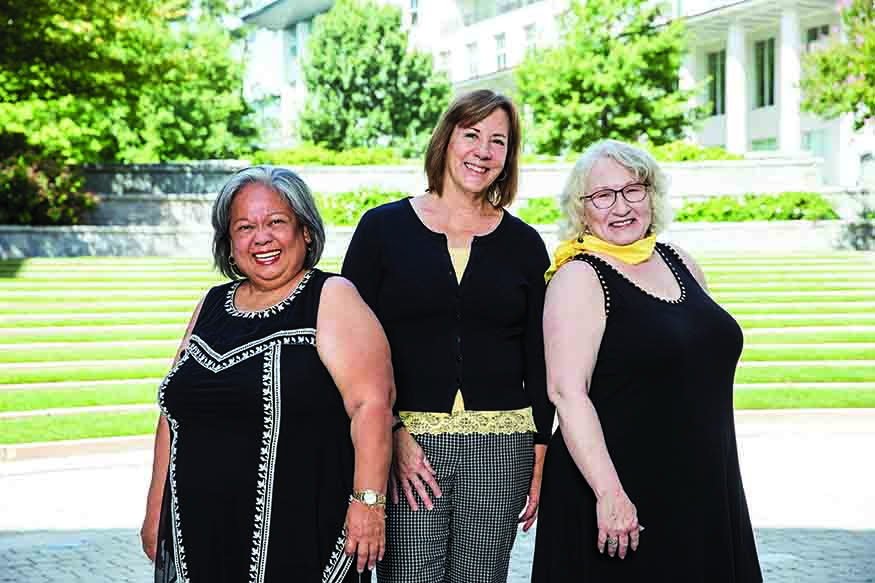 For decades, every student has passed their scrutiny — and received their support
Annabella Yumul, Nancy Kratzer and Debbie Ashtiani pretty much function as Goizueta Business School's operating system. As the entire staff of the registrar's office, they regulate every student's experience. They handle the schedule, enrollment caps, registration, drop/add, withdrawals, enrollment reports, grade posting, honors reports, and continuance and accreditation fulfillment for new majors and programs. They ensure that every course needed to graduate has been taken, and each diploma goes through them.
The trio represents Goizueta across campus, too. They've always worked closely with EmoryCollege
and Oxford College, where undergraduate business students get their start; as advanced dual degrees became more common, they helped Goizueta efficiently link with programs in law, medicine, theology, physical therapy and public health.
Now after almost three decades of shepherding students into the real world, they're shuttering
their Emory careers. In December, Yumul (associate director of registrar services, originally from
the Philippines) will be the first to retire, followed by Kratzer (business analyst, from Michigan) in early 2020. Ashtiani (director of registrar services, from South Georgia) retires two months after that.
If they left at one time, exiting together from their office on the fourth floor of the East Wing, Emory would be hard-pressed to make the school year go smoothly for each business student. Advance notice gives them time to familiarize codirector Marvell Nesmith with Goizueta's unique complexities. Nesmith has substantial experience in student enrollment management, having worked in Emory's Schools of Medicine and Law. He will manage the registrar's office after the transition.
The three gathered recently to talk about their teamwork at Goizueta and the heart of their success: accountability, communication and resourcefulness.
EB: Technology makes you anonymous to many students today. Is that disconnect one of the biggest changes you've observed at Goizueta?
Kratzer: When I started in the late 80s, we were in the Rich Building, and we were so small that everyone knew each other. The registrar, Dot Smith, used a typewriter and kept important information on index cards. All registration was manual, and we used to sit in the gym at a table to register students. Now we have far fewer students even lining up at our office, because everything is web-based.
Yumul: We used to have drop/add where students camped out at 3 a.m., and we would give out numbers, and only two to three staff processed changes for this big bunch of students. Seeing them and talking to them really keeps you young. I love hearing the lingos change in each generation, and how they can translate using their phones.
Ashtiani: Technology has made everything more efficient and easier for students and us. It's probably better now for everyone, but the only time I see a lot of other Goizueta staff is at a staff luncheon. The size of the school and number of students are just too big for us to see everyone.
EB: Your team was among Emory leaders in how you customized software and used it to keep track of student progress to graduation; degree audits were manual before. Tell us about that.
Kratzer: We were one of the first Emory schools to figure this out, and it took a long time. I manage the registration for undergraduates — about 400 graduating each year, and 800 to 900 at any time. Annabella manages this for the MBAs. Every semester, every expected graduation date must be correct, and we notify students of missing requirements. Grateful students bring us cookies, and Debbie gets flowers all the time.
Ashtiani: We do get thanked for going above and beyond, but we're really not allowed to not go above and beyond. We cooperate to be more productive. At commencement, we feel great accomplishment because we helped students get there.
Yumul: It's contagious seeing everyone so happy at graduation. It always makes me cry!
EB: Over the years, what moments stood out?
Yumul: My first day at Emory, in 1985, I had never heard a Southern drawl. I kept saying, "Sorry, I beg your pardon … ." People thought I was deaf.
Ashtiani: We never met Mr. Goizueta. However, we saw Mrs. Goizueta at every graduation. She was always excited to be there. As the number of students grew, we had to start asking the students in the line up to shake her hands gently. There were a lot of happy handshakes!
Kratzer: I can remember 9/11 as clear as yesterday. Goizueta had alumni and parents who worked in the World Trade Center. We ended up in case rooms, watching the news, in the auditorium, wanting to be with each other.
EB: What does retirement look like?
Yumul: I'll visit the Philippines in January and then Singapore. I'll probably volunteer at my church.
Kratzer: I'll continue volunteering at the Fox Theatre, which I've done since 2010. I saw Prince the week before he died, and I just saw Hamilton three times, and the Lion King. I also will definitely be involved with pet rescue; my little cockapoo, Rosie, is a rescue. I want to go to northern Michigan for part of the year, and I've started to learn guitar.
Ashtiani: I'm selling my house and getting a condo, and I want to do some traveling. I love to go to museums and art festivals. After some time off, I plan on working two days a week doing something fun.
EB: Marvell, what has been the biggest thing you've learned from these ladies so far?
Nesmith: Having been part of the Emory family on and off for the past 11 years, I am having an amazing amount of fun this time around. These ladies are lighthearted and joyful, and they show me every day how not to take things too seriously. I've been back at Emory now since January 2018, and they are sharing with me all of the secrets that come with running an office as complex as this one.
EB: What's your advice to Marvell Nesmith, already in training to direct the registrar's office?
Kratzer: Enjoy it. Emory's people and culture are great.
Ashtiani: Update procedures. Always look for ways to save time.
Yumul: Be flexible, because things are going to change.