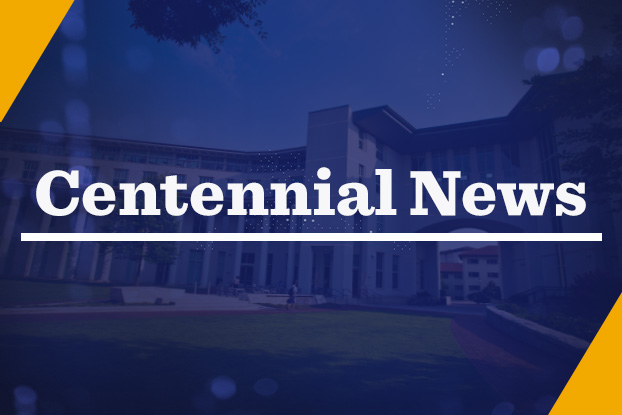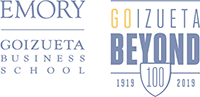 The Joy of Working in a Learning Environment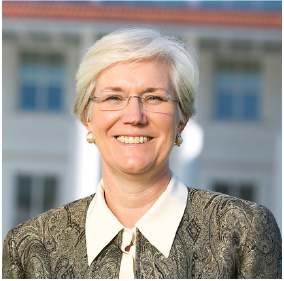 One of the great joys of working in academia is that, throughout the year, I'm able to attend lectures where our faculty present research findings. Whether hearing them live or reading about their research via my Twitter feed, I'm reminded of all the ways our faculty bring fresh insights into the classroom.
Through their research and constant learning, they serve as bridges between the cutting edge of knowledge and the experiential learning that takes place in the Goizueta classroom.
They're constantly pushing to stay ahead of the curve, not so much focused on "what's new" but "what's next" in the business world. Just as our Goizueta graduates are shaping tomorrow's business world, our faculty research is shaping the coursework that will help students create that new, better reality.
Whether it's through our rigorous core courses or electives in data analytics, we give our students the tools to solve vexing problems and also the confidence to communicate their results to others.
In just a few weeks, new students will join our community. And, thanks to their commitment to research, our faculty will bring new insights into the classroom, enabling our students to be fully prepared to add value to organizations and society.
What Goizueta faculty comes to mind when you think of cutting-edge research?
Email me your thoughts for a chance to be featured in our 100th communications efforts.
Julie Barefoot
Leader, 100th Anniversary Celebration

---
"What 100 means to me…" Reflections from Staff and Faculty
Daniel McCarthy
Assistant Professor of Marketing
'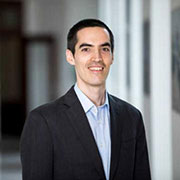 While we naturally tend to be caught up in the issues of today, our Centennial helps us take a step back, appreciate the long-lasting impact that the school has created so far, and motivate us to do what we can—or more—over the next 100 years. I am excited by research that will significantly impact how business is done—research with real-world implications.
"I constantly look for accessible ways to bring my research into the classroom, so that I can share high-impact findings with students and learn from their feedback. I've converted my research into case studies and more than half a dozen YouTube videos. I hope that over the next few years I can continue to add to this growing body of content to better serve the student body.
"Goizueta gives me the opportunity to pursue research that I love and help cultivate the next generation of business leaders. It's hard to think of another job that would leave a person so blessed."

Take part in creating our GBS Time Capsule
Submissions Due August 1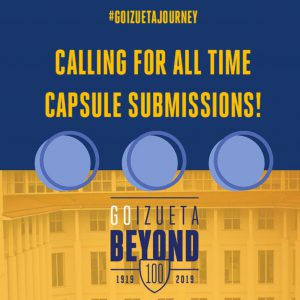 You can't save time in a bottle, but you can save something for posterity! We're seeking submissions (such as photos) that best represent your time at Goizueta. Commemorate your #GoizuetaJourney through our 100th Time Capsule! Learn more at www.emory.biz/timecapsule.
---
Featured #GoizuetaBeyond Profile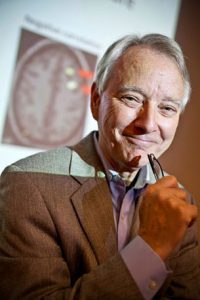 No. 35: Rick Gilkey
Professor in the Practice of Organization & Management
Research often reveals truths obscured by what we consider conventional wisdom. Such is the case with Professor Rick Gilkey's work. He found that it's emotional and social intelligence—empathy included—that are "critically important… and [help people] make the most effective strategic business decisions." Learn about his research, which isn't as confounding as it is Copernican.

---
Blast from the Past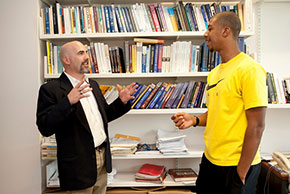 Our faculty are known for their open doors and student engagement. Here's Professor Tom Smith chatting with a student.
---
Going Beyond: The Next 100 Years
Support faculty research through our Fund for Excellence
Private support for faculty research is critical to ensure we maintain our competitive advantage and provide students with an exceptional Goizueta experience. Gifts to the Business Fund for Excellence allow the dean to meet Goizueta's most strategic and immediate needs. To make a gift, please visit goizueta.emory.edu/alumni/invest or contact the Office of Advancement and Alumni Engagement at 404-727-5731 or gbsalumni@emory.edu.

---