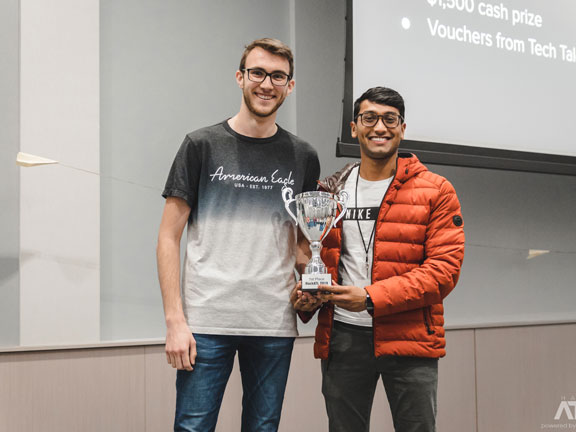 There was no shortage of energy during the seventh annual "HackATL" event on campus. The simple goal amid the decorations and paper airplanes around Patterson Green was clear, yet daunting: Build a business in 24 hours.
This year the theme was to promote social progress, and organizers suggested some thought starters such as solving a lethal disease using virtual reality, extracting energy from trees, or building an app for world peace. There was a new component added to the Originality form this year, which was to address a new topic or adapt an existing idea. Once the idea is developed, the next step is to pitch it to judges, angel investors, and venture capitalists.
HackATL is often a springboard for passion projects as it provides a runway to see something succeed on a larger platform. The students call themselves "hackers, hustlers and hipsters" and the entire event stretches over 48 hours for brainstorming and collaborating.
The popular event brought more than 130 students to pitch their ideas from at least 27 schools. HackATL is one of the most prominent hackathons in the Southeast organized by Emory Entrepreneurship & Venture Management, a student-run club that aims to create a community for students who wish to pursue entrepreneurship at Emory and beyond.
This year's group was decidedly younger with an infusion of energy, organizers said.
"Seeing the energy the new members get whenever their idea is validated," said Talia Carlson, Director of HackATL. "The main thing is just inspiring the next generation of entrepreneurs, but then also internally the next generation of people who like HackATL and understand what it's about."
During the weekend, there were events like the "Ideation" workshop on Friday night where participants learned from a company called "Design Bloc" on how to brainstorm ideas. Other events on the schedule were about sizing a market, building a prototype, design and making a presentation "pitch perfect." But don't forget midnight snacks from the likes of Auntie Anne's Pretzel's and McDonald's.
"The quality of the ideas and pitches were the best that we've seen, especially with the goal to promote social progress," said Felicity Lin, Executive Vice President of Emory Entrepreneurship & Venture Management. "It was the most organized and seamless HackATL the Executive Board has experienced… We will be planning for next year's event starting early next year. In the meantime, we are continuing our relationships with our sponsors and connecting with the entrepreneurial community in Atlanta."
Since the event began in 2013, organizers within the executive board have tweaked it from year to year, and they welcome feedback annually. They've learned to balance the adrenaline of being inspired at 2 a.m. with not stretching your team in too many different ways.
There's a healthy list of sponsors, and over the years, the event has added new resources from organizations like Momentum, the official crowdfunding platform at Emory.
"Ultimately my goal is to make entrepreneurship accessible and make it seem like a feasible option," Carlson said. "I want people to go out of this (feeling) 'I can go into entrepreneurship because I feel equipped with the tools necessary to succeed. Then help point them in the right direction to go to local accelerators or incubators."