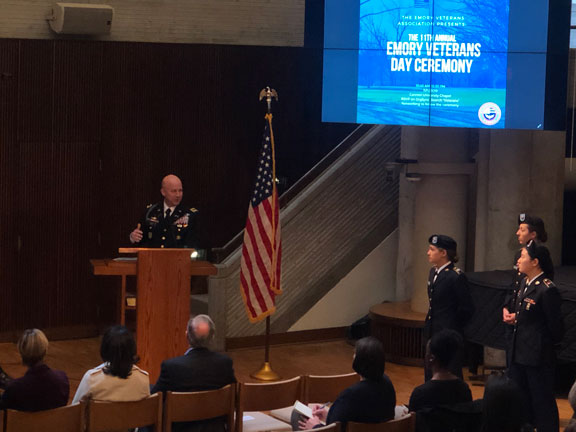 Col. Matt Smith 01MBA did not mince words Nov. 11 as he spoke in Emory University's Cannon Chapel. Thanking a veteran on Veterans Day is most welcome and appropriate. In fact, thank them year-round, he says. But, according to Smith, be sure to also thank families.
"I'd be remiss if I didn't mention my wife, Laura," Smith said. "She couldn't be here today… The families of our veterans are often underrepresented."
So, on this day designated for thanking current and former servicemembers, Smith, a brigade commander of approximately 4,500 Georgia National Guard Troops, asked audience members to take time to recognize the sacrifices of wives and children of servicemen and women. He also encouraged veterans in attendance to go home and let their families know when "they get thanked."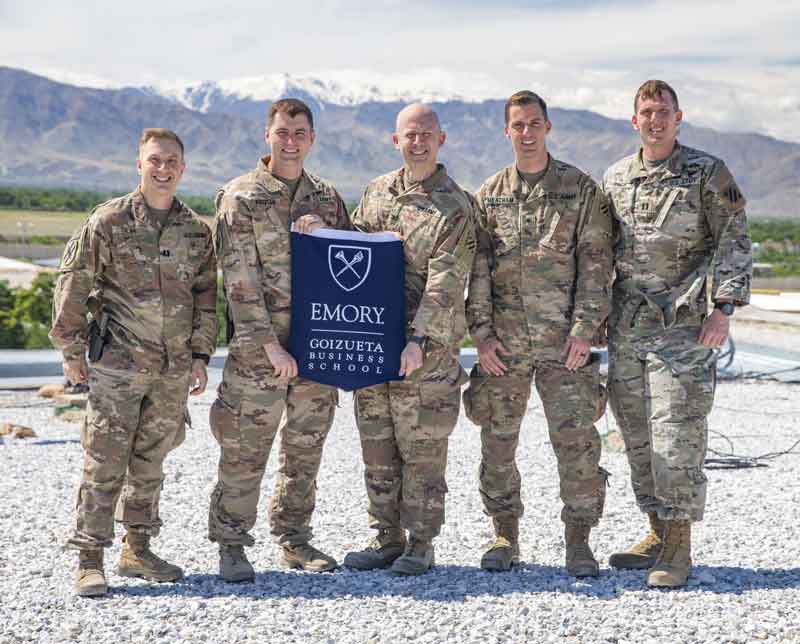 This has been the routine for Smith as he often travels the state visiting National Guard installations and interacting with the public. His unit was deployed to Afghanistan last fall.
Other key figures at the event including Emory University President Claire Sterk, Professor Jeff Rosensweig, long-time faculty advisor of the school's veteran's association, and Matt Freeman, a Marine Corps veteran and current MBA/juris master candidate who serves as the Emory Veteran's Association president.
According to Sterk, the university currently boasts its largest group of ROTC cadets and has 190 GI Bill recipients enrolled. Goizueta Business School is part of the Yellow Ribbon program and offers many other benefits to veteran applicants. The program is a provision of the Post 9/11 Veterans Educational Assistance Act of 2008 (aka Chapter 33) and allows voluntary partner institutions to enter into an agreement with the Veteran's Administration to fund tuition expenses for eligible veterans.
According to Rosensweig, Emory has had student-led associations for veterans for 30 years. Efforts were recently expanded out of the business school to encompass veterans across the university.
Smith frequently returns to campus. Recently, he and his wife Laura Balser were among the 100 GoizuetaBeyond.com honorees at the schools' centennial celebration.
"Matt is a humble, confident leader of character who epitomizes a leader that is highly respected by his subordinates, peers, and superiors alike," said Lt. Gen. Ret. Ken Keen, Associate Dean for Leadership at Goizueta. "Beyond his service to our nation, Matt has given back to his community and to Goizueta Business School to help mentor and develop others. Matt was instrumental in assisting me in developing and implementing one of our premier experiential leadership development programs at Goizueta, the Leader's Reaction Course."
Smith also spoke more directly to veterans in the room about how war and economics play large roles in shaping culture around the world. For instance, more open economic policies facilitated the reconstruction of Vietnam, decades after the war in the region. Smith sees some similarities in Afghanistan and Iraq from his various deployments, the first of which came approximately 18 months after the terrorist attacks of Sept. 11, 2001.
"One day in Afghanistan we were moving around in our area and saw some of our guys were up ahead," he said, "So we radioed up and went to meet them. We get out of the truck, walked up and there is a sergeant in charge."
The sergeant explained to Smith the detachment came upon an open-air market and had recently moved their trucks and other equipment at the request of many vendors concerned it would impede business.
"That's economics," Smith said. "That is what makes it different. It's getting that deeper connection that's going to win the day."
Additional Veterans Day Coverage from Emory University: