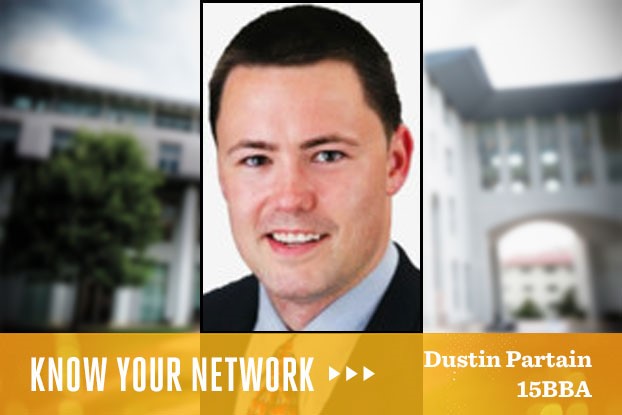 This month, we take time to remember the military personnel−active duty and veterans−who have stepped forward to serve. In this issue of Know Your Network, we celebrate servicemen and women. We asked Goizueta alumni to share insights, their rank and how their military journey still impacts life and work today.
---
Dustin Partain 15BBA
MBA Candidate

The Ohio State University – Fisher College of Business
Tell us more about yourself.
I am from Indiana. After high school, I joined the Marine Corps to separate myself, to be one of the few, and to be in the company of others who wanted more. During my service, I deployed twice to Iraq and can honestly say the Marine Corps fundamentally changed my paradigm on life. Since Goizueta, I have been fortunate to travel throughout the U.S. and even to Prague and Amsterdam to help synergize a global sourcing strategy. Later, in the same company, I got to participate in a rotational program specific to asphalt operations.
What was your rank/branch of the military and how has the military journey impacted your life and/or work today?
My rank was E-5/Marine Corps. My military journey fundamentally changed my perspective on life: what it means to be grateful and why it's important to have a plan, i.e., the 7Ps−proper prior planning prevents piss poor performance. In addition, I developed the mental fortitude in the Marine Corps that has enabled me to navigate chaos – to see it; accept it; see it go.
Who inspires you and why?
My wife, Kristin. I have never met anyone who is more hard-working, disciplined, compassionate and humble as she is. She's chosen a tough career path in pediatric surgery but has excelled at every step of the way. Witnessing her succeed and pursue her dreams has been energizing to say the least!
What is the best advice you've ever received, in business or life?
1. Leadership is everything. Things like accountability, collaboration, transparency, and willingness to take risks all breed from the culture. A winning work environment comes from motivational and strong leadership.
2. Do not let the tail wag the dog. This means: do not let the process dictate the strategy. Processes are created to enhance a strategy, not limit it. Every change in strategy often requires many process changes, and it is often challenging to get employees on board. It is crucial to create a culture that is fluid, entrepreneurial, and adaptable to change yet can still get stuff done.
What is your definition of success?
I am a big fan of John Wooden's definition: "Success is peace of mind that is the direct result of self-satisfaction in knowing you did your best to become the best that you are capable of becoming… [so] never cease trying to be the best you can be. One is under your control; the other isn't."
Is there a lasting lesson, memory or skill gained from business school that you particularly remember or credit your success to?
Unleashed to Imagine: Goizueta empowered me to shoot for the stars, to challenge the status quo, and to free my imagination. It's important to Kristin and me to raise our kids to recognize education−not as something you attain or a means to an end but as a grand opportunity; a sacred time to learn as much as possible, hear a multitude of opinions and challenge reality.
What advice do you have for today's business students?
Be Self-Observant: The Mirror is a miraculous invention. Without it, you would commit great sins against beauty and decorum. You also need a mirror for your actions. This can sometimes come from other people telling you what they see in you. But that is not the most trustworthy method. You must be the mirror. Train your mind to try and see yourself as others see you. Are you acting too obsequious? Are you trying too hard to please? Be observant of yourself and you will avoid a mountain of blunders.
The Google Effect: This is the tendency to forget information that can be found readily online by using search engines. Realize just how much can be found online. Sure, experience is useful, but we don't have to know everything about everything. Spend time developing yourself. More specifically, spend time understanding your 'why'. Author Simon Sinek does a good job visualizing this. In life, we get so wrapped up focusing on 'the next step' that we do not really take time to reflect until life has passed us by. We graduate high school then go to college and get a job and find someone to marry then buy a home and have kids then get an MBA then conduct a career search… It all goes so fast. The sooner you understand yourself, the better you'll be in defining your own future.
Please describe some professional and personal goals.
Within my organization, I aspire to be recognized as a thought leader and problem-solver. From outside the organization, I aspire to be viewed as a genuine, collaborative, caring individual who challenges the status quo and finds a way to make things better. Ultimately, I want to continue to pursue roles and opportunities in leading and growing teams.
What is a professional moment or accomplishment you are most proud of and why?
I am most proud of my time at Emory. specifically, the opportunity to be at Goizueta. I had quite a different background than most who'd gone to Goizueta. Of my grandparents, two graduated high school; neither of the two who graduated considered college an option. My father dropped out of high school in his senior year, and my mother earned her GED many years later. The same is true for my aunts, uncles, and cousins. I have two younger brothers – one who dropped out of high school in his sophomore year, and the other I convinced to join the Marine Corps (as a way out of the cycle). For years I had a fixed mindset about what my future entailed. I even started to accept that I would never go to college, never leave the city I was born in, and settle for a life content with mediocrity. Getting into Emory and subsequently Goizueta, and then to excel at such a school is what I am most proud of.
Is there more you'd like to share?
Here are a few favorite books and quotes to consider.
My top five books:
Mindset: The New Psychology of Success by Carol Dweck
Faster Better: The Secrets of Being Productive in Life and Business by Charles Duhigg
Extreme Ownership: How U.S. Navy SEALs Lead and Win by Jocko Willink and Leif Babin
Principles: Life and Work by Ray Dalio
What Got You Here Won't Get You There: How Successful People Become Even More Successful! by Marshall Goldsmith and Mark Reiter
Favorite quotes:
"Hard work spotlights the character of people: Some turn up their sleeves, some turn up their noses, and some don't turn up at all." – Sam Ewing
"There is only one thing that makes a dream impossible to achieve: the fear of failure." – Paulo Coelho
"Change is inevitable. Growth is optional." – Myles Munroe
"We are always a Diad: half teacher half student. Our goal must always be to become hopelessly curious to a broader scope of our world than the mere limitations of our vertical career." – Jay Abraham
"Watch your thoughts; they become words. Watch your words; they become actions. Watch your actions; they become habits. Watch your habits; they become character. Watch your character; it becomes your destiny."
– Lao-Tze
"Great minds discuss ideas. Average minds discuss events. Small minds discuss people." -–  Eleanor Roosevelt