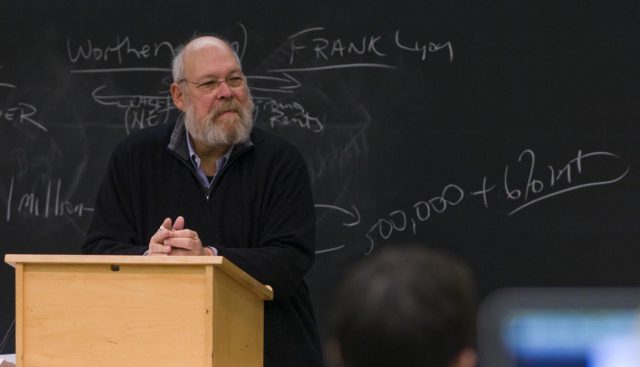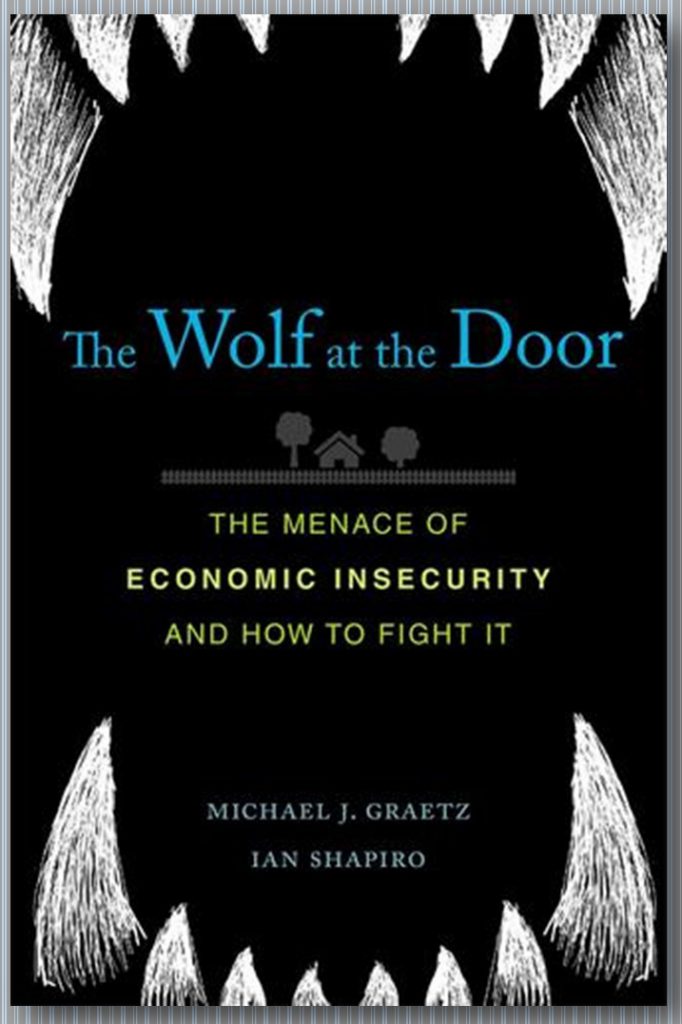 Michael Graetz 66BBA knows firsthand how to work hard to achieve a goal. As an Emory University student, he lived at home and worked up to 30 hours a week to pay for his undergraduate education. "Along with the important understanding of business issues and economics, which have stood me in good stead, a college writing seminar most affected what became my life's work," he said. His latest book, co-authored with Ian Shapiro, professor of political science at Yale University, is called The Wolf at the Door: The Menace of Economic Insecurity and How to Fight It, and he discusses this important topic here with Jeff Rosensweig, international finance professor and director of the Robson Program for Business, Public Policy, and Government at Emory's Goizueta Business School.
"The coronavirus pandemic has plunged the United States economy into a tailspin with record business closures, the highest unemployment rate in 90 years, and American workers and families facing much more hardship than they had before the virus struck," said Graetz, a Columbia University professor of law and Yale University emeritus professor of law.
"According to data in the Federal Reserve Report on Economic Preparedness and Emergency Savings, 44 percent of American workers can't pay off a $400 emergency by the end of the month without borrowing money or having to sell something," Graetz pointed out. "Now, the number of families facing emergencies of more than $400 is enormous. Economic insecurity is the heart of the matter. Middle- and low-income families have shockingly few resources to fall back on, with millions just one emergency away from economic disaster," Graetz continued. The Wolf at the Door "is about feasible—indeed vital—ways of addressing that insecurity. We ignore that challenge at our peril."
As the pandemic has dug in its teeth, for millions of Americans, career stability has been precarious at best. Graetz has foresight in terms of thinking about economic insecurity as a key issue of our times and probing for solutions. "Inequality, though large and increasing, is not the only problem faced by the United States economy. Even the middle-class fears losing position," said Rosensweig. "The pandemic highlights a deeper issue that the authors have been probing for solutions."
Career stability and the global economy
Before the pandemic, only seven percent of workers had the flexibility to work from home, according to an April CNBC story. The virus, however, has added millions more. It's too early to know whether this transformation will stick and, if so, whether workers and their employers will embrace it. However, a recent New York Times and Morning Consult survey reportedthat 86 percent of respondents were satisfied with working from home.
"The Wolf at the Door provides insight into the challenges of working from home, which many readers of this article are now doing or have done, but this option is not available to major swaths of the United States labor force," said Rosensweig. "Essential workers often take personal health risks at the same time they are facing great economic insecurity. These same workers are at greatest risk for replacement by automation. Their insecurity existed before COVID-19 and will exist long after it has subsided."
Graetz says that the "increased demand for online services for shopping, teaching, conferencing, telemedicine and entertainment has ignited the creative energies of software designers and entrepreneurs to produce better online services. The transformation of work is on a one-way conveyer belt," said Graetz and Shapiro.
Given the drastic shift in the United States' economic output as of late, "Technology now allows companies headquartered in Seattle, Peoria or San Jose to monitor production of their products anywhere in the world, enabling them to vary output in response to worldwide fluctuations in demand," Graetz explained.
He continued, "Political leaders like to talk about reviving and expanding United States manufacturing, but the public would be better served by ensuring that service jobs produce a living wage. Returning to the postwar era is not an option. The clock doesn't run backwards. Jobs are less secure than ever. Artificial intelligence and automation, including robotics, pose new threats to American workers."
Rosensweig agrees with Graetz and Shapiro that Americans will face continued challenges maintaining their jobs in a global economy. "Along with the points that the authors make about automation leading to job insecurity, global competition benefits some while increasing fear of job loss for others," Rosensweig said. "As a professor of international business, I generally favor free trade. However, we need business and government to work together to find ways to enhance the prospects and security of those who do lose their jobs to automation or foreign competition."
Convening business groups for national economic stability
The book is garnering the attention of many high-profile individuals. William G. Gale, chair of federal economic policy at the Brookings Institute, wrote that the book's chapter on the role of businesses in the policy process "was eye-opening to me. This topic is routinely ignored in policy discussions."
Indeed, Graetz said that "businesses need to use political sway to help move Congress and state legislatures to take seriously and respond to the real economic anxieties and insecurities of American families. Now more than ever," he added, "businesses must responsively revise their corporate purpose through business roundtables. Holding the welfare of individuals in high regard is paramount to future economic stability."
Rosensweig points out that business must be far-sighted. "Traditionally, the mission of business has been to maximize the wealth of its shareholders, but this may be too myopic in an insecure world," he said. "Ultimately, if workers in the United States are not able to earn a decent living and feel confident that they will continue to be economically secure, underconsumption of goods and services will occur. Since consumption expenditures are slightly over two-thirds of the United States' Gross Domestic Product, it behooves businesses to find ways to spread prosperity and security much more widely than under present trends."
With historical analysis of governmental and private sector practices that have both worked and failed, authors Graetz and Shapiro propose solutions for businesses to consider. "A better approach for corporate leaders would be to convene business groups to build support for the kind of legislative initiatives outlined in this book. Indeed, given our emphasis on the critical role that coalitions—rather than median voters—play in the legislative arena, mustering business support is essential," Graetz said.
True support, say the authors, would create programs that emphasize:
Creating jobs through infrastructure improvements.
Increasing take-home pay of low- and moderate-income workers with children.
Providing universal adjustment assistance (unemployment to reemployment).
Medicare from the bottom up.
Childcare and education.
As Rosensweig stated, "This excellent book needs to be read by anyone willing to work toward a better future. The book is rare in its portrayal of real-world problems while proposing creative sustainable solutions. The Wolf at the Door offers a road map for navigating our way out of the current climate of fear and insecurity and into a better future."
Graetz concluded, "Many will insist that we are crying wolf. Others will contend, to the contrary, that nothing less than the destruction of existing economic and political arrangements, and perhaps of capitalism itself, will suffice. To them, the changes we call for here will seem the least we can do. They might be: the wolf is at the door."