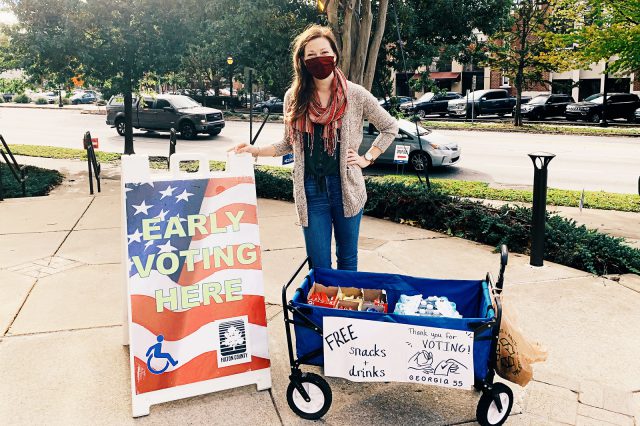 During Georgia's primary elections this past June, Abigail "Abbie" Greene 21EvMBA and three of her friends organized an effort to feed and hydrate Atlanta-area voters as they waited—sometimes for hours—in long lines to vote. Operating under the moniker #ProtestPizzaATL, Greene, her friends and more than 90 volunteers passed out snacks, drinks, personal protective equipment, and more than 130 pizzas to voters. They raised over $11,000 and were so overwhelmed by support for their efforts that the group decided it should become "a more expansive operation," Greene told EmoryBusiness.com in July.
Pictured above: The Georgia 55 Project organizers and volunteers seen in the days, weeks and months leading up to the November 3 election.
Recently the group formalized its efforts and is now called the Georgia 55 Project in honor of the 55th anniversary of the Voting Rights Act of 1965 and as a nod to Stacey Abrams, who lost her bid to become Georgia's governor by a mere 55,000 votes.
"The Georgia 55 Project is a local grassroots group of millennials that think voting should be more than the bare minimum of casting a ballot," explained Greene, who is on track to graduate in May from the Evening MBA program from Emory University's Goizueta Business School.
In short, voting should be easy, fun, and delicious.
The coalition's aim, according to its website, is "to assist voters at all phases of the registration and election process through community and food-centric outreach methods, from providing absentee applications in food bank boxes to serving pizza on election day."
In addition, the group is distinctly aware of the impact that barriers to voting, like signature-matching laws, consolidating precinct locations and the resulting long lines, can have on the process and voters, especially those in Black and minority communities.
"The immediate impact of a long line is that three percent of voters who see a line will turn around and not vote," said Greene. "That's somebody who is disenfranchised. Voting should be a joyful experience."
From the beginning, food and water have provided a tasty and effective way to energize voters. Since September, in an effort to help voters make their voting plan, particularly in under-resourced areas of the city, the group has held weekly pop-ups at restaurants around the city and at various MARTA train station farmers markets, providing free meals and voting information.
Along with Junior's Pizza, the Summerhill restaurant that partnered with Greene and her co-founders in June, the Georgia 55 Project is partnering with nearly three dozen Atlanta-area restaurants as well as the Atlanta hub of Chef José Andrés' World Central Kitchen. During early voting for the presidential election, the group's impromptu, volunteer "snack brigade" supported voters in lines across five metro counties. On Tuesday, November 3rd, nearly 300 volunteers will support 200 polling sites, with 20 "permanent" locations (10 in Fulton County and 10 in DeKalb County) and another 180 that they'll pop in and out of.
To offset the cost of food and bolster restaurants hurt by the pandemic, a portion of donated money goes to the eateries.
Greene estimates World Central Kitchen will provide more than 20,000 meals, with another 20,000 provided by local restaurants. With help from the group's event space locations, West End's Monday Night Brewing Garage, Junior's Pizza, and the Kupcakerie in East Point, volunteers will receive food from local restaurant partners and subsequently distribute it to polling places. The group expects to support 90,000 voters on November 3rd.
"As a citizen, I only have so much power to change what's on the ballot, but I have a lot of power to impact what goes on outside the ballot box and in the community," Greene said.
If voters have a positive voting experience, the group contends, the data suggests they're more likely to vote in future elections. Says Greene, "a ton of good can be done by the simple act of bringing you something to eat while you're waiting in line to vote." For Greene, the lasting impact of their work is worth the effort.
The Goizueta student was busy enough with a full slate of MBA classes and a full-time job in human resources at McKinsey & Company before helping to create a community outreach organization. When the Nonprofit elective course was cancelled for fall 2020 because of the pandemic, Greene reached out to advisors Brian O. Goebel 09MBA, managing director of Social Enterprise @ Goizueta, and Randy Martin, adjunct faculty member. She asked if she could work with them on a directed study for the organization she cofounded—the Georgia 55 Project. They agreed. Earlier this fall, Greene had weekly meetings with the professors to discuss strategy, roadblocks and the organization's progress. After the election, Greene will submit a final deliverable to them.
"I kept waiting around for someone to come do something about this, and I realized no one was going to," she said. "It's an opportunity to make a real difference. It's a powerful feeling."