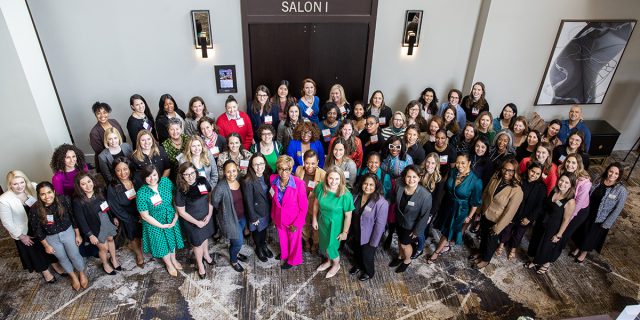 When speaking with Tara Halfon 14EvMBA about her new role as president of Executive Women of Goizueta (EWG), one theme surfaces again and again: relationships.
The friendships I made at Goizueta are what I most treasure, and those continue to grow through my involvement with Executive Women of Goizueta.

Tara Halfon
Halfon would know about the value of relationships; she works within the human resources transformation office at Truist Bank as the lead of organization design for the Truist Enterprise. Her role is predicated on relationship building, given that she operates as an intermediary between the numerous nooks and crannies of the bank, tying seemingly disparate departments together to achieve broad reaching goals that serve the organization as whole. Her favorite part of her job is her colleagues, who "champion trust, care, and inclusion."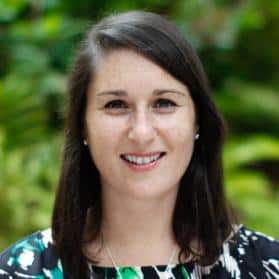 Halfon cited her experience at Goizueta as pivotal for her career. "My classroom experience was energizing, and the experiential learning I was able to take advantage of challenged and built my workplace acumen."
After she graduated, however, she soon found herself missing the intellectual development and team bonding she enjoyed in school, so when a couple of her close friends and fellow Goizueta Business School alumni urged her to join Executive Women of Goizueta, she gave it a shot.
One decade, several leadership roles, and a board presidency position later, she is eager to speak to the many benefits of joining EWG and to discuss where she'd like to take the organization next.
Why Join Executive Women of Goizueta?
Executive Women of Goizueta is an alumni affinity group of the Goizueta Business School that connects women in the business sector, encouraging them to help one another remove barriers, promote diversity, and develop into stronger leaders.
"Executive Women of Goizueta is an incredible forum for continued growth and networking," says Halfon. "It provides continued learning and development, something that I and many others tend to miss post-University. Getting involved with EWG is an opportunity to expose yourself to new ideas, a network of business professionals, and an energized community."
Randall L. Ledkins, senior managing director of development of the Advancement & Alumni Engagement team, says that though he is relatively new to Goizueta, he's had the opportunity to meet the current EWG leadership. "It is already evident to me how powerful the EWG community is," says Ledkins. "As one of Goizueta's longest standing volunteer led affinity groups, Executive Women of Goizueta continues to make an enormous impact serving and inspiring our alumnae and friends. I can't wait to see what's in store for this year and beyond!"
Halfon is quick to emphasize that while Executive Women of Goizueta loves to "highlight passionate women in business," it is open to allies and friends, including other gender identities and non-Goizueta graduates.
And that inclusive community is a vibrant one: in addition to featuring top executives from household names such as Starbucks, Deloitte, and Salesforce, their recent 20th Anniversary Conference in March 2023 included the likes of Thai Randolph, CEO of Kevin Hart's entertainment production company Hartbeat, and Jenn Graham, founder and CEO of Inclusivv, an organization devoted to cultivating better conversations surrounding inclusion in the workplace, as well as several other intrepid business women in the roles of entrepreneurs and team builders. Through fireside chats and panels, they tackled knotty topics, including hybrid workplaces, advocating for one's worth, and the "great resignation."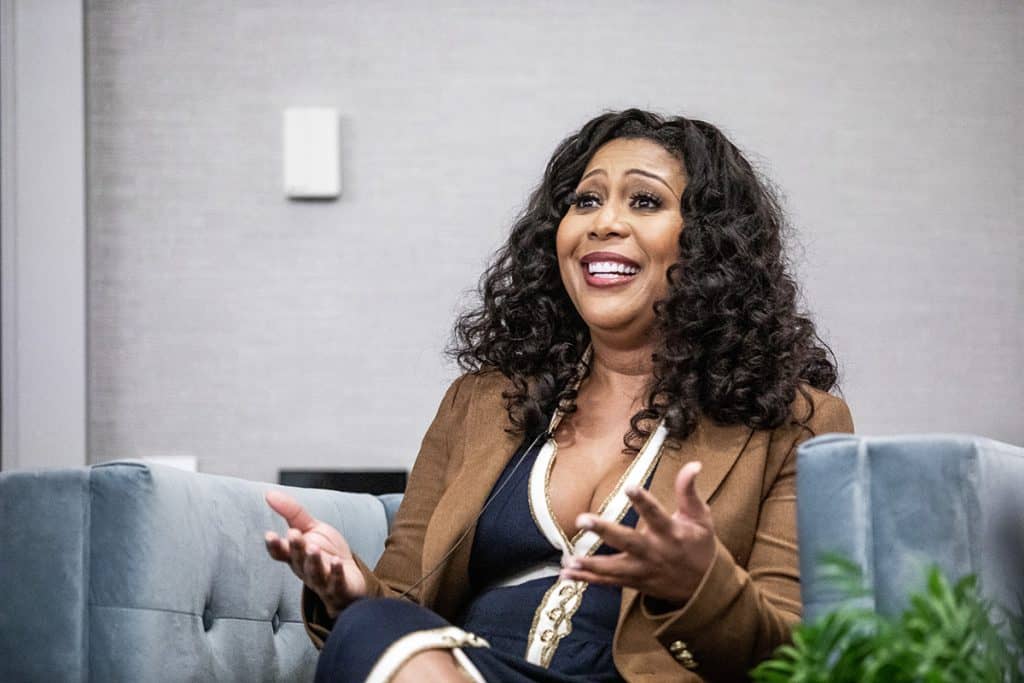 What Motivated You to Take the Position of President of Executive Women of Goizueta?
"I loved the exposure to motivated, collaborative women and exciting programming from speakers to social and networking events," says Halfon, when reflecting on what initially drew her to EWG. Halfon benefits from having engaged with the group over many years and from various angles, first as an alumna, then through a committee to assist with programming, and finally through several chair positions on the board.
"Seeing EWG flex and learn through the years of the global pandemic and then come back in 2023 to our highlighted, in-person annual conference is a journey of which I am proud to have been a part. This motivated me to take the position of president, as we continue our momentum into 2024 and look to enhance our programming and activities to provide meaningful interactions and enable personal and professional growth through a variety of outlets."
What Will Success Look Like One Year From Now?
Given Halfon's knack for networking and connecting people to their passion, it comes as no surprise that her goals for the upcoming year center on designing exciting events and supporting others.
"As president, my biggest personal goal is to enable our board chairs to experiment and grow in their roles. I'm excited for our incredibly talented 2023-2024 board to bring new ideas, connections, and diverse backgrounds to our board activity and delivery. An additional goal is to bring more robust, regular programming back to EWG's delivery, better engaging and expanding our community."
That programming is already under way; next year's line up promises engaging speakers and topics including "Networking for Your Career and Your Life" featuring Leadership and Business Development Coach Stewart Hirsch on August 30th, and the "Four Pillars of Health" Wellness Workshop with EWG Board Member Abby England on September 23rd (both of which are available for registration at engage.emory.edu), in addition to their annual signature March 2024 conference which is already in the works.
What Do You Believe Is One of the Biggest Challenges Facing Women in the Business Sector Today—and How Does This Relate to This Year's Annual Theme?
"For all, not just women, doing more without boundary has become a major challenge in today's workplace environment. The volume of touchpoints and interactions, the variety of how those are exhibited (in-person, virtual, multiple devices, etc.), and attempting to balance that with life outside of the 'office' is a struggle."
Finding balance between the personal and the professional has never been easy, and in the wake of the pandemic, that boundary continues to shift as many employees navigate hybrid work environments that increasingly straddle home and the office.
"Seeing the pendulum swing from remote work during the pandemic, to finding a balance for in-person interaction, to having many companies enforce 'return to office' policies as of late—the ability to be resilient and adjust to these changes is experienced by many," says Halfon. "The same could be said of mental well-being, physical health, finding balance when being asked to do more, often with fewer resources and less time."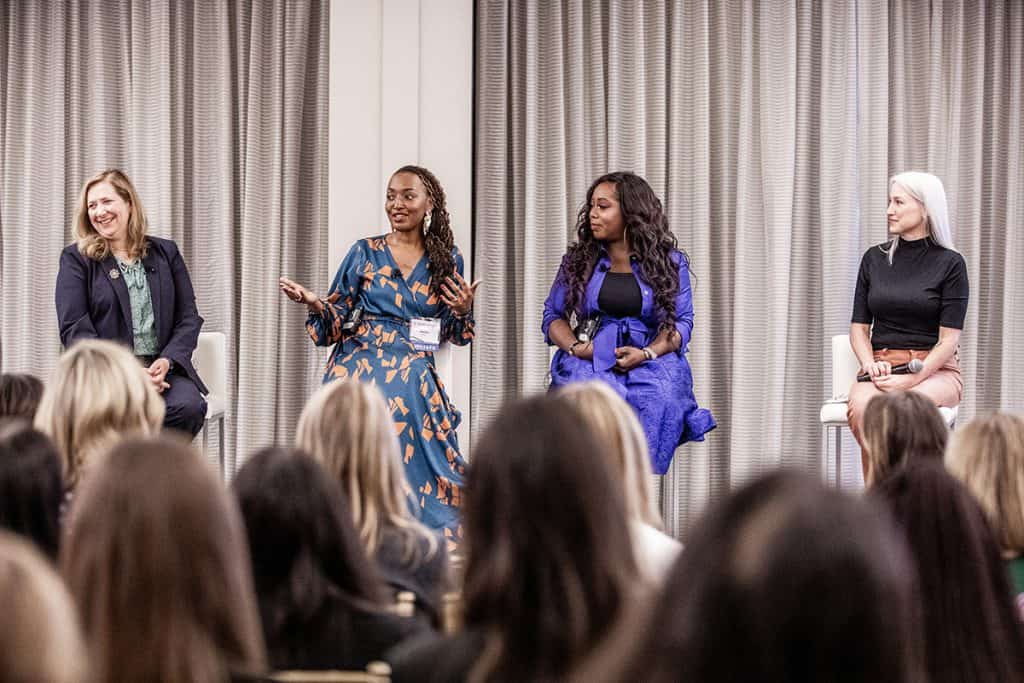 "Resiliency" was the word the board continued to land on when they reflected on how to handle this modern dilemma in which change seems to be the only constant; it was "what we wanted to learn more about both personally and professionally."
And of course, Halfon circles back to emphasize the value of relationships in developing resiliency.
Building understanding, empathy, and trust of our colleagues and teams (professional and personal) has become more and more important as we struggle to keep up and find balance.

Tara Halfon
And what better place to start than an organization like Executive Women of Goizueta?
What Advice Would You Give to Someone Beginning Their Career?
Halfon urges those finding their professional footing to "surround yourself with good people who know your worth and will champion it for you."
"Your career path is unpredictable, but what you can control is your growth and how you define your value, she says. "The people around you—friends, colleagues, and mentors—will be there to help direct and encourage you through that growth."
Executive Women of Goizueta Board, 2023-24
Executive Women of Goizueta is pleased to announce their new board members for the coming academic year:
Abby England: Marketing Committee
Caren Lusk: Sponsorship Chair
Danielle Donnelly: Immediate Past President
Jen Kostyrna: Conference Logistics Chair
Julie Friedberg: Conference Programming Chair
Kristy Hoffman: Conference Programming Chair
Kuki Gandh: Awards and Scholarship Chair
Liz Wolfe: General Programming Chair
Lorry Perkins: Marketing Chair
Missy Taylor: Conference Logistics Chair
Nicole Rife: Vice President
René Hallock: Treasurer
Tara Sconzo Halfon: President
Tara Hornsby: Membership Outreach and Engagement Chair
Want to Learn More About Executive Women of Goizueta?
If you'd like to find ways to get involved with our thriving community, follow us on Facebook, Instagram, or LinkedIn, or reach out to emoryexecwomen@gmail.com.