With financial cybercrimes ever present in daily life, fintech leaders seek tangible solutions to minimize consumer impact. In a unique collaboration between students, faculty, and industry leaders, Emory University's Goizueta Business School partnered with Truist in an immersive and interactive two-day seminar to address this challenge and introduce students to powerful machine learning and AI tools to create solutions for implementation.
At its core, Truist is a purpose driven company that seeks to provide distinctive, secure, and successful client experiences through touch and technology to build trust. For the seminar, students brainstormed real-world use cases with executives from Truist, IBM, FLOWX.AI, and Amazon Web Services (AWS) to build potential solutions to cybercrime scenarios.
Truist Executive Vice President and Chief Information Officer of Corporate Functions Dan Stephenson notes that "Students used emerging 'no code' technology to build intelligent workflow solutions without writing a single line of code." Stephenson went on to say that during the two-day session, "Student groups created an enterprise-grade software solution for complex business processes using the no code accelerators, and integrated Amazon's SageMaker into the solution to recognize fraud patterns. The program gave students both the tactical training in how to use FLOWX.AI and SageMaker, along with an understanding of how leveraging intelligent workflow solutions can fuel business outcomes."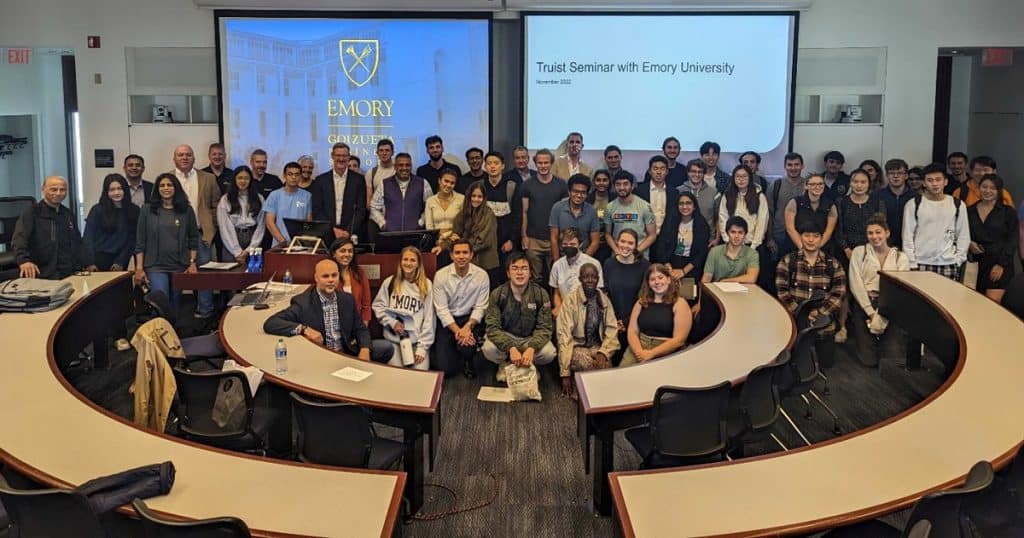 To structure the program, "Truist enlisted leading technology organizations for this seminar," says Robert Kazanjian, academic director of The Roberto C. Goizueta Center for Entrepreneurship & Innovation and the Asa Griggs Candler Professor of Organization & Management. "Students were able to combine these technologies in the development of innovative solutions to the problems they were assigned."
Together, Goizueta and Truist have now conducted several workshops wherein our undergraduate students have been trained in the utilization of a no code platform to quickly modify IT tools to propose solutions to significant current challenges that relate to a range of cybersecurity.

Robert Kazanjian
Forty-four students participated in the seminar held at Goizueta in November and sponsored by Truist's Enterprise Technology and Risk Management functions, the second in a series that the organizations plan to continue in the future. Truist executives shared insight on the most common types of bank fraud. IBM leaders shared their expertise on intelligent workflows and how to create new enterprise solutions.
Real World Problems Demand Intelligent Solutions
Goizueta seniors gained critical professional experience by participating in this unique seminar. "Following more than 10 hours of learning and applying new technologies, the students networked with senior executives from all participating companies," Kazanjian notes.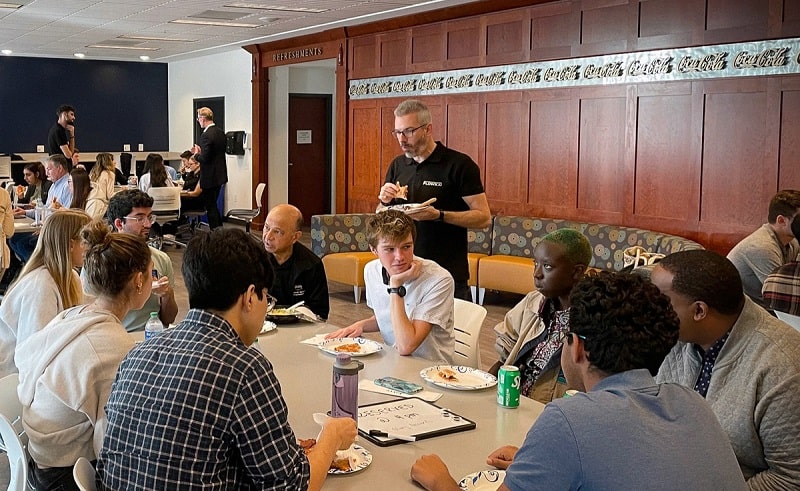 One student reported, "I genuinely enjoyed learning about the massive impact of fraud and what can be done to mitigate damages caused by such grievances."
The no code aspect of the session inspired students, as did working hands-on with the engineers. One wrote, "The most exciting aspect of the FLOWX/IBM session was getting to try it myself. It's so cool to see how to build a flow from a non-coding perspective. It's very accessible and a great segue to coding." Another elaborated, "It was great trying to complete sections on our own after some instruction and help. It's an interactive and interesting way to figure out how application processes work–and you don't need a huge amount of prior experience to do it." One stated, "I have never touched code and was able to build an entire application."
"We are pleased to engage in a partnership to deliver a unique experiential learning opportunity for our students," Kazanjian says. "Truist is at the forefront of applying new technologies and innovative approaches to the problems and opportunities evident in fintech."
This senior seminar is developed and offered in conjunction with The Roberto C. Goizueta Center for Entrepreneurship & Innovation.