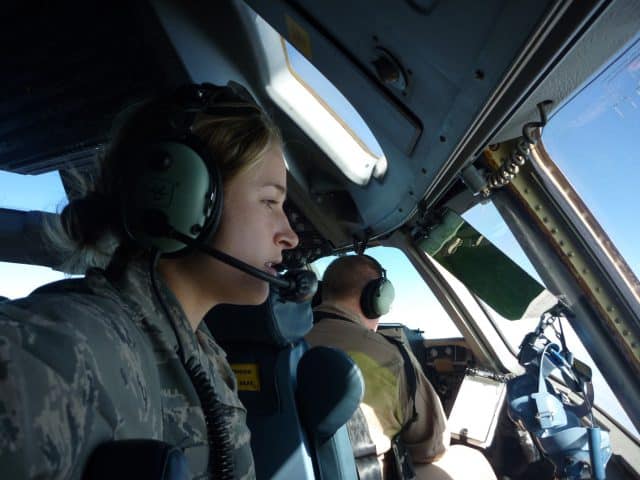 Facing challenges head-on doesn't daunt veteran alumna Coogan Perrin 13MBA. On the domestic front during her United States Air Force career, she led space communications and cyberspace engineering teams and ran large projects for the Space and Missile Systems Center. Working in Afghanistan alongside Army, Navy, and Marine forces as well as international military members, Perrin led communications programs for Operation Enduring Freedom in support of the Global War on Terror.
Active duty also took Perrin to the Armed Forces European headquarters in Germany, where she improved connectivity for military operations across the continent and directed operations for military support of the 2011 civil war in Libya.
After such an active military role, how did this veteran make the transition to civilian life? She chose Goizueta's One-Year MBA program for its postgraduate job placement rankings, class size, location, and support of veterans. 
When researching schools, I knew I wanted a school where I would feel welcomed and be able to quickly become a member of that community. I also wanted a place where I could utilize my military skills and transition into the private sector post-graduation with ease. Goizueta checked all my boxes and more!

Coogan Perrin
In no time, Perrin became part of the Goizueta Veterans Club and forged strong friendships with other veterans. She recalls, "We studied together, reviewed resumes, and conducted mock interviews with one another. It was incredibly helpful to have guidance on how to adapt military lingo to layman's terms and understand how to talk about the application of military service to the private sector."
Goizueta faculty and staff also made an impact on Perrin's student experience. "They did a great job of understanding my background, and where I wanted to go, and from that, knew how best to support me," she says. "Especially now, with several prior military members on faculty and staff, Goizueta is even more suited to support veterans than ever before."
Giving Back by Mentoring Students
Perrin prioritizes giving back by mentoring Goizueta students about life on campus and in the professional world. "Most recently I have supported current students through my efforts working as a mentor and coach for the Advanced Leadership Academy program," she says. "As a member of the coaching staff, I help students better understand their leadership style and its influence on teams they manage."
Though this mother-of-three takes time from her consulting entrepreneurship to enjoy the great outdoors, she shares, "I am a member of the Service Academy Board Member for the 11th Congressional District, and I am currently working to fill a position as an active reservist in the Air Force Reserves."
Perrin looks back on her student days with fondness. "Goizueta was the perfect place for me to learn, grow, meet new people, and transition out of active-duty military with ease. I have found great success since graduating, and I owe much of it to what I learned at Goizueta and the network I built while there."