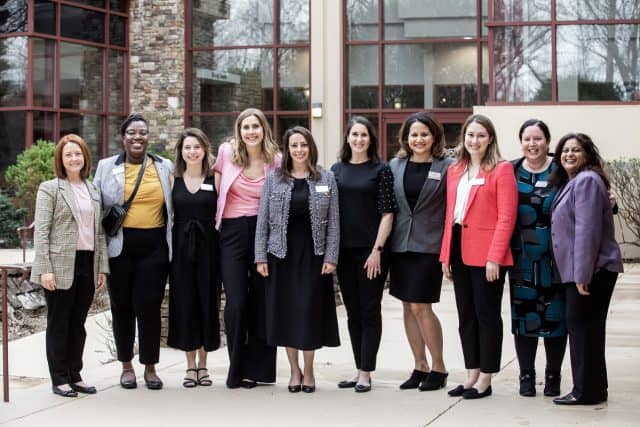 All month long, America celebrates Women's History month by honoring and celebrating the role women have played in shaping our past and driving our future. Emory University commemorates Women's History Month by elevating the stories of women who create a positive impact in their industries, and with lectures, panel discussions, and events.
Executive Women of Goizueta (EWG) hosted its "Advancing Women in Leadership Annual Conference" at the Emory Hotel & Conference Center on Friday, March 3rd. This year's theme, "Building Leadership Capital: Strategic Investing for Personal, Career and Business Growth," was incorporated into all aspects of the day-long event, from the fireside chats to the breakout sessions.
With more than 250 attendees, the event kicked off with an introduction from current EWG president, Danielle Donnelly 17EMBA who shared, "I so look forward to this conference, not just as a board member, but as an attendee, because it creates a space, a community for women to be their whole selves, to be inspired, to discuss the topics that matter to us as women, to feel heard and to unpack the challenges we face as women, as leaders, as mothers, as friends, as coworkers, as daughters and caregivers."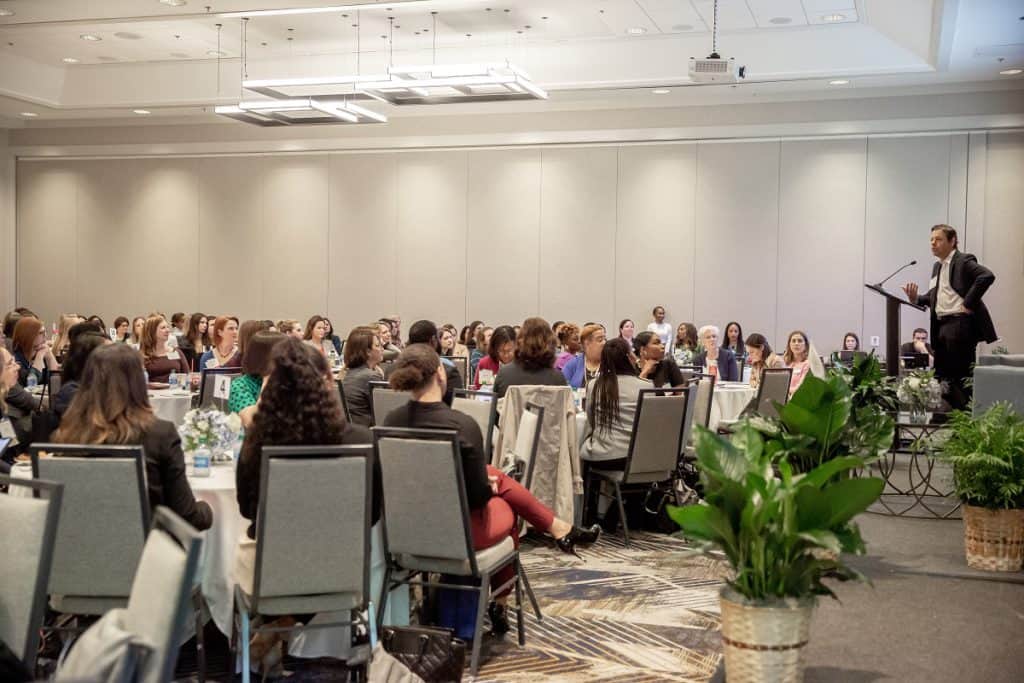 Donnelly, chief strategy officer with FKA, introduced Gareth James, dean of Goizueta Business School, who congratulated EWG on its 20th anniversary. James then introduced Marina Cooley 14MBA, professor of marketing, who acted as the event's emcee.
The conference's first fireside chat featured Chanel H. Frazier, managing director, global head of business strategy for the Portfolio Management Group and head of the BlackRock Atlanta Innovation Hub. Frazier was interviewed by Qaadirah Abdur-Rahim 11EMBA, head of community strategy, BlackRock Atlanta Innovation Hub. Frazier credited sponsorship with helping her navigate corporate power structures. She encouraged the audience to sponsor others. "If you want a gut check, have a young professional come to you and ask you why you made a certain decision," she said.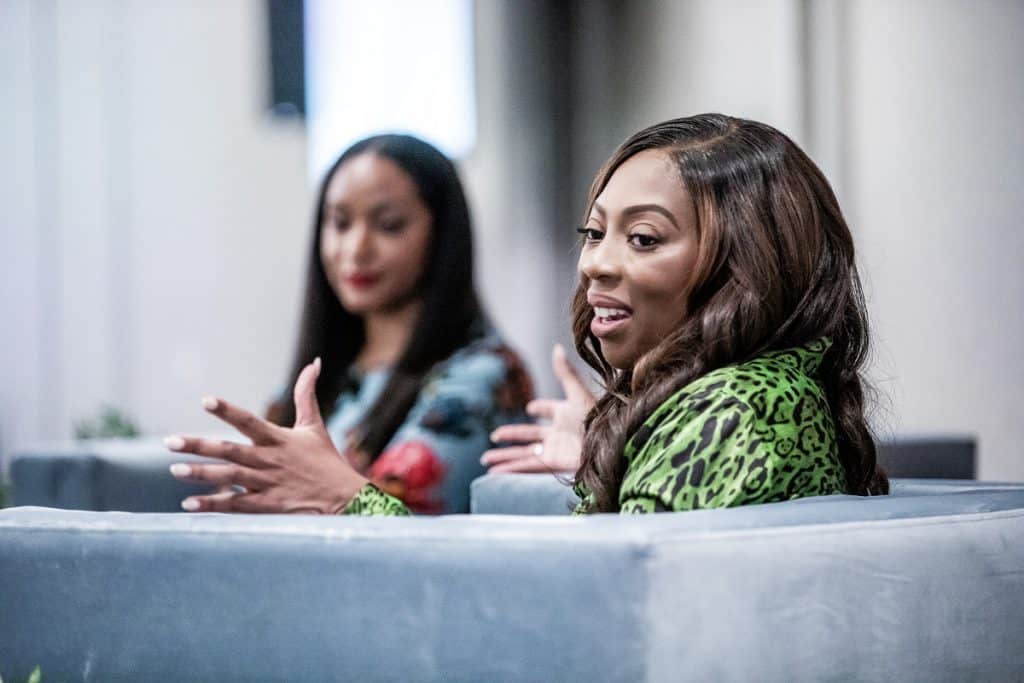 In the second fireside chat, Jill Perry-Smith, professor of Organization & Management, senior associate dean, strategic initiatives, interviewed Tiffany Willis 15EMBA, vice president and head of investor relations, Starbucks. The two spoke about goal setting and achieving those goals. "I've been very intentional about what I want in life," said Willis. "When I think about my goals, I think about what skills I need to get there, what that gap is. And I look at every opportunity as, 'What skills will that give me?'"
Over the years, Willis has participated in several EWG events and was happy to be a part of this year's conference. "I remember sitting in the audience and listening to esteemed speakers and accomplished leaders in whatever aspect of life they were in—corporate America or not-for-profit or some other business—and feeling inspired. I knew that if I had the opportunity to share my story or give any insight into my accomplishments that helped someone else feel inspired and motivated, I would want to do that."
Goizueta and EWG poured knowledge and insight into me not only during my time as a student but also after I graduated. I definitely want to take the opportunity and pour into others.

Tiffany Willis 15EMBA
The final fireside chat of the afternoon highlighted Thai Randolph, CEO, Hartbeat and co-founder, Sugaberry. Interviewed by Dr. Kanika Sims, health equity strategist, physician, assistant professor of medicine at Morehouse School of Medicine and founder of Invest Inclusion, Frazier talked about the arc of her career. "If we place so much emphasis on particular status or particular destinations, you realize that when you get there it doesn't fulfill you, you're still wanting something else," Randolph said. "It locks us into a very fixed concept of what success and fulfillment looks like." Randolph emphasized how important purpose has been to her—finding "that thing you do that makes you special in the way that you do it," she said. "My success in doing that thing shouldn't be defined by my title is or how much money I make."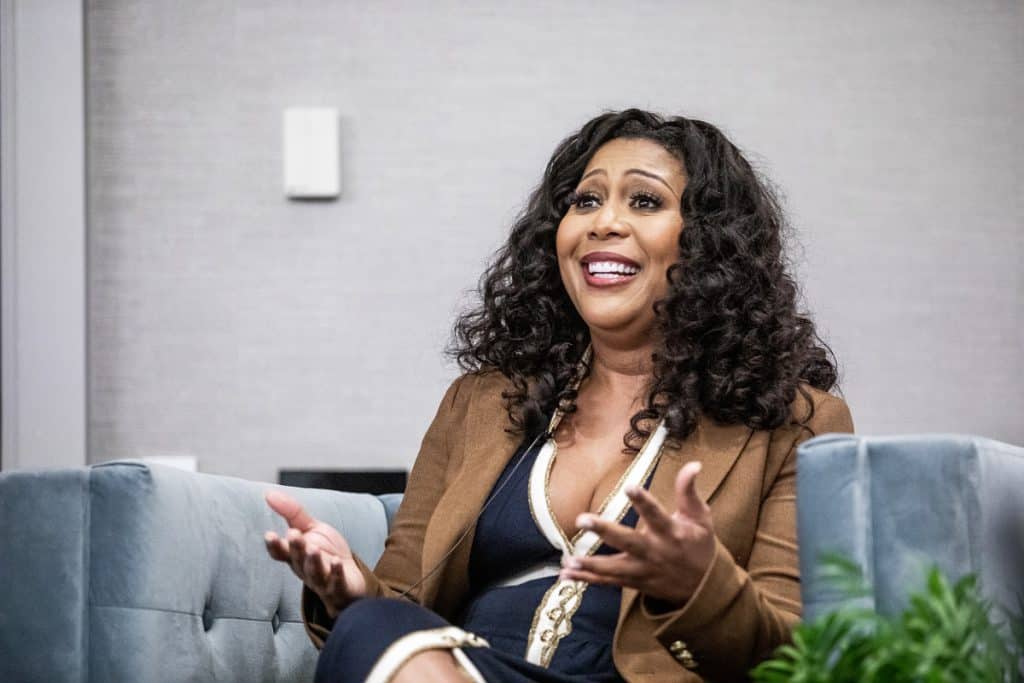 Over the course of the morning, there were four panel discussions. The "Future of Work: Leading Teams in a Hybrid Environment," panel was moderated by Ketiwe Zipperer, senior leader in Deloitte Consulting's Mergers, Acquisitions and Restructuring Practice, and included panelists Jenn Graham, founder and CEO of Inclusivv, Nikki Coleman, COO, We Are Rosie, and Eileen Lee, co-founder, The Lola.
Paige Hartsfield, founder, Big Cheese, led the "War Games: The Great Resignation," discussion.
The "Owning Your Worth" panel included Jasmine Burton 22MBA, serial impact entrepreneur, nonprofit founder and board member, Angelique Stewart 18EMBA, vice president of client support and global practice leader at Sovos Digital, Dominique Giovine, vice president, control division, Moët Hennessy USA, and Zipperer.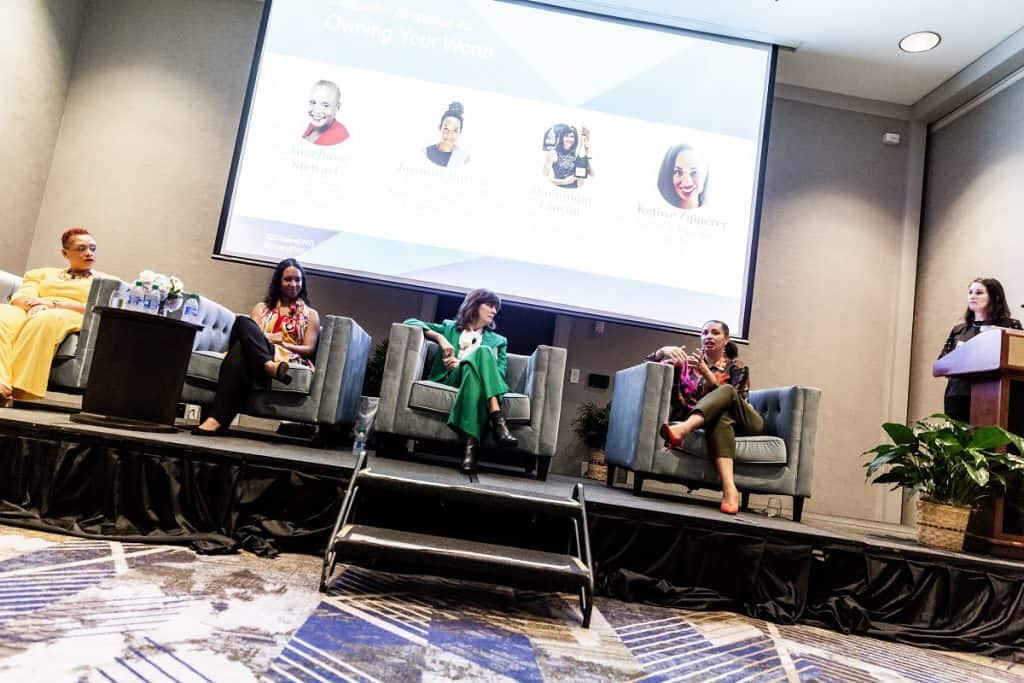 Moderated by Kt McBratney, co-founder and chief community officer at OwnTrail, the "Aligning your Career with Your Purpose" panel included Sims, Ambassador Susan Coppedge, executive director, Georgia Legal Services Program, and Lola Banjo 11MBA, vice president of GTM Strategy and M&A products, Salesforce and founder & chief designer at Silver & Riley, a travel and fashion accessory brand.
EWG also handed out several awards during the conference. The 2023 Guiding Star Award scholarship went to Myra Herring 18EvMBA. Herring is a wellness coach and founder and CEO of Capri Brand, LLC, a personal branding company.
The 2023 Bridge Award recipient was Jennifer Davis, chief strategy and marketing officer and the author of "Well Made Decisions."
Each year, EWG awards a $5000 Scholarship Award to an aspiring Goizueta Executive MBA candidate. This year's award went to 24EMBA candidate Katie Kolonic, vice president & medical director at AllMed Healthcare Management.
Conference sponsors included Cisco, KPMG, Protiviti, UPS, and WestRock.
About Executive Women of Goizueta
Launched 20 years ago by Sarah O'Brien 03EMBA, EWG's mission is to create a community that facilitates, promotes, and inspires women's personal and professional leadership development. EWG is open to women who are Goizueta alumnae, current executive and evening MBA students, as well as BBA graduates that have professional experience. EWG's "Advancing Women in Leadership Annual Conference" is open to the entire Emory University community and to friends of the school.
Learn more about Goizueta Business School's Executive MBA and Evening MBA programs.