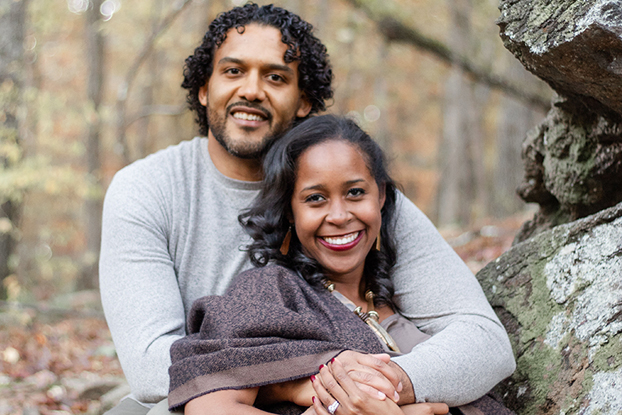 For some Goizueta alumni, Valentine's Day means more than a moment to celebrate with sweets, blooms, and sentimental cards. We asked our alumni couples to share their memories of their romance that began to blossom on campus.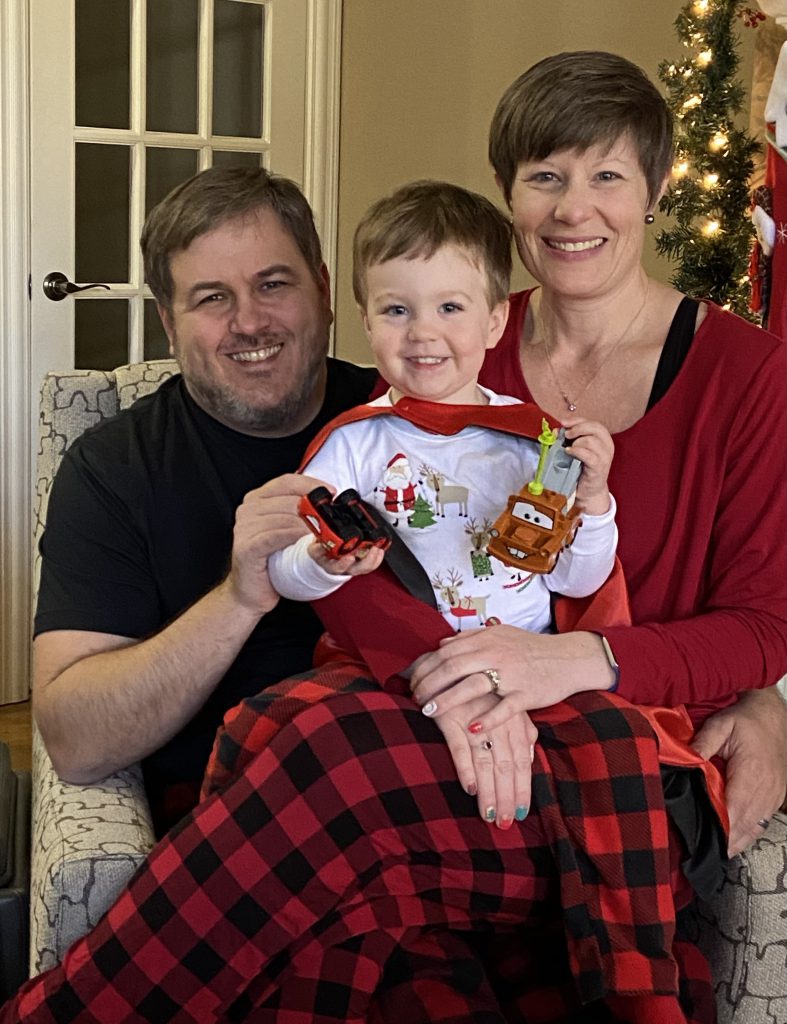 When Danielle Blaske Miller 11MBA and Jeff Blaske 11MBA both met, they like to say there was "immediate intrigue." The two worked for the same company and met in 2004 at their annual meeting in Florida, but even after passing each other at a few events during the week, they didn't hit it off until they happened to sit next to each other at a baseball game that weekend.
During their time at Emory, both Danielle and Jeff completed the Goizueta Advanced Leadership Academy (GALA), as second years. Although on different teams, the two cherish the memory of being able to share the experience.
"It's rare that you get to experience something that impactful as an individual yet have your partner completely understand the experience because they were on the same parallel journey," they both said. "While it was a competition, we were each other's biggest fan throughout the week. We cherish the memories from those two weeks and still use some of the communication and leadership lessons in our marriage."
Although graduate school can be a challenging time to balance personal and professional goals, both Danielle and Jeff believe it's possible to embrace new relationships as long as there is a good support system.
"Successful relationships embrace this mindset and become a true support system helping each person push themselves to grow personally, professionally and academically," they said. "Graduate school has a lot of demands, so you need to be deliberate about making each other a priority."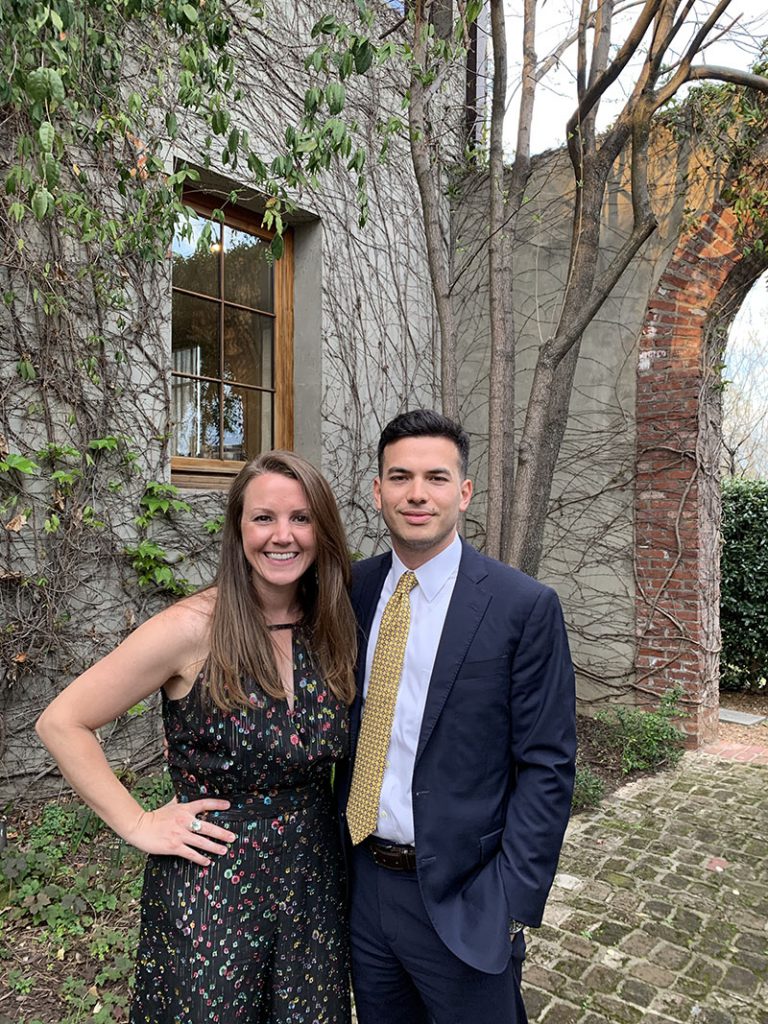 What started as a simple pick-up soccer game for Clair Krigline Flores 14MBA and Juan Flores 16MBA, quickly grew into much more. The two met in August 2014 after a Facebook group helped organize a soccer game that they both ended up attending.
"[The connection] was pretty immediate, but Juan jokes that I kicked him a lot in the first couple games," Clair said. "We started messaging back and forth after the second game, and it just grew from there."
Emory holds a special place for obvious reasons for the couple, but even more so when Juan surprised Clair by proposing on the field where they met back on campus.
"It was extremely special," Clair said.
Although graduate school can be busy, Clair emphasized the importance of taking advantage of every opportunity. "Even though there is so much going on, and it doesn't seem like there is enough time, give it a chance because it could be something special," she said. "Keep in contact with friends and current students because you never know when a random pick-up soccer game could be the time you meet your future spouse."
Clair, a senior manager at PwC, and Juan, an associate at Truist Securities, have been working at home since the pandemic hit.
"It's extremely nice to see each other (and our son) at random times throughout the day," Clair said. "Being in consulting and i-banking, we never had that opportunity before, so we're trying to take advantage of it while we can."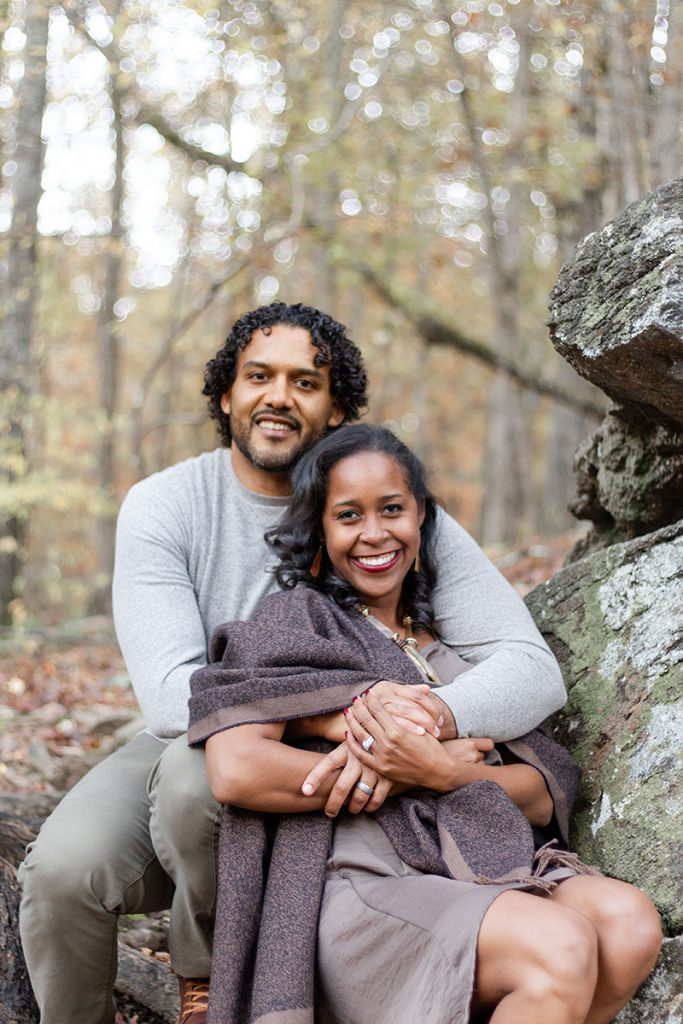 Although coming from two completely different backgrounds, DJ Singleterry 15MBA and Naomi Singleterry's 15MBA friendship was instant. The two met in the summer of 2013 in New Orleans while attending the Consortium's summer orientation program.
"From the moment I saw Naomi, her smile was intoxicating," DJ said. "It warmed my heart and led me to pursue a friendship, which evolved into companionship and eventually blossomed into a relationship like none I've ever experienced before."
One Emory memory they will never forget is participating in the 2014 National Black MBA Conference case competition where they were only a team of three and had just three weeks to prepare. "This was the first time that the two of us had to rely on each other to achieve a common goal with high stakes and scarce sleep," they said. "Ultimately, we won third place in the case competition, but more importantly, we realized that in so many ways we were better together."
During graduate school, the two focused on excelling in the classroom, landing their dream jobs and building a solid friendship. It wasn't until the last week of classes when they realized they would be living in separate cities that DJ gathered the courage to ask Naomi out on a date. Now, DJ, a senior manager of strategy & innovation at Accenture, and Naomi, a senior principal restaurant transitions lead at Chick-fil-A Inc., have both been working from home since COVID-19. Even so, they say they're each other's favorite office mates.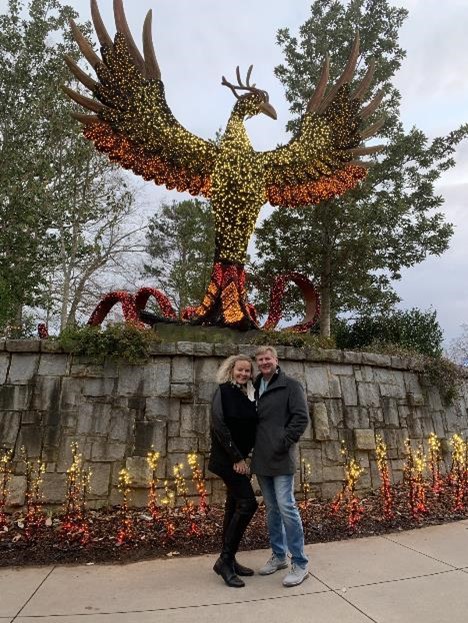 Monika Hudson 09EMBA and Dave Hudson 09EMBA consider themselves "non-traditional students." They each had other adventures before jumping into college, so when the two met in 2002 during their freshmen year of undergrad, they shared a strong connection based on the way they viewed and approached life.
Near the end of their EMBA journey, the pair traveled to South America for the colloquium where they had the opportunity to share an unforgettable experience. "My wife and I love to travel and while we were focused on school, we didn't get to travel much," Dave said. "We also made great friends in the program, and we added on days to our trip to South America and managed to see five countries. It was really special getting to share that experience, hear such great business speakers, and have a group of people around us that were on the same page about it. It was so great that we got to do that as a couple."
Now Monika, a senior vice president at Truist, and Dave, a CIO at Insight Global, have learned to work closely at home where Dave said he's applied a key lesson from school: always make a calendar.
"During our undergrad, we tried to sync up our classes so that we had common breaks and days off," he said. "It's really important to carve out time for each other. We've been together for over 18 years now, so I'd say it works."
Do you have a Goizueta sweetheart story to share? Post a picture and tag us with #GoizuetaSweethearts on Instagram, Facebook, LinkedIn, and Twitter.