"Now more than ever, I am happy to share my perspective as a Black female professional to help organizations create more productive and equitable work environments and partnerships."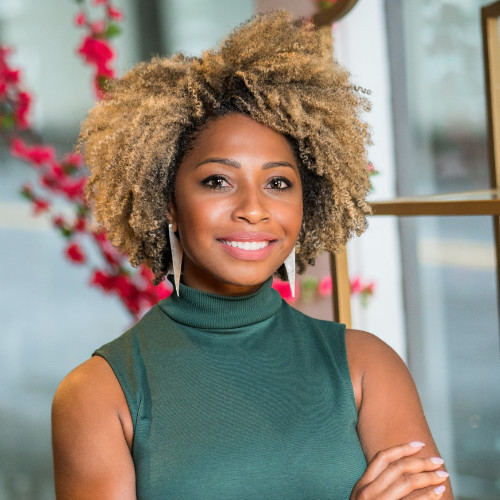 Yonina Gray 19EvMBA credits a rich set of lived experiences for her holistic approach to business and community development. Yonina's passion for communities started back in her hometown of Chicago, where she grew up in a neighborhood that unlocked unique opportunities for her family including cultural diversity, high quality public education, and the art of relationship building.
"Chicago is a beautiful city, and I am incredibly proud to have grown up there. What many people don't know is that it's a deeply segregated city where quality of life, educational attainment, and even life expectancy depends gravely on zip code," she says. "This is especially true for African Americans who make up about a third of the city's population. It's precarious for many."
Today, Yonina is the director of external relations for a national nonprofit financial institution that channels investment capital, data, and policy solutions to developers, corporate partners, philanthropic organizations, and others to revitalize communities traditionally underserved and considered high risk. This role entails connecting the dots to generate strategic partnerships, socialize the value proposition of her company's lending capacity, and identifying new markets and asset classes for investment. She is proudly leading an initiative to support historically black colleges and universities through investment capital and technical assistance. She is also helping her organization create a vision for a major gift from Mackenzie Scott to deepen their community impact.
Education has been so incredibly important to Yonina and her life's path. She has earned two master's degrees: the first in urban planning and public policy from University of Illinois and her Goizueta MBA with a focus in finance and strategy.
Goizueta played a pivotal role in her career trajectory. "In Chicago, much of my work was with private, nonprofit think tanks (Center for Neighborhood Technology and The Metropolitan Planning Council), leading policy advocacy, and launching programs. My goal in moving to Atlanta was to continue to help rebuild communities by channeling resources on a faster track," she recalls. "My Goizueta MBA gave me critical skills that helped me open the southeast office for Reinvestment Fund, a mission-driven financial institution that puts money from the U.S. Treasury to work to support real estate developments in underserved neighborhoods."
Helping Others to Put DEI into Every Action
Her upbringing in Chicago, where quality of life varies from one zip code to the next, taught Yonina the importance of thoughtful urban planning, public policy, and finance coming together to shape the built environment. "I wanted to be part of the conversation to drive equitable distributions of high-quality amenities, including affordable housing, grocery stores, and community anchors," she says. She believes that data analysis, done well, can amplify the voice of underserved people and places. "My ability to speak the language of both underserved communities and institutional leadership allows me to bridge the gap and have what some might perceive as uncomfortable conversations in business."
Following the death of George Floyd, Yonina found herself responding to an article in Atlanta Magazine. "I wrote a simple email to the editor to share my thoughts that they'd missed the mark in their commentary about racial equity." Her email drew praise from the editor-in-chief, and the magazine published her thoughts as an Op-Ed and invited her to provide consulting services to help them diversify other magazine content.
The Op-Ed "raised my profile as someone who can deliver that tough criticism of failed attempts to address racial equity in a productive way. "Now more than ever, I am happy to share my perspective as a Black female professional to help organizations create more productive and equitable work environments and partnerships," she shares.
Whether she is working to advance amenities distributed to underserved neighborhoods, building institutional relationships, or helping others be more intentional about racial diversity, equity, and inclusion, Yonina's commitment to bettering society is clear. "I would like to engage, elevate, and amplify," she says. "We all need to be more aware of each other and give each other more space to express ourselves. That's the goal."
Goizueta Business School values diversity, equity, and inclusion for every person without exception. This commitment uplifts individuals, enriches communities, and advances our mission to prepare principled leaders for the challenges and possibilities of tomorrow. Learn more about Goizueta's commitment to Diversity, Equity, and Inclusion. Join Yonina Gray in conversation on LinkedIn.