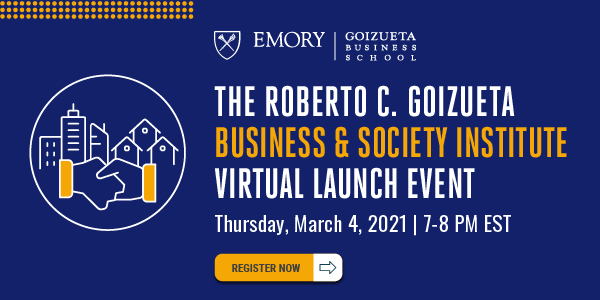 "Business schools today cannot just reflect business the way it is, they must teach business the way it will be." – Roberto C. Goizueta
Please join us for the official launch event for The Roberto C. Goizueta Business & Society Institute. Building on the successful efforts of Social Enterprise @ Goizueta, the Institute marks the next phase of the Goizueta Business School's social impact initiatives.
The Roberto C. Goizueta Business & Society Institute, made possible through the transformational investment of The Goizueta Foundation, will serve as the new home for both legacy Social Enterprise programs along with other new initiatives focused on addressing the most pressing challenges facing both business and society, including a strategic focus on inequality and climate change.
To celebrate the launch of the Institute, Academic Director Professor Wes Longhofer will lead a fireside chat on Reimagining Capitalism with Harvard Business School professor and author, Dr. Rebecca Henderson. Published in 2020, Dr. Henderson's book Reimagining Capitalism in A World on Fire articulates a framework for building a profitable, equitable, and sustainable capitalism grounded in new ways of defining the role of business in society.
Register for this March 4 launch event today. Learn more about the Institute at emory.biz/society.