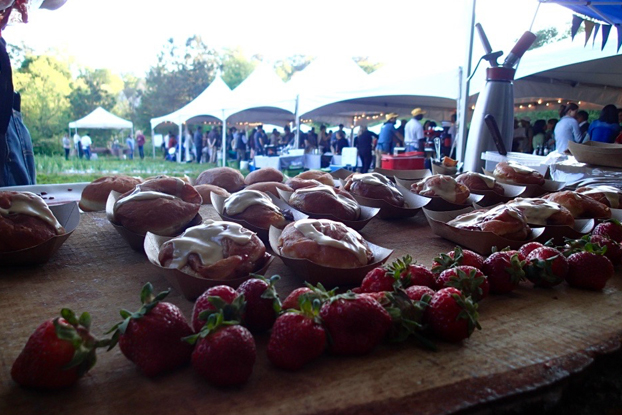 A night of great food, excellent drinks and important discussions on the importance of farmer prosperity
Social Enterprise @ Goizueta (SE@G) hosted specialty coffee growers from around the world and local farmers from Georgia for an evening of excellent food and drinks and once-in-a-lifetime conversations on farmer prosperity April 12 at Love is Love Farm at Gaia Gardens. 
All proceeds from this the event will go to support the Farmers Benefits Project, an initiative between Emory students and Georgia Organics, focused on designing a new health care insurance model for Georgia's farmers.
Learn more about SE@G's coffee programs focused on farmer prosperity at www.emory.biz/coffee.
Taking it to the Farm was made possible by collaborators, sponsors, coffee growers, local farms, coffee roasters, chefs, mixologists/baristas coming together including:
COLLABORATORS
SPONSORS
Bird Rock Coffee Roasters
Whole Foods Market
Bond Intelligent Care
Big Blue Sky
Emory Sustainability Initiatives
Rubicon Global
And more to come!
COFFEE GROWERS
Alianza de Mujeres en Café de El Salvador (El Salvador)
Finca Los Pinos (Nicaragua)
Finca La Virgen de Oro (Colombia)
Merling Preza Ramos, Nicaragua
Sicafe Estate Coffee Farms, El Salvador
Sidama Coffee Farmers Cooperative Union, Ethiopia
Manos Campesinas, Quetzaltenango, Guatemala
Cafenica, Nicaragua
Local Farms
Global Growers
Love is Love Farm at Gaia Gardens
Paideia Farms and Gardens
Urban Sprouts Farm
Riverview Farms
Oxford College of Emory Farm
Wrecking Barn Farm
Babe and Sage Farm
Collective Harvest
Mayflor Farm
Rag n' Frass Farm
Crystal Organic Farm
Hungry Heat Farm
COFFEE ROASTERS
Bird Rock
Café Campesino
Counter Culture
Swell Coffee Co. & Café
Higher Grounds Trading Company
Thrive Farmers Coffee
Octane Coffee
CHEFS
Terry Koval and Jeremiah Watson of Wrecking Bar Brewpub
Jenn Robbins, Avalon Catering
Andrew Isabella, Beetlecat
Zach Meloy, Better Half
Rian Tittle, Brickstore Pub
Hector Santiago, El Super Pan
Cameron Thompson, Farm Burger
Chrysta Poulos, Ford Fry Restaurants
Rachel Wright, Leon's Full Service
Ricky Navas, Murphy's
Stella Dillard, Star Provisions
Ryan Smith, Staplehouse
Wes Kent, Sweetgrass Dairy
MIXOLOGISTS/BARISTAS/COFFEE INSPIRED COCKTAILS
Paul Calvert, Ticonderoga Club
Kellie Thorn, Empire State South
Adam Rowe, Leon's Full Service
Neal and Gavin, Wrecking Bar Brewpub
Beerspresso and pourovers, Taproom Coffee
Caleb Goodrum, Refuge Coffee Company
Melanie Wade, Golda Kombucha
Photos by Ben Schofield