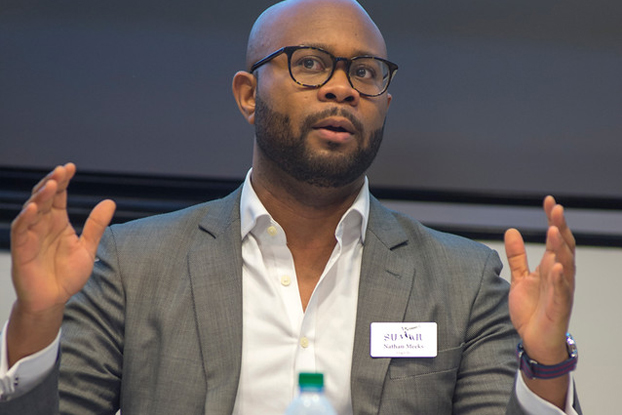 In the Providing Distinctive Value to Market Segments Panel at Emory's Entrepreneurship Summit, business owners discussed the ideas and moves that set their businesses on a positive trajectory.
Discovering the next big thing has more to do with the ability to solve a problem and meet a need than anything else. At Emory's 2nd Annual Entrepreneurial Summit, three Goizueta undergraduate alumni shared what it takes to find solutions and break into their various fields, including the healthy eating sphere, the wedding gown rental industry, and the artist and entertainment booking platform.
Brian Rudolph 12BBA was particularly disturbed when he noticed that many people avoided eating pasta for health reasons. Now the co-founder of Banza, Rudolph sought to create a delicious product that substituted pasta's less nutritious qualities, and along with his older brother created a low-carb, high-protein pasta made from chickpeas. Tyler Ewing 05BBA also aimed to solve a problem when she co-founded Borrowing Magnolia, a company that allows brides to rent or buy others' previously-worn dresses at a fraction of the retail price using a convenient home delivery model. Nathan Meeks 07BBA came up with the idea for Gigzolo, which links respected artists and entertainers with the private events community, when an established musician friend complained of a lack of opportunities to perform.
But finding a resolution to problems was the first step. Getting the product or service in front of those who would finance or buy took more than a good idea. The panelists admit that their experience at Emory and subsequent work in the corporate environment gave them an edge with potential customers. Meeks was a Fulbright Business Scholar and worked as an associate in international equities at Goldman Sachs. Consulting was Ewing's avenue, having worked as a manager focusing on human capital initiatives at Ernst & Young.
Both believe they extracted invaluable skills from their previous positions.
"My largest growth was through mentorship," Ewing said. "Training allows you to put skills in your personal vault and then transitioning to entrepreneurship allows you to use them how you please."
Know your customer
As for how they gained traction once they established their new companies, the panelists cited smart marketing strategy as critical for business development. In an age of online commerce and social media, it's important not to assume your customers will always be one click away.
Meeks learned through careful research and questioning that his potential client pool of event planners were smart and creative, but severely time-constrained. The old-school approach of face-to-face interactions proved the best way to build relationships and convince clients of the value of Gigzolo.
For Ewing the discovery that her clientele had advanced degrees and were time constrained, helped reshape her business thrust and tap into a rich market.
Rudolph noted the initial focus on health restrictions soon led to widening his net and targeting anyone who loved pasta.
And don't waste the opportunity once you have their attention, advises Meeks. "Boil your product down to its core benefits, and then tell people what they are," he said.
Although the trio acknowledged the undeniable advantages of press coverage – it did not hurt Ewing's Borrowing Magnolia to be featured in The New York Times, nor Meeks's Gigzolo to organize the performer lineup at the Airbnb-sponsored Brooklyn Half Marathon concert – they also know that media attention comes and goes. What really matters are the products and services entrepreneurs offer markets, and developing those products or services is not always easy. Indeed, when asked how many hours he works in a week, Rudolph, a member of the 2016 Forbes 30 Under 30 list, replied, "I try to give myself Sunday afternoons."
Yet the fruits of the panelists' labors are not insignificant. As Meeks described his experience of running an entrepreneurial venture: "It ain't easy, but it's glorious."
Share the knowledge
Providing this type of insight to the growing number of Emory students who hope to be involved in an entrepreneurial endeavor is the goal of the Summit's organizer Andrea Hershatter, senior associate dean of the BBA Program at Goizueta.
"While they may not launch ventures immediately, they want the university to provide them with the knowledge and experience that will equip them to do so in the future," Hershatter said.  "Events like this Summit not only highlight the amazing accomplishments of Emory alumni entrepreneurs, but it also serve to inspire and galvanize the current campus community."
The two-day summit featured a keynote address by author and serial technology entrepreneur Eric Koester, as well as panel discussions and networking sessions. The event culminated in the "Bernard Pitch the Summit" Competition, in which Goizueta students proposed their own entrepreneurial venture ideas to a panel of alumni judges.
More from the Summit