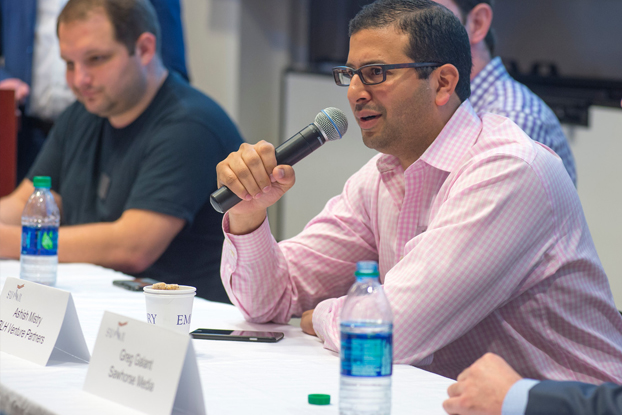 During the Innovation and Monetization Panel at Emory's 2nd Annual Entrepreneurial Summit, established entrepreneurs shared insights on their shifting duties as entrepreneurs and the best ways to manage staff.
Launching a business often requires an entrepreneur to wear many hats and oversee every aspect of the business. Once the business is on solid footing and the number of employees grow, the role of leader becomes more important. In this Q&A session, a panel of entrepreneurs, many Emory graduates, explored the impact of growth and their shifting roles. Participants included:
Ashish Mistry 98C is a managing partner at BLH Venture Partners, which invests in promising entrepreneurs with capital-efficient companies in the technology-enabled services, enterprise IT, consumer internet, and e-commerce markets. Mistry is also the president and CEO of KontrolFreek, a leading developer of gaming accessories.
David Lightburn is the president and co-founder of Atlanta Tech Village, a workspace community that houses technology and technology-related companies with the objective of making Atlanta a top-five tech startup center in the U.S.
David Politis 04C is the founder and CEO of BetterCloud, a company that provides insight, automated management, and data security for cloud office platforms. Politis has also worked for Cloud Sherpas, a global provider of cloud services for Google Apps, and Vocalocity, one of the premier providers of cloud PBX technology.
Gregory Galant 05C is the co-founder and CEO of Sawhorse Media, which developed search tools like Muck Rack and the Shorty Awards. Muck Rack serves as the leading network for journalists on social media, while the Shortys recognize and honor the best social accounts on the web.
Q: How were you able to envision an idea that no one had come up with before?
Politis: I'm into innovating around execution – being better at executing and finding faster, cheaper ways to do things that are already being done. Very few businesses are completely new thoughts. They're often innovation.
Lightburn: Right. I think it was Mark Twain who said that there are no new ideas. Implementation matters as much as the invention.
Q: How have your duties changed at different stages of your business?
Mistry: KontrolFreek was not venture-backed, so my role in the beginning included calling reporters and looking for press to getting actual product created.
Politis: In the beginning [of launching a startup], you have to do everything – even take out the garbage. Now my main role is people management, which includes hiring, recruiting, inspiring, and firing people. I spend my entire day in meetings telling people what needs to be done.
Q: What did you learn about managing people in your respective businesses?
Mistry: My people management skills have been learned through socialization, since I haven't worked at any companies with more than 200 employees. It's mostly about trial and error, you can't be taught it.
Gallant: If you're an entrepreneur, you have to realize that most employees, beyond the founding team, don't operate like you do… they want structure.
Politis: Everything I've learned has been on the job. One recent development that helped me… I had 130 staff members make their own user manuals on what they love, what they hate, their pet peeves, and how they work. Everyone's personal user manual was shared in an editable, company-wide document. It was definitely an "aha" moment for me. It showed me that we all need to be managed differently and changed how everyone interacts with each other in the company space.
More from the Summit