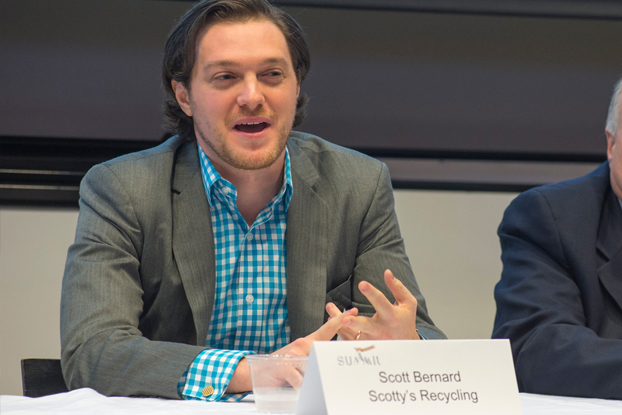 Emory's 2nd Annual Entrepreneurial Summit brought a dozen alumni back to campus to discuss their entrepreneurial successes. In the second discussion panel, Disruption and Entrepreneurial Verticals, alumni spoke of their experience "disrupting" established industries by updating market competitors' products and services in innovative ways.
"There's a misconception that you have to be the first name in the market to win it," said William Hockey 12BBA, co-founder of Plaid, a company that provides major financial institutions with the back-end software to efficiently obtain high-quality transactional and account data. "Statistically, the second and third movers into a market are the most successful."
Although it would seem counterintuitive, following predecessors' business models can be profitable. By entering a market with updated versions of competitors' products or services, entrepreneurs can not only unseat current leaders, but also create new value. In the Entrepreneurial Summit's disruption session, panelists shared their experiences entering the software, alternative fuel, and retail industries, either by improving upon their peers' offerings or introducing new products and services into long-established domains.
Like Hockey, Scott Bernard 09BBA and his father, Andre Bernard, noted the advantages of following after market predecessors, as well as entering markets with profound growth potential. The father-son duo succeeded in doing both when they disrupted the biodiesel industry with their own techniques. Bernard Sr. put his background in engineering to use when he improved upon competitors' methods and crafted a unique mechanical process to refine and convert waste by-products, like cooking oils, into usable feedstock, a high-value commodity. With the alternative fuel industry garnering increasing interest and support, the Bernards' companies, Scotty's Recycling and the B Green Group, have successfully disrupted a market with undeniable staying power. Bernard Sr. credited his foresight to a "basic entrepreneurial instinct," noting that he saw a demand for supply in the industry and acted creatively to fulfill it.
As for how Bernard Sr. avoids disruption of his own business, he remarked, "Eventually someone will catch up to you. You need to continue moving forward."
While tweaking others' ideas can indeed prove successful, introducing entirely new services into decades-old markets can be just as profitable – albeit challenging. As the founder and CEO of ChargeItSpot, which provides free and secure mobile device charging stations in retail locations across the U.S., Doug Baldasare 06BBA recognizes the challenges of introducing a novel service into the long-established retail sphere. To convince clients of ChargeItSpots's value creation, Baldasare hired a research team to gather data. Studies showed in-store wifi to lift retail sales, and Baldasare's ChargeItSpot now partners with major stores, including Nordstrom and Whole Foods Market.
As for how entrepreneurs can best fund their disruptive ventures, all panelists agreed self-financing is preferable to bootstrap financing. Still, both Hockey and Baldasare acknowledged that self-financing is not always a feasible option, with factors like time scale posing constraint to the funding method. Whereas some business models, like ChargeItSpot's, require time to build the necessary platforms and technology, others, like Scotty's Recycling, can become cash flow positive almost immediately.
Perhaps most critical to Goizueta's aspiring entrepreneurs were Baldasare's comments on how to gain backing from potential investors:
"People want to help the younger generation," Baldasare said. "Leverage the heck out of the fact that you're still a student or a recent graduate. Leverage your network."
More from the Summit