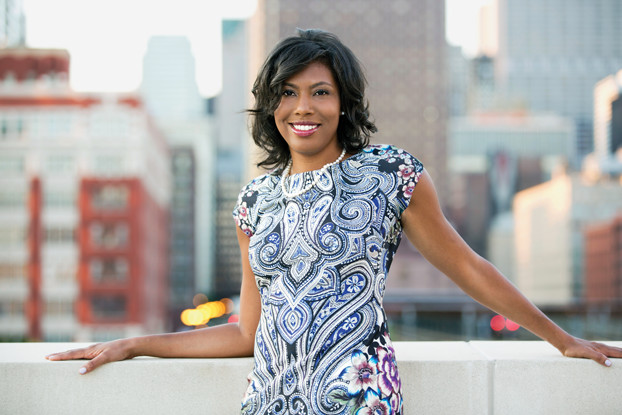 Managing risk is something Rochelle McAllister 06MBA knows all about. Not only is she fearless when skiing down the side of a mountain, her favorite hobby, but she's been equally courageous navigating obstacles like the economic downturn along the way to capturing her dream job.
This August, McAllister became an associate in the corporate and securities practice group of Baker & McKenzie, the largest global law firm in the world. McAllister works in the private equity group in the firm's Chicago office but will travel internationally as needed, knowing "you have to go where the deals are."
McAllister knows a bit about finding the best place for success. In 2004, she was urged by a colleague to apply to business school to expand her career opportunities in finance. "I applied to only two schools: Dartmouth and Emory, because I knew I wanted a small school environment. Since I already lived in Atlanta, Emory allowed me to stay in a city I loved. However, I did not have some big master plan," McAllister says. Prior to business school, she worked in corporate finance roles for GE, Scientific America (an arm of Cisco), and Atlanta Southeast Airlines, a subsidiary of Delta Air Lines, before arriving at Goizueta with a desire to find new ways to leverage her finance acumen.
McAllister says the faculty and staff at Goizueta were truly supportive. "I remember Ray Hill sitting with me during my first year, making sure I understood those economic principles."
With help from the MBA Program Office and Harriet Ruskin 90MBA, McAllister spent the spring semester of her graduating year studying abroad at SDA Bocconi in Milan, Italy. "I had already accepted an offer from Bank of America, so I could travel and not worry about job hunting," she says. "At Bocconi I took a couple of interesting courses, including one on Italian private equity."
The class would spark a real interest in PE. During the financial crisis, McAllister thought about a new direction for her career. "I had a feeling the business environment was changing. I knew there would be legislative activity, something sweeping in the law. That's when I decided to move to the processing side of business and go to law school. My goal was to practice law in the PE space." As completion of her JD neared, McAllister recalls, the hiring environment was still pretty rough in 2012. "Thank God for my Emory MBA—it was a distinguishing factor. As a result of earning one of the highest grades in a Capital Markets legal writing course at Howard University School of Law, I was able to present my paper at a Federal Reserve System meeting, and I met a few key people who informed me of a policy position open at the Chicago Fed. They said, 'With your MBA plus a JD, you would be ideal in this job.'"
McAllister assessed banks for Chicago's Federal Reserve System, preparing briefings for the Fed president on bank performance, emerging risks and trends in the industry, and regulatory policy developments for banks in the district. She was excelling—having moved into the asset wealth management group—when the new position at Baker & McKenzie came her way. She seized the chance to combine her passion for private equity and her regulatory experience in a unique way.
McAllister is excited for what's ahead. "This is a dream job for me because it's exactly the space I wanted to work in," she says. "What I love about private equity law is its support of what I call advanced entrepreneurship. My practice is largely focused in real estate funds and whether I am assisting a client with a regulatory matter or forming a fund, my work supports the business the client has or is building. Given the complexity of the regulatory environment, we are there to say to our client, 'We are going to help you. We are going to help you structure your operation so you can monetize what you are doing.'"
In her free time, McAllister travels year round and especially looks forward to the ski season, when she heads to the slopes with her ski and snowboarder friends.
"I've been skiing for years, and it's my main activity. I really enjoy it!"