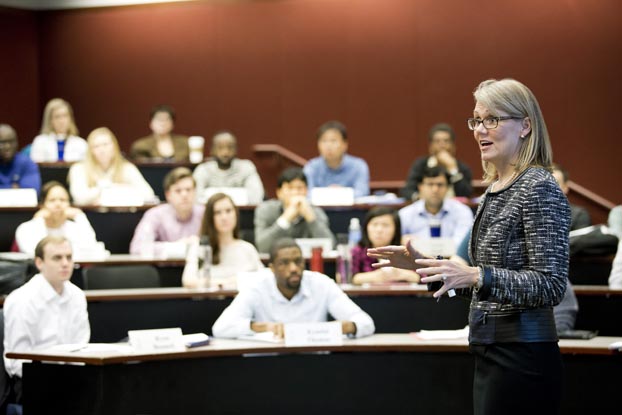 EDITOR'S NOTE: Since the original publication of this story, the Management Practice initiative at Goizueta took a new name! Goizueta IMPACT was unveiled at the first annual GBS Client Day held May 5, 2016. 
Lynne Segall 99MBA is approaching her first full academic year as associate dean of Goizueta's Management Practice Initiatives (MP). With two semesters under her belt, she has taken the best elements from her strategy consulting, talent strategy, and professional development work at Accenture and created coursework that helps students accelerate their career success. Recently, Segall sat down with Emory Business (EB) to chat about arming students with lifelong management skills and how she spends her off time.
EB: How does it feel to back at Goizueta, but in a teaching capacity?
Segall: Being back at Goizueta is like coming home, and having the opportunity to bring my 16 years of experience at Accenture to help prepare our students for success in their careers is exciting.
EB: You're stepping into the shoes of your mentor, Professor Patrick Noonan. How has the transition been?
Segall: Professor Noonan left such a strong foundation in place that it has been a smooth transition to my new role. Also, he's been very supportive of my new ideas for the program.
EB: For those unfamiliar with MP, what is it and how does the program look in 2016?
Segall: Management Practice is a sequence of core and elective courses designed to prepare students to address any issue. It integrates the concepts and tools of students' other coursework and helps build a bridge from the classroom to the workplace. The challenge is to equip students with foundational management skills that give them the confidence to succeed in their careers.
EB: The three main skills taught in MP are structured problem solving, persuasive communication, and how to lead and work in teams. Why are they so critical?
Segall: One of the goals of MP is to enable students to make an impact in their career. To achieve that impact, they need persuasive communication skills, but communication is only persuasive in the context of quality problem solving. I tell students, "The question you ask is the question you answer, so make sure you are asking the right question." The course starts with problem framing; students learn to deconstruct big, ambiguous problems that don't have an easy, "one piece of analysis" answer. Quality problem framing and structuring enables the teams to discern which analyses are required—and that's the bridge to the rest of their MBA coursework. Once the analysis is done, teams need to figure out how to take all these findings and make an insightful and actionable recommendation, communicated effectively. Of course, all the work has to be done within teams, so they learn to work more effectively in small groups.
EB: How does your work at Accenture inform the experiences you provide to students?
Segall: I spent close to a decade of my tenure at Accenture designing, building, and running its management consulting professional development programs, so I am bringing expertise in professional problem solving and how to effectively develop consultative skills. When teaching MP, I am aggregating the styles and demands of all the project managers I had at Accenture in order to accelerate the development of management skills in my students. They get the benefit of years of experience in a short time, which ensures they can be more successful from day one.
EB: Speaking of day one, the final exam for full-time MBA students is just as rigorous as the course. What does it entail?
Segall: We call the final exam "Day One Challenge," and students are grouped into new teams with people they've never worked with. They are given four hours to solve a case and develop a set of recommendations. Students then present before a panel of faculty, staff, and alumni. On May 5, we held the first school-wide Goizueta Client Day, a culmination of semester-long consulting engagements. Students from all programs presented their findings to an external audience of business professionals, were challenged with questions from this panel of "real-world observers," and received detailed, written feedback. Interestingly, the Weekend Executive MBAs presented to their client in Hong Kong as part of their Global Business Practice course.
EB: Is obtaining so many clients a challenge?
Segall: Actually, I've found a lot of people are interested in working with our students. When I describe the curriculum to potential clients, they tell me, "I wish I'd had a class like that when I was in business school." That has been quite validating. We are seeking new clients now for next year!
EB: When you are not teaching and innovating MP, what do you like to do?
Segall: I know this will sound crazy, but on nice days, my family loves to come hang out on Emory's quad. It's a special place for us. My husband Eric 80C and I both graduated on the quad, our children Sara (8 1/2) and Katie (7) learned to walk and ride their bikes on the quad, and our dog Daisy likes to run on the grass. Maybe someday they will graduate there too!—Nicole Golston