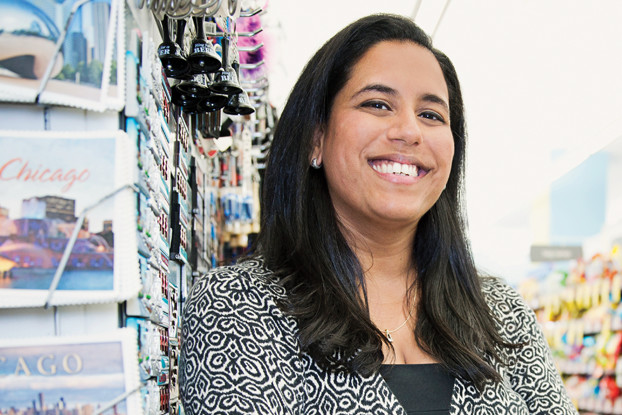 E-commerce is revolutionizing how people shop and how companies do business. For Sheelu Nandigam 05BBA, it's an interesting time to be involved in the burgeoning sector. As manager of digital commerce and mobile planning and analysis at Walgreens, she oversees the drugstore chain's efforts to perfect and increase its mobile offerings. Her current role bridges the product, technical, and management sides of the company, and that's what Nandigam says appeals to her.
However, her current career path wasn't what she originally intended. "I majored in accounting because it was a building block to working in business," she says. After graduating from Goizueta, Nandigam started her career in the Washington, DC, offices of PricewaterhouseCoopers' audit practice. Her experience as a senior associate there gave her a strong foundation of business and financial knowledge. "I also figured out that accounting wasn't right for me," she says. "I had a broader curiosity, and audit limited me to one area."
After receiving her MBA in 2013, Nandigam found the change she was looking for in an opportunity at Walgreens' corporate headquarters in Deerfield, Illinois. She began in retail products strategy and business development and then transitioned to her current role in May of this year.
It was a smart move, especially given the growing appetite for mobile applications. According to eMarketer, US retail mobile commerce sales are expected to top out at $77 billion in 2015, up 32.2 percent from 2014. Nandigam adds, "Brick and mortar and e-commerce are coming together more so than ever before."
Walgreens is working hard to stay on the cutting edge of the trend, she says. Today, the store's customers use the Walgreens mobile app to refill prescriptions with a simple scan of a barcode on their Rx label or order photo prints from their Facebook account and have them waiting in the store. "Working in a growing and evolving space like e-commerce, and being able to do strategic planning and analysis for the mobile app side of the business, is something that really suits me," she says. The convergence of technology and retail is transforming industry and presenting interesting career opportunities along the way.
– Myra Thomas