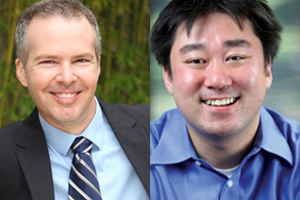 Two former Goizueta Ph.D. students were named to the prestigious Poets & Quants 40 Under 40 professors list last week.
Willie Choi (University of Pittsburgh) and Marcus Kirk (University of Florida) both studied accounting at Goizueta and mentioned current faculty among their most meaningful mentors.
"The professor I most admire is my Ph.D. advisor, Kristy Towry," Choi told Poets & Quants. "Perhaps the best lesson I learned from her is to take my work seriously, but to not take myself seriously."
Choi joined the faculty at Pittsburgh in 2011.
"After my first year at Emory, I decided to transition from pursuing a Ph.D. in Finance to Accounting but I'd missed two accounting seminar courses," added Kirk. "Kathryn Kadous and Greg Waymire both generously met individually with me over that first summer to let me catch up."
Kirk has been at Florida since 2009.
RELATED CONTENT: