For the first time in four years, this April, the entrepreneurs, mentors, partners, and supporters of Goizueta Business School's Start:ME Accelerator program gathered in-person to celebrate the program's culmination. Aimed at promising entrepreneurs in the Clarkston, East Lake, and Southside Atlanta communities, the 14-week and beyond accelerator program connects micro entrepreneurs to the business know-how, networks, and grant capital necessary to build and grow businesses.
This year marked Start:ME's 10th anniversary. Start:ME founder Peter Roberts, professor of organization and management, spoke at the ceremony to commemorate the milestone and reflect on its growth from an optimistic idea to a thriving program.
A Hybrid Model Accelerator for Small Business Founders
The 2023 program also marked a return to in-person gatherings where face-to-face meetings are especially critical—like the kickoff, business plan pitches, and business financials. The program's popular trade show also made its return this year, allowing founders to meet with capital providers and other organizations that serve small businesses.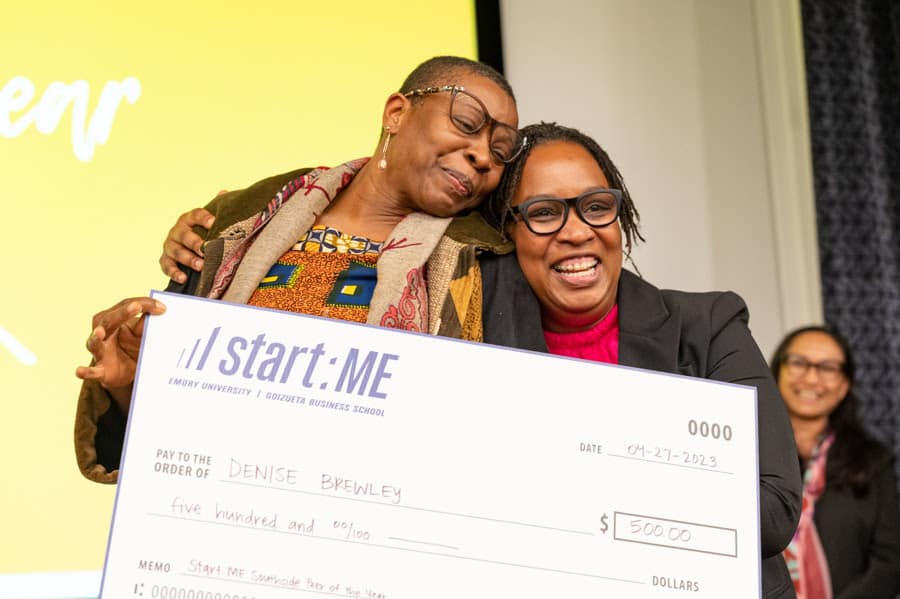 Some sessions remained virtual for the sake of convenience for busy entrepreneurs, guests, and more than 70 volunteer mentors from around the region. Organizers found that meeting in the comfort of their homes also meant participants for whom English is a second or third language could enlist a family member to help translate.
"We have enjoyed having that hybrid model. We tried to embrace the best of both in-person connection and virtual convenience," says program director Erin Igleheart.
We have really seen a greater opening up than we were expecting and a greater level of comfort, but also a demand for gathering in person.

Erin Igleheart, Start:ME program director
Start:ME Alumni Pay it Forward
As their ranks grow, many alumni stay involved, Igleheart says. They bring inside knowledge and constructive feedback to events like Neighborhood Night, when founders present their business story before a live audience, engage in audience Q&A, and receive constructive feedback. Having alumni present who understand what they're going through can be reassuring to nervous participants. They also return as volunteer business mentors, sharing their own experiences and insights with their peers.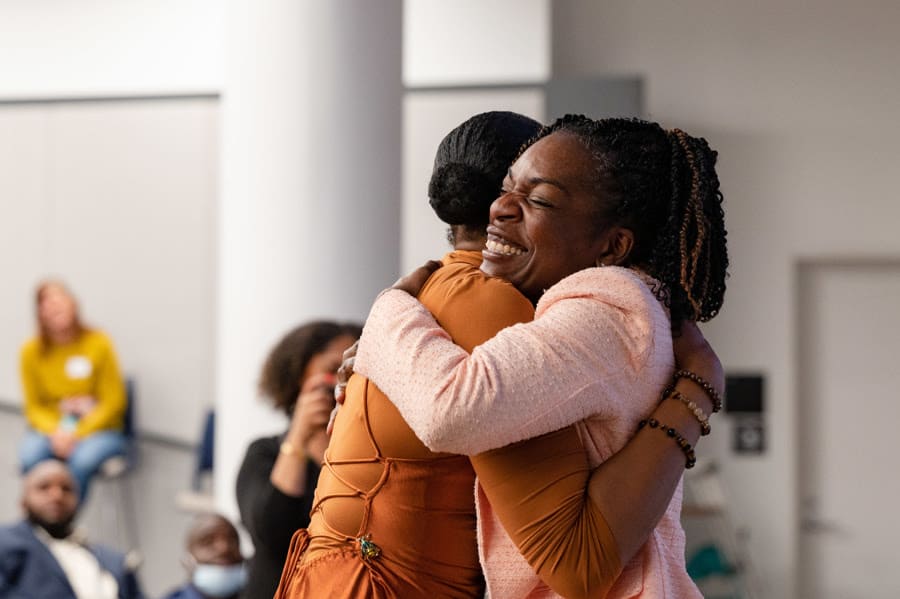 "Those who have gone through the program, who are entrepreneurs in their own right, really do understand the complexity of being an entrepreneur and how it can feel incredibly empowering and inspiring—but it also can be really lonely," Igleheart says.
Program leaders also announced the recipients of $45,000 in peer-selected grants and $3,000 in awards at graduation.
Our team doesn't make the capital decisions. The entrepreneurs and mentors determine who within their cohort is most promising and best equipped to use that capital.

Erin Igleheart
Increase in Capital Supports Diverse Ventures Across Atlanta
This year's program brought with it a 50 percent boost in the amount of capital available to fund the grants, from $10,000 to $15,000 for each of the three cohorts, based in Clarkston, East Lake, and Atlanta's Southside neighborhoods. Supporters—who make delivery of this program free to all entrepreneurs—include Bank of America, Delta Community Credit Union, Emory University, Regions Foundation, Target Corporation, and Truist Foundation.
Of the 44 ventures graduating in the 2023 cohort—chosen from among more than 220 applicants—80 percent are women, 84 percent are people of color, and 14 percent are immigrants. As a group, they employ 90 people in addition to the founders – 19 full time and 71 part time. Total revenue for the group was $1.9 million in 2022, with a median of $21,000 for those reporting sales.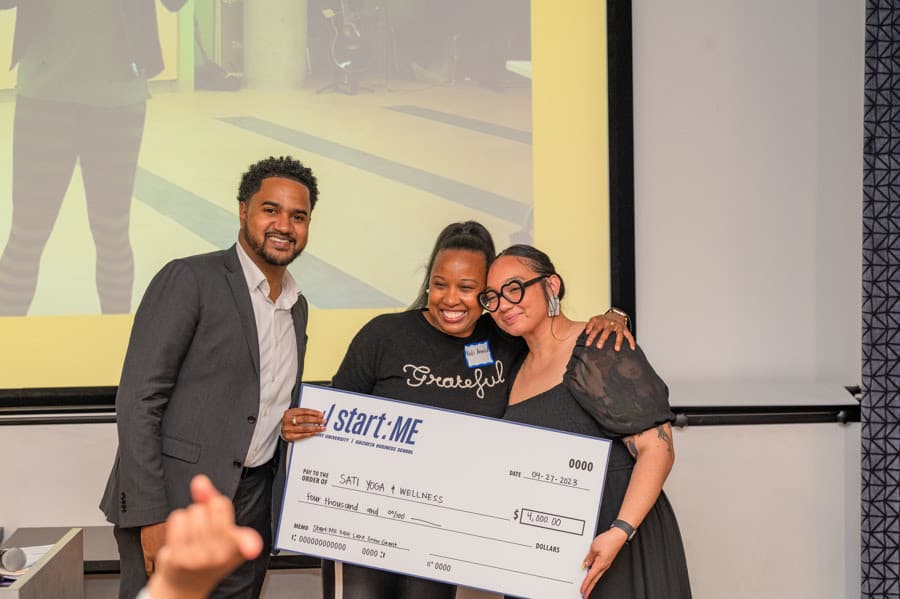 The companies involved offer a wide range of products and services, including art and design; beauty, health and wellness; education and childcare; food and beverage; home care and repair; media and photography; and professional services.
Start:ME Garners International Attention
The success of Start:ME has drawn international attention. Kate Golebiowska, an Australian Fulbright scholar, shadowed the program in Clarkston this year. She focused on how the accelerator worked for migrant women micro-entrepreneurs, with a plan to launch a similar program for migrant women in the Northern Territory capital city of Darwin, where she lives and works.
Start:ME 2023 Grant and Award Recipients
Start:ME Grow Grants – $5,000
Savannah Samples – Angel Assistance
Jeannette & Ken Katz – Buenos Dias Cafe and Pupuseria
Datavious Lucas & Fatima Manson – Fun Freddie Enterprise
Start:ME Grow Grants – $4,000
Kali Arnold – Sati Yoga & Wellness
Bejanae Kareem – BK International Education Consultancy
Amy Parsons – My Elderberry Fairy
Start:ME Start Grants – $3000
Janale Harris – Family's Favorite Foods
Raven Bennett – Accessible Tx
Kirsten Chervenak – Gatherings
Start:ME Start Grants – $2,000
Shawnta' Hooks – Mindful Culture Creators
Virginia Chu – CocoonATL
Natifa Mustafa – The Bridge Athletic Scholars Program
Start:ME Start Grants – $1,000
Diamond Hood – Diamond Rule Coffee
Ericka Wigfall – PhysiCollective
Tanis Beatty – Simone's Sweet Treasures
Peer-of-the-Year Awards – $500
Stephen Churn – ATL DART CLUB
Denise Brewley – Nyansapo Wellness Institute
Christian & Jo Lopez – Lucita's Bodega
Community Impact Awards – $500
Lee-Ann Davidson – CreativeLee DeeSigned
Markeal King – Silver Lining Sports Academy
Pamela Mack – Synergy Medical Transport
About Start:ME
Start:ME is delivered by Emory University's Goizueta Business School in partnership with community lead nonprofit organizations East Lake Foundation, Focused Community Strategies (FCS), Friends of Refugees, and Purpose Built Schools Atlanta along with 70+ volunteer business mentors.
Start:ME is made possible by the gracious support of Bank of America, Delta Community Credit Union, Emory University's Goizueta Business School, Regions Foundation, Target Corporation, and Truist Foundation.
Learn more at startmeatl.org.