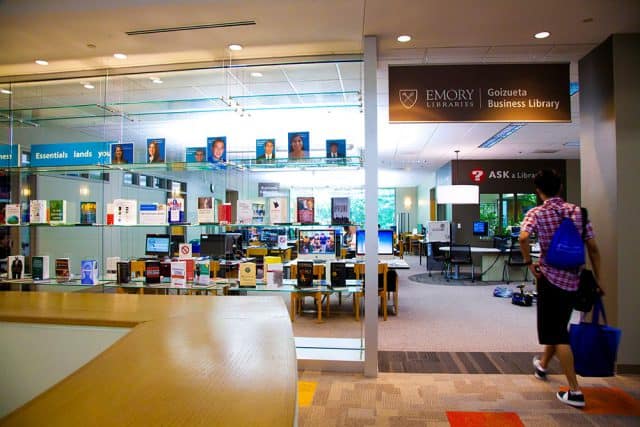 For the Goizueta Business Library, providing materials that inspire learning does not stop once students graduate. For alumni seeking personal growth development, the business library and its librarians can share a wealth of knowledge.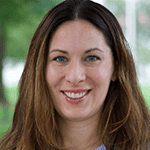 For business news and personal finance, the library's materials can be tapped remotely by alumni. "We license databases that can support their lifelong learning and personal enrichment." Business Librarian Malisa Anderson-Strait says. "We can offer a personal consultation to alumni to identify internet resources and/or help them to identify internally licensed resources within their organizations."
Gain Intelligence: Online Alumni Access to Databases
Goizueta alumni seeking personal growth development can register through the online alumni portal to access Goizueta-licensed databases, journals, and guides. Anderson-Strait says alumni come to the library with questions ranging from industry-specific topics, to how to manage their career roles, to how to license a database for their company, to how they should conduct certain searches.
In the case of complicated business research questions, navigating the many resources may be a daunting task. Librarians will assist alumni with research support to answer their questions effectively and efficiently. Alumni may be quickly directed to government or public databases. In addition, librarians are available to teach alumni advanced Google search strategies as well as advise about selections of subscriptions to high-quality databases.
Knowing Where and How to Look for a Correct Answer
The internet presents an overabundance of information, sometimes from less than reputable sources. For data searches, "The key question is who is creating the information? Who is tracking this? Are there trade associations to consult? Who out there is researching this topic, and are they credible?" Anderson-Strait asks. "Sometimes a full market research report will cost thousands of dollars, but we can find white papers or data sets that can help."
Goizueta librarians are skilled, inquisitive researchers who enjoy problem solving. "We'll point our alumni to facts buried in Google. We have strategies to help them get targeted and credible results. We try to maximize what is out there because so many associations publish a wealth of content. It's just a matter of surfacing the facts."
Every search starts with a question, which Anderson-Strait encourages alumni to submit on their Ask an Alumni Librarian page or send via email. Business librarians share research responsibilities and will assign the question to the liaison with the most expertise.
As campus reopens more fully, librarians look forward to meeting with more alumni in person again. Consultation appointments are encouraged and will be conducted for domestic and international alumni over Zoom, via phone call, or in person. Protocols continue to evolve, but the library team is hopeful that restrictions will continue to ease.
"Business intelligence is our buzz word. We're in the business of creating folks who approach research thoughtfully and make sound business decisions," Anderson-Strait says. Goizueta students are taught to make credible, well-resourced, and well-researched recommendations for coursework. An experienced professional guided by Goizueta's librarians gain a competitive advantage.
Anderson-Strait says, "When you're making multimillion dollar decisions, pushing a project, or launching your business or marketing campaign, you're using really informed credible data, you're considering the risks, and you're looking at credible sources. We can help."
Do you have an inquiring mind and need help with a research task? Schedule a consultation today with Goizueta Business Library. The library is located on campus on the entry level of the Woodruff Library, just to left of the lobby at 540 Asbury Circle, Atlanta, GA 30322.
Effective July 1, general campus-wide visitor restrictions are lifted. Visitors are welcome to access campus; however, certain public-facing spaces may enforce additional restrictions or limitations including reduced services, scheduled appointments, or other measures. Learn more about our visitor policy.