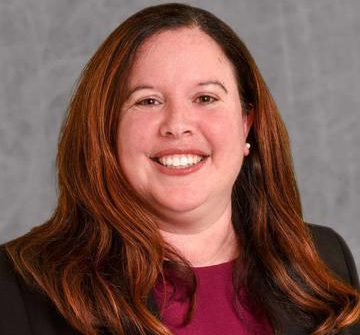 Your Goizueta Business School journey does not end at commencement, and when you come back to stay connected, Lindsay Topping likely will field your question: How can I help Goizueta students? How can I stay engaged as an alum?
As senior director of alumni engagement, Topping delivers answers with a strong personal connection of her own. Her father Peter Topping is a professor in the practice of Organization & Management.
"He encourages me to be my authentic self and transparent," she said. "I am direct with alumni, students, and faculty, not overpromising and showing them how we can add value and facilitate a meaningful relationship with the school."
She eagerly responds when alumni want to tap the 23,000-strong Goizueta network (including 2,000 international alumni) because campus connections have meant so much to her.
From 2004 to 2011, Topping worked at Emory Executive Education, the Emory Alumni Association, and the Office of Annual Giving before embarking on a decade-long career in advancement from Rochester to Raleigh.
Mentored by her father, she learned to rely on integrity and compassion to rebuild teams that connect genuinely with alumni, donors, and faculty.
In early 2021, she left North Carolina State University and re-joined Goizueta Business School and the revamped alumni and advancement staff led by Chief Development Officer Reshunda L. Mahone Ed.D., CFRE.
"Being away from Emory made me appreciate it much more," Lindsay says. "Because our team is new, alumni will see great programming and engagement opportunities start to roll out. We are committed to preserving the long-standing traditions such as the student-to-alumni mentor program and bringing back Goizueta@Work and alumni awards."
Real estate near Emory is so scarce that she bought a house sight unseen to be close to three generations of Toppings, including brothers Carson Topping 09Ox 11C and Jason Topping 07Ox 09C, sister-in-law Kristel Topping 08Ox 10C and stepmother Therese Techman 85MR 86MR 94MR.
"I love to be challenged, and it's been exciting to come back during a time of change and rebuilding," she said. "With a new president at Emory, a search for a new dean at Goizueta, and a new fundraising campaign launching this fall, it's a new day."
Your feedback is important to Topping and her team. Contact lindsay.topping@emory.edu or gbsalumni@emory.edu.