"I want to sit in your seat one day. What advice would you give me about how to make that happen?"
Tiffany Willis' 15EMBA curiosity and boldness set up that question for Starbucks CEO President Kevin Johnson in 2021. It was their first meeting after she was preparing to become the coffee giant's vice president and head of investor relations.
"Be authentic," Johnson had answered. It is the only way a leader can truly connect with people and inspire them.
His answer inspired her immediately.
"He was giving me permission to be who I am in this workplace," she recalled. "I was getting more comfortable with owning all of me in the corporate setting because I always own all of me outside of that setting."
Being Vulnerable—On LinkedIn
Willis made a bold move that changed her professional life. In late 2021, she wrote a LinkedIn post about being a homeless teen mother and that post drew the attention of people around the world. She described being so broke that she couldn't afford a cup of coffee and using a windowsill as a refrigerator in winter.
"I can no longer celebrate my success without acknowledging my scars, because those scars taught me skills that I still use today, such as creative problem solving," she wrote, and urged readers to be kind to everyone. "We never know what they have been through or are going through!"

Tiffany Willis 15EMBA
Willis tagged Chris Gardner, whose homeless-to-C suite life story was made into the movie "The Pursuit of Happyness."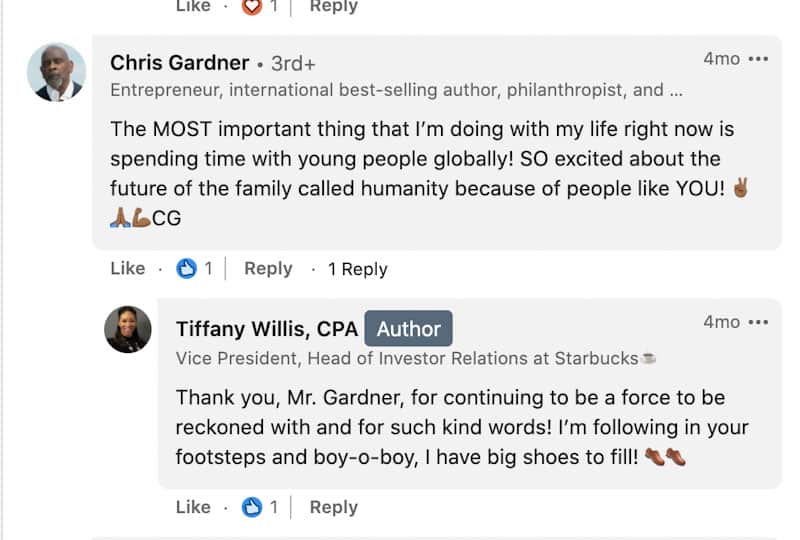 Before 2021, Willis "compartmentalized" her past, keeping it separate from who she was in business. She had pursued her Goizueta MBA to bolster a successful career in accounting, auditing, and consulting. As a former Ms. Black Georgia USA beauty queen, she knew how to present a polished profile, communicate what audiences expected, and dispel misperceptions. "I always wanted to be with the best," she said in an earlier interview.
Goizueta MBA Experience Fortifies Core Values of Trust, Empathy, and Human Kindness
Goizueta Business School reinforced the value of trust-filled relationships. In particular, Joan Coonrod and Bob Knight at the Graduate Career Management Center became like her own board members. "They went beyond having fundamental career discussions with me as they helped me think through what I truly wanted and gave me advice on how best to get there," she said. "It was really a Tiffany-led discussion."
Their support remained steadfast after graduation, exemplifying the "community beyond the regular job" she sought in her career. Willis' Goizueta MBA education helped solidify and put into action her core value of continuing to help others.
In executive positions at Fiserv and Ingredion, she led with her eyes on financial numbers – also evaluating how corporate decisions would affect the people represented by those numbers. "I'm not only looking at how much it costs to break the lease if we close a particular office, but I'm also thinking through how many employees we are going to impact and the demographics of those employees. I was able to have a different lens that was broader than just the numbers, even though my role was as the finance representative. My MBA taught me that." 
Authentic Leadership Means Paying it Forward
Intentionality and confidence are part of her authenticity, especially when people ask her for advice. "As a female who's African American at an iconic Fortune 100 company, I'm always getting asked, 'How did you get there?" she says. She points to those scars from adolescence that she wrote about on LinkedIn, and her desire for success that Coonrod and Knight urged her to follow. "I'm paying it forward."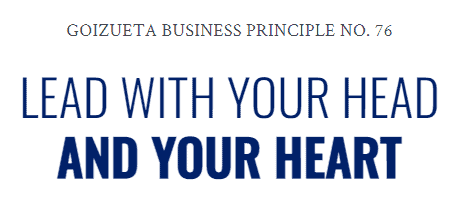 In that spirit, Willis shares her best advice for MBA students:
1. Maximize relationships. "Build those MBA relationships out. You're in that moment because everyone in your cohort is going to do amazing things. Stay connected to your powerful Goizueta network and leverage its resources. Sometimes the support centers like the library and career services get overlooked, and you will be amazed at how much knowledge and direction they can pour into you."
Make your goal so high that when you share it with others, they laugh. If they don't, your goal is not big enough.
2. Aim high. "When I would tell that I wanted to go to a college like Harvard, Wharton or Emory, they were like 'But you're a high school dropout, you'd be lucky if you just go to a community college.' Fast forward, I would tell people I wanted to be CEO, and they would chuckle.  I even had one boss at the senior vice president level once tell me, 'You shouldn't share that with people because it's so unrealistic that your credibility will take a hit.' But in my mind, the tougher the journey (to the goal), the sweeter the victory." 
3. Don't let life wear you out. "I love and live by this quote: 'Ships don't sink because of the water around them; ships sink because of the water that gets in them. Don't let what's happening around you get inside you and weigh you down.' Life is going to happen, but you've got to keep moving forward and you can't let it wear you out. You have all these students in the MBA program trying to be top achievers, get to the top firms and the top dollar. Sometimes all that pressure heightened even more by the pressures in life can weigh on people. Don't let that get in you. You've got goals to achieve, stay focused and keep moving."
One A-Ha Moment Can Lead to Positive Change and Broader Inspiration
Beyond the corporate world, Willis's story inspired across generations and behind closed doors. A professor from Wharton Business School, where Willis had completed the Advanced Management Program, told her, "My wife and I are having a hard time with our daughter and your story made me realize that I should not turn my back on her. I'm going to call my wife and tell her about you because one day our daughter could be a Tiffany."

His comment was an a-ha moment for Willis. "When I realized that adults could have an a-ha moment like that from my story, my impact could be a lot broader," she said. "It's not just the younger versions of Tiffany, but their parents. You want to protect your child, and you just keep scratching your head like, 'Why can't he or she get it?' It can be frustrating for a parent, so my hope is that I instill hope in them."
"I still do that now with my son that I had at 14, who is now 31 and still cannot stay on a focused path," she added. "It's hard to wait while they find their feet in this world and a fire in their belly to do something productive. I keep supporting him through this phase of his life and it is very tough some days, but my support is unwavering as I wish someone would have supported me through my troubled times."
Goizueta's network of 23,000 alumni and counting spans industries and the global economy. As a vital part of the Goizueta Alumni Network, resources are available to you. Whether you seek data for current projects, want to strengthen the skillset of your team, hope to change careers, or launch your own enterprise, your alumni access will make things happen.
Learn more about alumni career services, the Goizueta Business Library, database access, and discounts for Emory Executive Education courses to enhance your professional development.