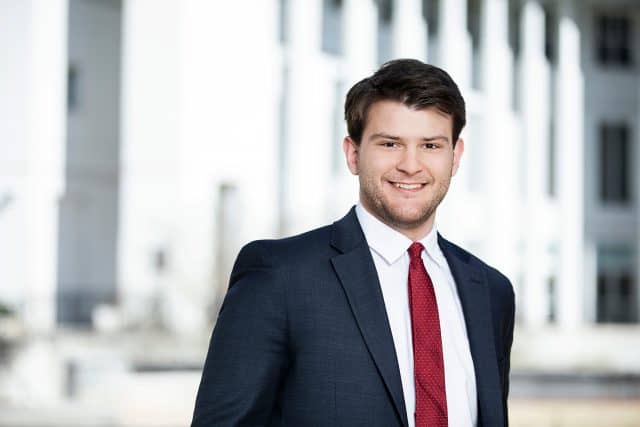 Like many students graduating this year, Thomas Heagy 22BBA quickly learned how to overcome unforeseen challenges that accompanied the COVID-19 pandemic. When many doors closed to opportunities on campus, Heagy saw an opening to help keep his classmates close. "The most common COVID-19 symptoms for a college student include the loss of taste, smell, and a normal undergraduate experience," he says. "The pandemic posed existential questions about what it means to be a college student."
Among many of Heagy's leadership roles, including president of the Emory Interfraternity Council, committee member of the Emory University Senate, a teaching assistant at Goizueta, and many more, Heagy also served as president of the Emory Student Programming Council. "Leading Emory's largest event planning board, I felt the spring 2020 lockdowns put a question to the Student Programming Council's (SPC) purpose on campus," he says. "After a quick reallocation of the budget, the council managed a new website that allowed for virtual programming to connect students to the Emory community."
Connecting Goizueta Students with Virtual Programming
The new website received more than 40,000 pageviews from students participating in activities from approximately 70 countries. Heagy and his team also shipped thousands of giveaways to students to help keep everyone close and engaged.
While nothing beats our in-person programs, I am proud that we brought a little sense of Emory spirit to doorsteps around the world during the pandemic.
Jane Hershman, assistant dean and executive director of the BBA Career Management Center, said Heagy's leadership enabled the SPC to virtually deliver key events, such as Homecoming, Dooley's week, and more.
"Thomas is an exemplary student who leads with humility and good humor," Hershman says.
"He has demonstrated an unparalleled commitment to serving the entire university community and to improving the Emory experience for all students."

While Heagy looks toward graduation and will soon start his full-time job as an analyst in BMO Capital Markets' healthcare group, he looks back at his time at Goizueta fondly. What surprised him most during his time, however, was the blend of competition and collaboration among students. "Professors must curve course grades so that a fixed number of students may receive each grade," he says.
With the potential to breed competition, students remain caring and collaborative. This surprising, yet beloved culture of Goizueta serves as a reminder of the importance of building relationships and serving others even within a competitive business landscape.
Even while most of his business school experience was virtual, he was able to establish meaningful relationships, including one with Associate Professor of Finance Jeffrey Rosensweig. "As the business landscape constantly changes, Professor Rosensweig also must perpetually tweak his lectures," he says of the director of The Robson Program for Business, Public Policy, and Government. "Students feel confident in his ability to provide this important and timely information because his brilliance comes across clearly in the classroom."
When Heagy isn't working closely with classmates or professors, he enjoys traveling and exploring new cities through culture and cuisine. As for the future, he hopes to not only earn an additional degree but also open a restaurant as a passion project.
Stay globally connected with the 23,000 other Goizueta alumni in your network. Update your contact information, share a class note, or attend events, virtual or in person.