As the days begin to get longer and the warm weather returns to campus, an undeniable excitement fills the air as students look toward taking their final steps at Goizueta. Graduation is around the corner, and students are quickly wrapping up final projects and papers to begin the celebration with family, friends, faculty, and staff.
This year's Commencement festivities will begin Wednesday, May 4, and continue through Monday, May 9. "I am so proud and humbled to celebrate alongside you as we welcome the newest graduates of our esteemed institution, and the newest members of our Goizueta alumni family," Interim Dean Karen Sedatole says. "This year's class has been faced with challenges like no other. Their resilience, resolve, and commitment to our school and overall community has been truly remarkable."
Graduating students and guests are invited to attend the 177th Emory University Commencement on the Quadrangle on Monday, May 9 at 8:30 a.m. Attendees will enjoy the pomp and circumstance of Emory's processional march, which will feature full academic regalia, the keynote address, honorary degree presentations, the president's address to the graduating class, and the formal distribution of student degrees earned.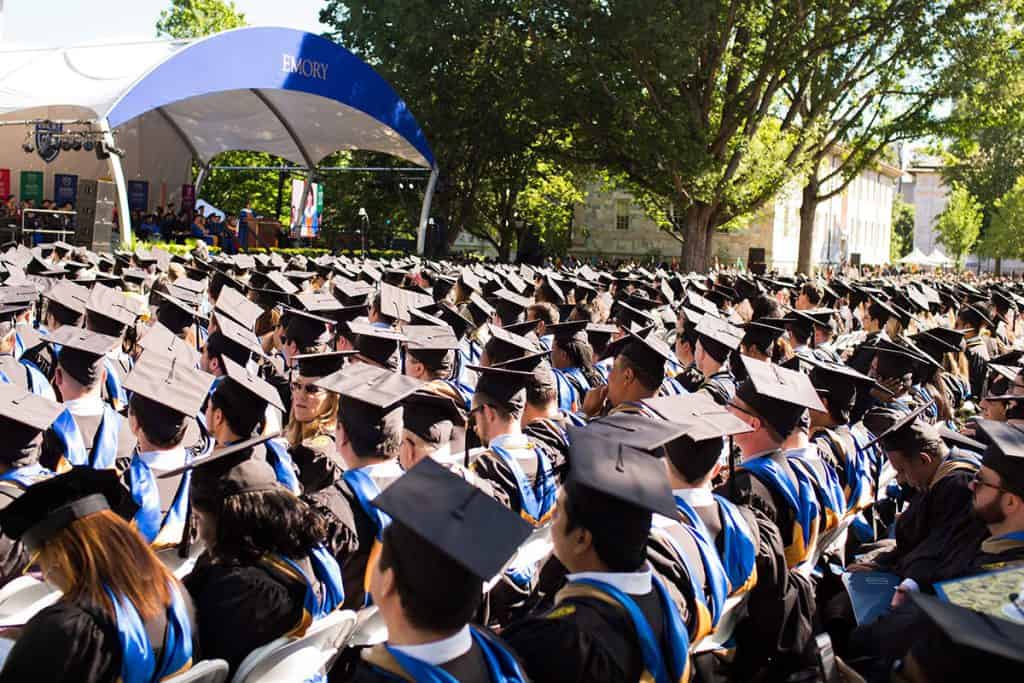 This year's keynote speaker will be Tyler Perry, a world-renowned producer, director, actor, screenwriter, playwright, author, songwriter, and entrepreneur. Perry founded Tyler Perry Studios in Atlanta in 2006, which has brought more than 400 jobs to the Atlanta area. In 2019, the studio held its opening gala and is now one of the largest production facilities in the country. Beyond filmmaking, Perry is known for his philanthropic work through the Perry Foundation which strives "to transform tragedy into triumph by seeding individual potential, supporting communities and harvesting sustainable change."
Tyler Perry is a visionary creative force — writing, directing, producing and performing in plays, films, and TV shows that move, entertain and inspire. Whether funding scholarships for talented students, covering the grocery bills of elderly Atlanta residents, or supporting global disaster relief, he is renowned for creating opportunities and giving back to his community.

Emory University President Gregory L. Fenves
During the ceremony, Emory will also distribute two honorary degrees to Louise Glenn and Sally Yates. Glenn is a founding trustee of The Wilbur & Hilda Glenn Family Foundation where she helps lead the foundation's work on cancer research, civil rights and human rights, and health and wellness. Yates is a former acting U.S. attorney general and former U.S. deputy attorney general. During her Department of Justice tenure, Yates was responsible for all of the department's 113,000 employees, all U.S. attorney's offices, and the Bureau of Prisons.
In addition to the main ceremony, Goizueta graduates from every program will celebrate all week long with smaller, program-specific ceremonies and celebrations.
"We believe business is a vehicle capable of delivering meaningful, lasting impact on society," Sedatole says. "In this graduating class, I see so many principled leaders ready to solve the biggest problems of our future. I cannot wait to see where they go next, the ways they will continue to thrive, and how they will leave their mark on the world around us."
Goizueta Commencement events are not ticketed and have no guest limit but do require completion of a registration form to gather important details. Please refer to the Goizueta Business School graduation and Commencement website for a complete listing of activities.