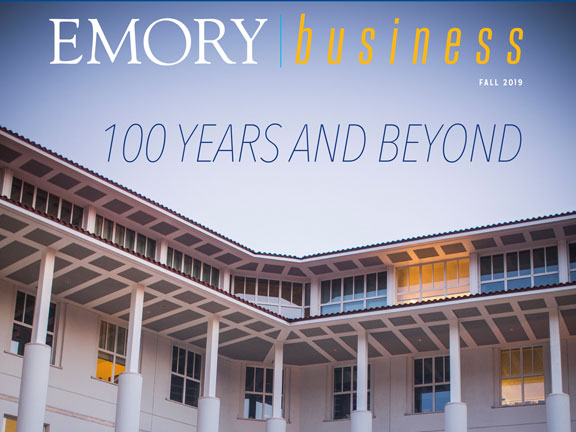 For the last century, Emory's business school has grown and prospered by tapping leaders and faculty with rich research interests and experience, remaining connected to industry and business while establishing a community that focuses on enrichment not only for the individual but the world outside school grounds.
This rich culture continues today.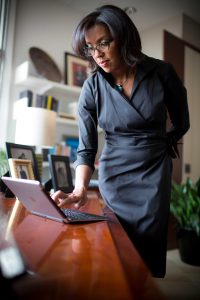 As Dean Erika James stands at her desk surrounded by technology her predecessors would most certainly envy, she's mindful that the challenges and goals for the future are in some ways similar to those that have come before.
James is one of many deans to lead Goizueta Business School since 1919, each leaving a noticeable thread in the school's fabric. The priorities and visions of each administration have been reflected in updates to curriculum, research focus and building aesthetics. James looks to do the same while also keeping the school agile in the face of increasing change. Many, of course, consider this a requirement as the business world faces more complex problems on a global scale.
"Business is changing rapidly," James said. "How organizations are structured, the technologies they use, where and how they do business and the skills they need to succeed are all changing. That means business schools, as a conduit to business, have to change as well. We hear a lot about the competition for talent. That's because the people skills and capabilities have not kept pace with the speed with which business is able to operate. There is also, in some cases, misalignment between what current and future generations of professionals are looking for and the structures and goals of the organizations that are seeking talent. Business schools have a responsibility to try to realign the two, and doing so requires educating both employers and students."
This must occur in a context of great challenges for business schools, including declining enrollment numbers and rising costs. Additionally, business must increasingly understand—and embrace—the changing needs and desires of students. Schools, and the business community, must foster diversity of background, culture and thought.
Research—the backbone of higher education—must ground itself in theory and applicability, thus bridging a gap between the academy and industry. James believes Goizueta is well positioned to address these areas in the coming years thanks, in part, to its commitment to serving the community and improving society.
Industry Has Taken Notice
In August, the Business Roundtable, an association of chief executives from America's top companies, released a new "Statement of Purpose of a Corporation." The document, signed by 181 CEOs, presented a stark contrast to previous work. It spoke to a new trend in business, one in which leaders are committing their companies to benefitting multiple stakeholders not just shareholders. This includes customers, employees, suppliers and communities.
Goizueta is ahead of the curve as evidenced by its centennial campaign that calls on businesses and business education to "go beyond" the status quo and focus more on the greater good.
"I was gratified to read the CEO statement and to see the support," James said. "I think we have been on that trend in the business community because we have some very astute senior executives and CEOs who understand the value and role of business in society. And because, from the ground up, we have employee bases that are asking their companies to have a more impactful role in society."
James, John H. Harland Dean and professor of organization & management, said business schools play an important role in advancing this vision. Entrusted with the future workforce, schools give students the tools to hone and refine skills and ideas to change not only how organizations operate but how they support a broad spectrum of stakeholders and the communities in which they operate.
Voting with Their Feet
The views expressed by the Business Roundtable come as no surprise to James and others at the forefront of business education. But they did shake the bedrock of a long history in management education.
The statement of purpose marks a departure from the Milton Friedman Doctrine.
"The Friedman doctrine has influenced all aspects of business since it was first published in 1970, from how corporations operate and compensate executives, to how we teach management in business schools," said Brian Mitchell 00EvMBA/MPH, associate dean of Goizueta's full-time MBA program and head of the school's global programming and initiatives. "The singular focus on shareholder value has also led to a wide range of outcomes for businesses and society, including vast wealth creation as well as some infamous ethical failings."
Today, students at all levels exhibit a deep interest in social enterprise and justice.
"Students are helping shape the future at schools because they have expectations about what they want from their educational experience and what they want from their professional experience," James said. "They're voting with their feet. If they don't find a school they feel engages their interests, they will seek alternatives. And I think the same is true with their employers. If they don't find companies that are aligned with their interests, they will seek alternative forms of employment."
For example, Social Enterprise @ Goizueta supports classes with titles like "Business and Society" and reaches close to 300 students each year in curricular and co-curricular activities. The center also supports Start:ME Atlanta, a business accelerator program that, to date, has helped more than 200 small businesses succeed and pour resources back into the community. Start:ME Atlanta was recently recognized as a 2019 Lighting the Way grant recipient by the SunTrust Foundation.
Service and Responsibility
Of course, service to the community should not be limited to schools. James and many others believe in a growing sense of responsibility streaming out of the boardroom and into society at large (the multi-stakeholder effect from the Business Roundtable).
"I feel a growing sense of conscious capitalism in the world today," James said. "Our students demand we pay attention to more than the bottom line. They want this in their lives, and it is something we are uniquely suited to bring out in them through our social enterprise, leadership and other programming and ultimately, through the heart of our community."
But devotion to a learning community is also an integral part of the educational experience, something James and others in the school say should continually be leveraged.
To earn a certificate of advanced leadership in the MBA program, for example, students must complete a capstone course, finish military-inspired leadership training at Fort Benning, go through multiple reviews and serve as Delta Air Lines Leadership Coaching Fellows or "peer coaches" to new students.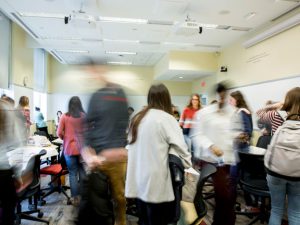 "Traditionally, the rationale for fostering community in business schools is not only because students derive enormous value from the power of the networks they build but also because a significant portion of their learning is based on peer-to-peer interactions," said Andrea Hershatter, senior lecturer in organization & management and senior associate dean of undergraduate education. "In professional environments, managerial effectiveness is in large part based on the ability to pull together organizational resources, communicate and work across boundaries and identify opportunities to create synergy. Thus, curricular opportunities that allow students to experience the power of working within and across groups is extraordinarily useful. Additionally, community-based learning fosters an appreciation for diverse viewpoints and serves as a means for developing nuanced, contextual perspectives in decision-making."
Students want a clear path to their goals, which likely won't fit in a syllabus full of lectures and theory. For this reason, Nicola Barrett, Goizueta's chief corporate learning officer, refers to "learning journeys" rather than curricula or programs. Corporations contract with Goizueta for custom programming for their employees (a growing business), and degree-seeking students want more than boxes to check.
"We've moved from just-in-case learning to just-in-time contextual learning," Barrett said.
Strength in Diversity
Goizueta is a diverse community that offers students opportunities to immerse themselves in different cultures multiple times during their education. Close to a quarter of BBA students will study abroad at some point during their career at Goizueta. Additionally, MBA students receive instruction on language, history and other cultural aspects through partner programs in the Emory College of Arts and Sciences.
Future generations will live in more diverse communities and encounter a wider range of perspectives and ideas.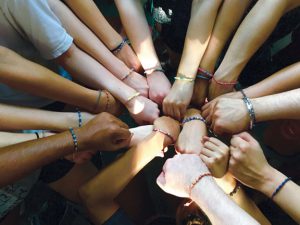 "Ultimately, exposure to society, history and language is to help students show up with a level of empathy when visiting a new country," Mitchell said in a previous interview with Emory Business. "When you show up with that increased level of empathy, it helps your learning, understanding, appreciation and ability to lead in that context. Instead of just showing up and going 100 miles an hour, you enter with an appreciation for how this environment came to be: from the political, historical and societal aspects."
James sees work to be done in increasing the proportion of domestic minority and female students. One strategy is recruiting more diverse faculty. In recent years, the number of total faculty has grown along with the number of female instructors and researchers.
Since James' arrival, nearly half of the 34 faculty members hired have been women.
"We have focused our efforts to attract and retain a diverse faculty and have had particular success with regard to female faculty," said Kristy Towry, vice dean for faculty and research and John and Lucy Cook Professor of Accounting. "The more diversity you can bring in, the better the thinking gets, the better the problem solving gets. It just elevates everybody. This is crucial as we seek to build a faculty that reflects the diversity in our various stakeholders, including our students and the business community we serve."
And Goizueta is a leader in the space.
A report last year from Poets & Quants indicated that, among U.S. universities on the Financial Times list of the top 50 business schools, Goizueta had the highest percentage of female faculty: 33 percent. Most notably, the school's pre-tenured faculty was 46 percent female. Towry said women currently make up 34 percent of the school's faculty. Currently, half of Goizueta's pre-tenured faculty, those focusing heavily on research, are women.
"I think we're intentional about identifying talent and opening doors to places that we potentially would not have considered," James said. "You have to educate decision makers on what excellence looks like and where it can be found. And when you do that, you expose yourself to diversity in all of its types."
This includes diversity of student goals. Goizueta offers degree programs for undergraduates and graduate programs for full-time and working professional students. Recognizing growth in career interest and student demand, in 2017 the school started a graduate program in business analytics. Another area of growth is non-degree offerings through Emory Executive Education, Goizueta's arm for custom corporate programming and open enrollment for working professionals.
Executive Education offers a breadth of topics and delivery methods. "We've got to be able to meet learners where they are," Barrett said. "So, if that's in their office, if that's on their smartphone, if that's in person … I think those flexible modes of delivery are going to do well. But doing it in a way that is still about the learner and not losing the intimate learning environment, that is what our faculty do so effectively." Barrett does not rule out future use of holograms and artificial intelligence to maintain levels of interaction sometimes lost in distance learning. She, and others in leadership, speak often of the Goizueta community and how it must continue to be a source of strength and pride regardless of external changes and challenges.
"I think we should also be thinking about, right from the start, what people need at different points in their career," Barrett said.
The Business Value of Research
Meeting the needs of mid-career professionals comes in various forms. Partnerships with industry are one way faculty at Goizueta source valuable data for research but also the information to guide the creation of curricula and coursework. As business education enters a new era with up to four generations in the workplace simultaneously (Boomers and Generations X, Y and Z), understanding the dynamics of the office is increasingly important and valuable to both the researcher and the practitioner. To accomplish this, multiple faculty members at Goizueta conduct behavioral research to complement other cutting-edge methods involving data.
"Professional schools like ours are in a unique position," Towry said. "Because the things that make for good academic research are not the things that necessarily make for good practical applications. For the academy, what we're trying to do is very precise and theoretically grounded. It's a balancing act, but I think the trend is definitely moving to that symbiotic relationship between the academy and industry. We're bringing in faculty who know how to speak to both."
Towry says faculty members, in increasing numbers, collaborate around new technologies and trends. Faculty learn from each other, melding the academic tradition with real-world experience.
Veteran professors have long incorporated wisdom from the real world into the classroom. Rob Kazanjian, Asa Griggs Candler Chair and Professor in Organization & Management and senior associate dean for strategic initiatives, says such methods will increase in higher education for added relevance in research and in the classroom. "There's no better way to get to what's important," he said, "than interacting with executives."
He envisions more researchers using organization data, like that captured by human resources departments, over the next decade. This comes as a benefit to students, who learn every day from professors charged with being on the forefront of new technology, new practice and new theories.
"As we think about the future of management education, it's really important to combine grounding in traditional business functions and paradigms with future-facing skills," Hershatter said. "In addition to changes that are driven by technology, increasingly complex, multilayer business issues will require new ways of analyzing, operating and structuring. Because many of our faculty members are engaged in groundbreaking research that informs practice, they are able to endow our students with insights and methodologies that will enable them to evolve along with the organizations they will lead."
A Community that Goes Beyond
Indeed, Dean James continues to strategize with business leaders and educators for the benefit of students and to propel the school forward.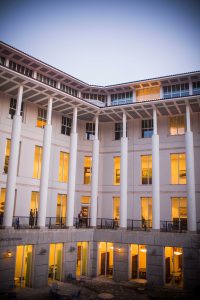 "Business education is at a crossroads, and Goizueta will be a leader thanks to its focus on building a community of influencers and valuable professional networks," noted James.
These elements, along with a strong alumni base and committed individuals, will ensure Goizueta is not only meeting the needs of students and industry but encouraging world-changers to carry a sense of community and social-mindedness into their work and beyond.
"We will remain relevant and sought after by students and faculty because of our ability to deliver an excellent educational experience and research environment while, obviously, keeping that community focus first and foremost," she emphasized. "We will build upon our past and welcome the changes that inevitably lie in store for our future."