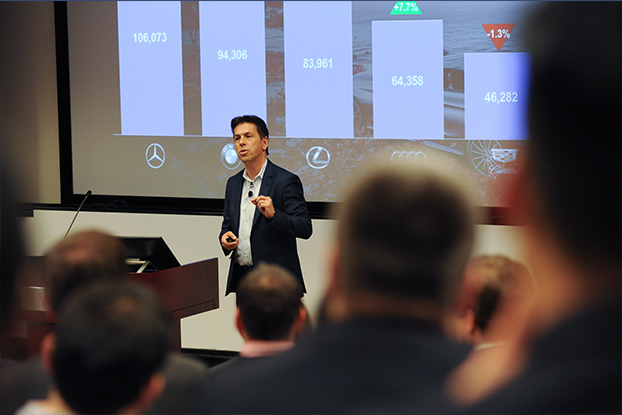 Cars, customers, communication and culture.
Mercedes-Benz USA President and CEO Dietmar Exler focused on these four pillars to his company's success during his speech at the 2017 Goizueta Business School Showcase Day May 4.
Goizueta hosted more than 200 business executives from a multitude of Fortune 500, midsize, entrepreneurial and nonprofit organizations as part of the Goizueta IMPACT program. The day consisted of MBA student teams presenting consulting-like projects to companies.
After conducting presentations throughout the day, students had the opportunity to listen to Exler discuss how the Mercedes brand focuses on more than cars.
"I'm really happy to be in an industry that is emotional," Exler said. "We at Mercedes really enjoy a product that we have an emotion about."
For Exler, being No. 1 in car sales is important, but what's more important is relating to the customer.
"No customer buys a Mercedes because we sell more than BMW," Exler said. "Customers don't care at all. However, it is important to us from the following perspective: They pick the Mercedes over all of these other cars. That means, if there's something right, whether it's the product, customer approach, dealership, advertising or whatever it is, we did something right."
Complacency can be deadly for companies, especially in the car industry, according to Exler. Every month can bring new obstacles and challenges.
"Historically, even with companies throughout all industries, the biggest mistakes are made when times are good," he said.
At Mercedes-Benz USA, Exler and his team focus on four pillars to keep the company moving forward: cars, customers, communication and culture.
He explained cars and customers are defined as the "hard stuff" whereas communication and culture are more the "soft stuff." These can be much more challenging.
"We have a big focus on communication on all kinds of problems," Exler said.
The company produces a five-minute video every month for employees and conducts one-hour webinars for dealers broken down into 30 minutes of executives giving updates and 30 minutes of questions and answers. Additionally, the company has a large focus on culture, which was a large factor in moving its headquarters to Atlanta.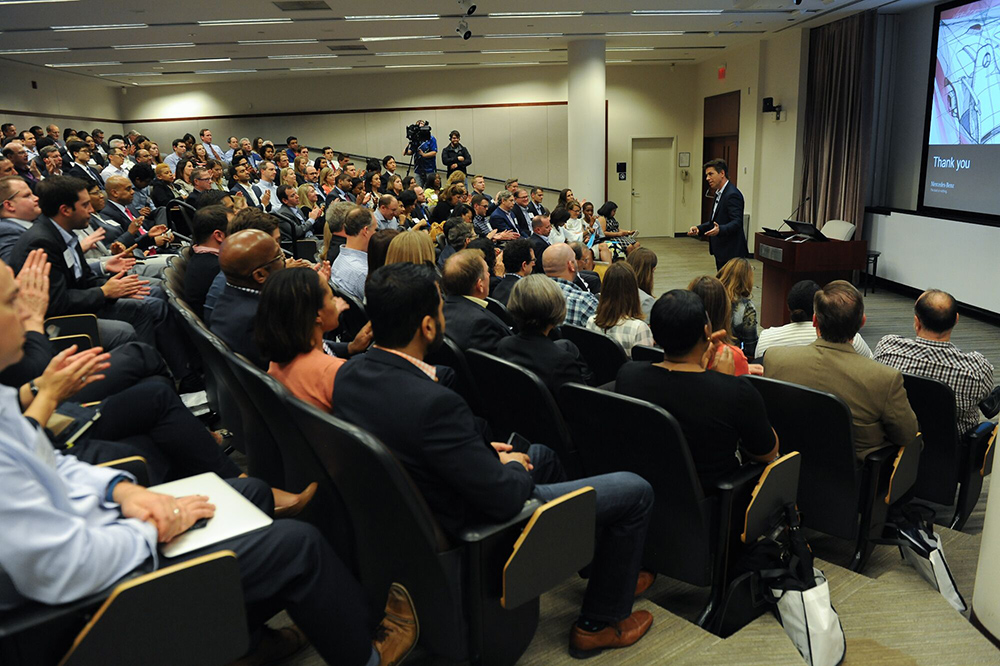 As for the long-term future, Mercedes-Benz USA focuses on four key elements: connectivity, autonomous driving, car sharing and electric drive systems, or CASE.
"Automated driving is basically what's going to be in our future," Exler said. "Everybody is doing it. Every car company. Every supplier. Tons of universities. Lots of technology companies. Everybody all of a sudden is playing on that field."
While it is hard to predict when autonomous driving will become mainstream, Exler said it will happen and not only be tremendously exciting but also greatly beneficial.
"As I said earlier, 40,000 people die every year on the road because of human error," he said. "That number should come down drastically."
However, like any new concept, autonomous driving faces major challenges, including legal battles with regulations and ethical questions and technical concerns in terms of processing data quicker for navigation.
Although, according to Exler, all of that can be managed. What's more challenging is human behavior.
"We're worried about you, humans," Exler said. "We are the biggest problem in this whole thing."
Humans create two major problems with autonomous driving, Exler said. The first is humans and automated cars will be on the road at the same time and the second is customers like to be in control.
"The fundamental problem is still a ladder to the moon while we really need a rocket," he said. "We need a new set of technology. After that, we need time as humans to really get there and change our behavior."
­