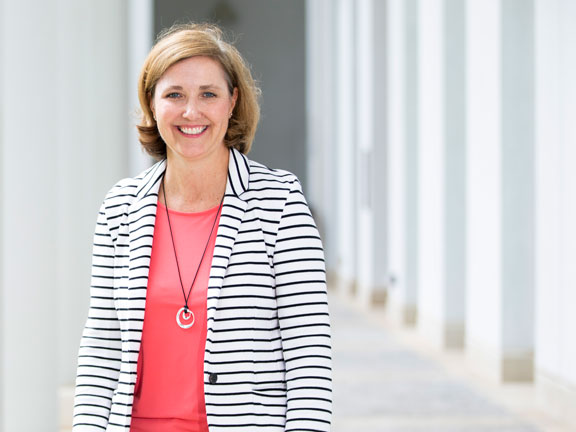 Growing up, Libby Livingston was no stranger to a college campus. Her mother, Martha Masengill, worked for more than 30 years in alumni relations and development for the University of Tennessee. At a crossroads after receiving an undergraduate degree in psychology, Livingston's mom suggested higher ed, and the rest, as they say, is history.
For nearly 20 years, Livingston has worked to recruit MBA students to Emory's Goizueta Business School. She's traveled the world recruiting potential students for the full-time program and even encouraged her husband, Kevin Livingston 04EMBA, to enroll. Today, she's senior director of admissions and leads the evaluation and yield team. This reorganization of duties in the MBA Admissions Office is one of many changes she's experienced over the years.
This fall, Livingston swapped seats and agreed to be the one interviewed. Her perspective typifies Emory's business school: agile, reflective and ready for the future.
EB: As we celebrate the school's centennial, would you share some of the changes you've seen in admissions?
Livingston: A couple of things stand out. First, we're completely paperless now. I remember way back when, I'd be taking stacks of files home to read, and we had a large workroom that held all our file cabinets. Now, everything is paperless. This was a huge change. Second, every year I feel the recruiting process starts earlier and earlier. When I first started, October was the prime time to participate in MBA fairs, and recruiting would start then as well. Then the recruiting timeline moved to September, then August, and now it starts in July, even before the incoming two-years start classes.
EB: Why do you think this is?
Livingston: Students want to start the process earlier and are eager to engage with the schools. It's a competitive environment, so schools want to start the process earlier as well.
EB: You've interviewed hundreds of students over the years, especially in your new role. Why is this part of the admissions process so important?
Livingston: We find the interview so critical because it gets us beyond the person on paper. By having a 30- to 40-minute conversation with someone, you really get the sense of whether they've done their research. Have they thought about the value of the degree and how it will help them achieve their goals? Would I want this person on my team? Are they going to give back to the community? And are they going to come here and take on a leadership role? That's the expectation, as there are so many leadership opportunities in the program.
EB: How does it feel holding someone's destiny in your hands?
Livingston: Knowing this decision can impact the direction of someone's life and career is impactful and very rewarding. That's why when I'm talking to candidates, I use my psychology background and will often counsel them if the school isn't the right fit, offer them advice on other programs and options or urge them to reapply. We want to set expectations so that they are prepared and not disappointed once they get here.
EB: Would you speak briefly about your role with the Forté  Foundation?
Livingston: The growth of women in leadership, here at Goizueta and at Emory, is so exciting and exemplifies the goals of the Forté  Foundation, which is to increase the number of women in business. Forté's alliance links talented women, influential companies, leading universities and business schools, and pioneering donors. Together these important players commit to advancing women in business.
I've been involved with the organization since Goizueta became a member about 15 years ago. I served on the board a few years back, and now I am a member of the advisory council. Advisory council members offer input on the organization's strategy, programming and projects. They will come to us and say, "Hey, we are thinking about this," or "What route do you think we should go?" 
EB: Your daughter, Sarah, is a competitive swimmer and a junior in high school. As she begins looking at colleges, how does it feel to be on the other side of the admissions process?
Livingston: Thankfully, Emory is on her short list! Naturally, I am urging her to at least minor in business. I'd love for Sarah and my younger son, Robert, to major in business, because I really believe in the skills that you learn and that the degree will set you up for success.
EB: As we look to the future of Goizueta, what's in store for you?
Livingston: I kind of live in the moment. I'm part of a great team in the admissions office and in the school overall, and I'm still learning. I don't know what my next move will be, but I really love what I am doing now.—Nicole Golston